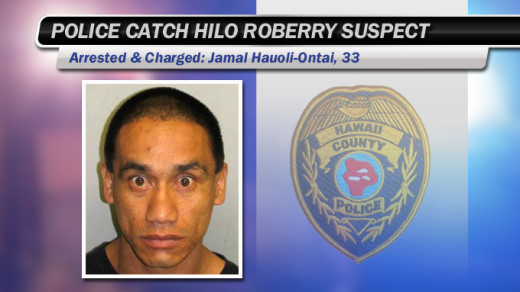 HILO, Hawaii – 33 year old Jamal Hauoli-Ontai has been charged for the alleged robbery of a convenience store on Kinoole and Hoku Street in Hilo this weekend.
Police say Ontai told the clerk he would shoot him if he didnt let him take a pack of cigarettes without paying.
According to police media:
At approximately 3 a.m. Saturday (February 8), two men entered a convenience store at the corner of Kinoʻole Street and Hoku Street. One of them purchased several items and then threatened to shoot the clerk if he didn't let him take a package of cigarettes without paying.

When another customer entered the store, the two men left.

Police investigation led to the identity of the suspect as 33-year-old Jamal K. K. Hauoli-Ontai, who has no permanent address.Hawaii Co. Police media release from February 12, 2014
Police tracked him down at the Moʻoheau bus terminal, but Ontai didnt give up without a fight. Police say he became combative during the arrest, causing minor injuries to the officer.
On Monday, he was charged with first-degree robbery, first-degree assault of a police officer, resisting arrest and promoting a detrimental drug. Bail was set at $63,000.