PUAKO, Hawaii – More details are emerging in the mystery of the human remains found by the Kohala Coast on Monday.
On Tuesday, police announced that detectives located human remains on vacant land between Queen Kaʻahumanu Highway and Puako Beach Drive. An autopsy was ordered to determine the cause of death and the identity of the deceased.
UPDATE (4:20 p.m. on Mar. 13, 2014): In a Thursday update, police say the remains have been identified through dental records as those of 37-year-old Robert Keawe Lopaka Ryder of Kailua-Kona, who had been reported missing (more below).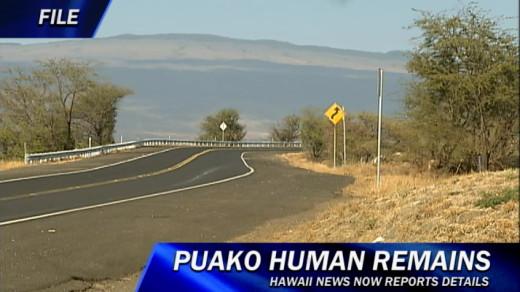 Then on Wednesday, Hawaii News Now produced an exclusive report, detailing how the discovery was made in the first place.
LINK: EXCLUSIVE: Big Island police investigate South Kohala murder mystery
Citing police sources, Mileka Lincoln reported that officers were led to the human remains Monday by a man who confessed he was involved in a murder and could show them where the body was buried.
According to Hawaii News Now's sources, the man who led officers there claimed he was coerced into helping another man corner the victim. He allegedly witnessed the man shoot the victim and then assisted in disposing the body.
On Thursday, police issued a media release confirming that the case was now a homicide investigation.
The medical examiner determined the cause of death was blunt force trauma to the head and the manner of death was homicide.

Detectives from the Area II Criminal Investigations Section have reclassified the case from a coroner's inquest to a murder. They are attempting to identify the victim through forensics.Hawaii Co. Police media release – March 13, 2014
Hawaii News Now also reported that police are investigating if the victim is 37 year old Lopaka Ryder.
Robert Keawe Lopaka Ryder is known throughout Kona for his talents as a singer and guitarist, well-versed in Hawaiian music. He was last contacted on Thanksgiving Day, 2013. Family members reported him missing in January.
Big Island Video News filmed Ryder on a number occasions, usually by a beach or in front of a small crowd, where he was always willing to share the music he loved to play.
We'll have more on this developing story as it becomes available.