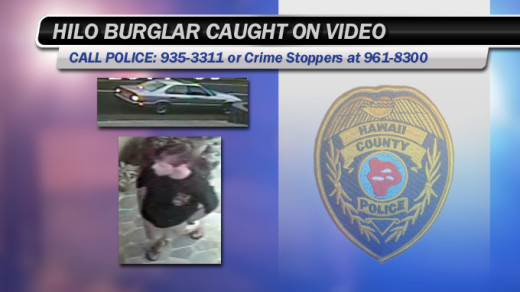 HILO, Hawaii – A suspect in a Hilo burglary has been caught on video.
Police say a man forcibly entered a house the upper portion of Kukuau Street and removed several valuables.
The occupants, a married couple, were home at the time and in a separate part of the house. But they did manage to record the suspect on video surveillance.
The footage appears to show a man getting out of a light-colored four-door sedan, which he parked on the shoulder in front of the home before walking to the front door. The suspect momentarily remains at the door before returning to the vehicle, which is seen leaving. The same suspect is seen returning to the home several minutes later, but he leaves the area prior to officers' arrival.
Police are asking for the public's help in identifying the suspect, who appears to be Caucasian, in his 30's, between 6-feet tall and 6-foot-4 with a slim build, a fair complexion and neatly cut dark brown hair. He was last seen wearing khaki shorts, slippers and a black long-sleeved shirt with images on both the back and front.
Police ask anyone with information on this incident or anyone who may recognize the suspect to call the Police Department's non-emergency line at 935-3311 or contact Detective John Rodrigues Jr. at 961-8222. Tipsters who prefer to remain anonymous may call Crime Stoppers at 961-8300 and may be eligible for a reward of up to $1,000.