HILO, Hawaii – Earlier in the day on Tuesday, under a rainy Hilo sky, a remembrance and reflection was held at the Site of Shinmachi by the Wailoa Art Center.
The date of April 1st marked the 68th anniversary of the major tsunami that hit Hawaii in 1946, causing widespread damage in Hilo, killing 159 people in Hawaii.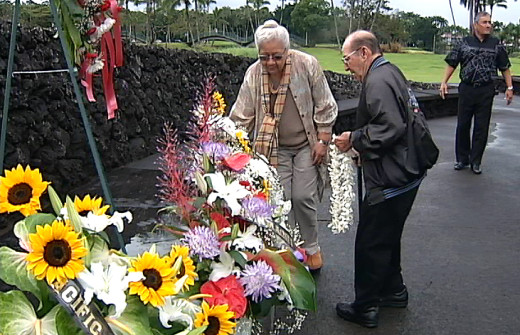 The rain let up just long enough to allow for flowers to be laid at the tsunami memorial. The ceremony was attended by surviving members of the Shinmachi and Laupahoehoe community, as well as the State Director of Civil Defense Maj. General Darryll Wong.
There were also remarks from the County Civil Defense administrator Darryl Oliveira, Jim Wilson of the Pacific Tsunami Museum, and Mayor Billy Kenoi. The Hawaii County Council even recessed their meeting for few hours in order for members to attend the ceremony.
Then, during the monthly siren test at the 11:45, a moment of solemn reflection.
The event was also a kick-off to the month long series of events to raise awareness about tsunamis in Hawaii County. The annual memorial event in Laupahoehoe will be held on Wednesday morning… the community graciously rescheduled their event normally held on April 1st at Laupahoehoe Point so it would not conflict with Tsunami Awareness Month kick-off at the Hilo memorial. The annual Talk Story will also be held on Sunday, and a Emergency Preparedness Fair is scheduled for later in the month.