In the video above, Geochemist Dr. Don Thomas talks about Hawaii Island's history with large earthquakes, and details a user friendly process one can undertake – from the comforts of their own home – to plan a retrofit to their post and pier home to safeguard against the next big one.
Video by David Corrigan, Voice of Tim Bryan
HONOKA'A, Hawaii – On June 21st, an Emergency Preparedness Workshop was held in Honokaa. Lawmakers joined members of the community for the Saturday morning discussion at the North Hawaii Education and Research Center. Along with presentations on severe weather and disaster readiness, Geochemist Don Thomas spoke about earthquakes, and how to retrofit your post and pier home to withstand the next big one.

We have seen in very real terms the difference between a survivor and a casualty is education and knowledge. I tell my students about what I call 'a tale two cities'. Two cities in two different developing countries were exposed to volcanic eruptions that were nominally similar. One of those cities had been well-trained and well educated on what to do. The other city had not been well educated at all. And they both had about the same level of warning. The city that had been educated, where the residents knew what to do, they suffered about six casualties. The other city that did not know what to do: 23,000 casualties. Virtually the entire city had been wiped out. Every single one could have walked to safety in the time that they had between the initial warning of the disaster and the time the disaster struck. So education is the first step in insuring that you are a survivor and not a victim.Don Thomas
Thomas recounted the damaging 6.7 Kiholo earthquake in 2006. He began by describing the forces at work during an earthquake, using power point slides to illustrate. Thomas said earthquakes are the release of accumulated elastic stress through ground motion. The damage from earthquakes comes from the stresses associated with acceleration and deceleration. Think of riding in a car that suddenly jolts forward or goes in reverse. Those same forces are at work on your home. The back and forth happens several times a second.

I've actually talked to people who have come from California because Hawaii was paradise and they were very disappointed to find that the earthquake hazard here on the island is about twice as high as any similar size area in California. We have a very high earthquake hazard.

(the slide below) is kind of a catalog of some of the events. The one that I always remind people of is sort of "ancient history" – but its part of our geologic history – and that is the 1868 earthquake. There was actually a series of earthquakes at that time. Magnitude of 7.9. There was not a single man-made structure in the Ka'u district that was left standing after that sequence of earthquakes occurred. Its ancient history but it's also part of our future.

We will have more of these events in the future. We don't know when. I'm sorry, that's way beyond our expertise at this point. But we can guarantee you that we will see earthquakes of a similar magnitude here on the island."Don Thomas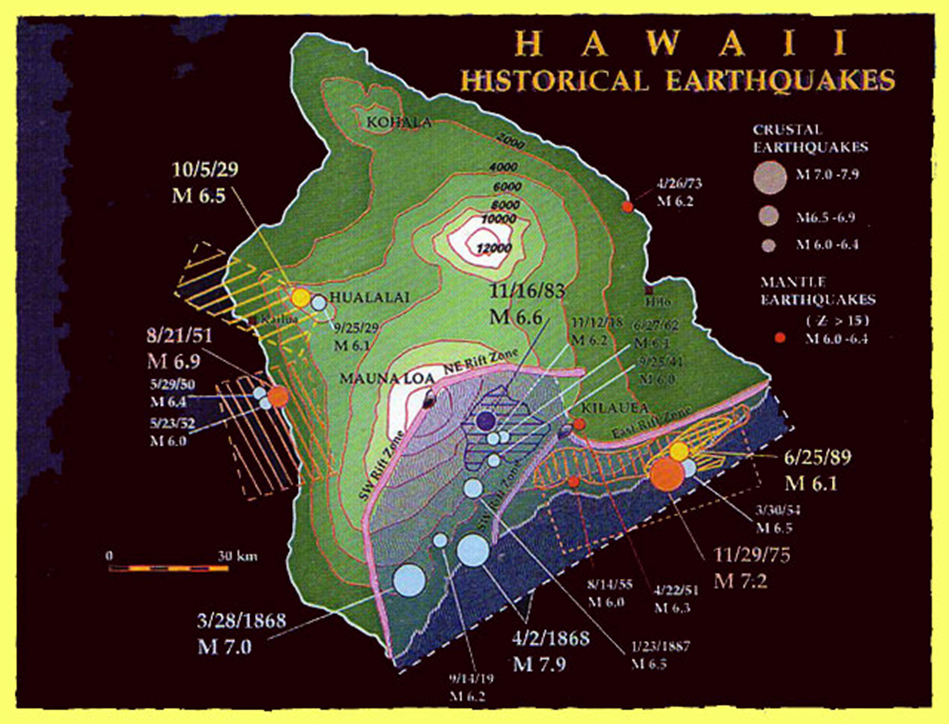 Dr. Thomas produced a long list of severe earthquakes that have happened since 1823. Over 24 earthquakes of magnitude 6.0 or greater in 200 years. More than one every ten years. He then focused on the most recent: the Kiholo Bay series of earthquakes in 2006, which measured a Magnitude 6.7 and Magnitude 6.0 in short order.

We know that you folks here in Honokaa felt that event very strongly. I felt it. I was over in Volcano at the time. I distinctly remember feeling the house shake, and continue to shake, and continue to shake. My thought was 'oh boy, somebody is getting hammered' And as it turned out, it was here at Kiholo. It was the largest earthquake we've had in about twenty years."Don Thomas
Thomas said the data revealed that proximity to the Kiholo quake epicenter helped determine the extent of damage. Date also showed soft soils – as opposed to bedrock – have a tendency to amplify the force of the earthquake acceleration.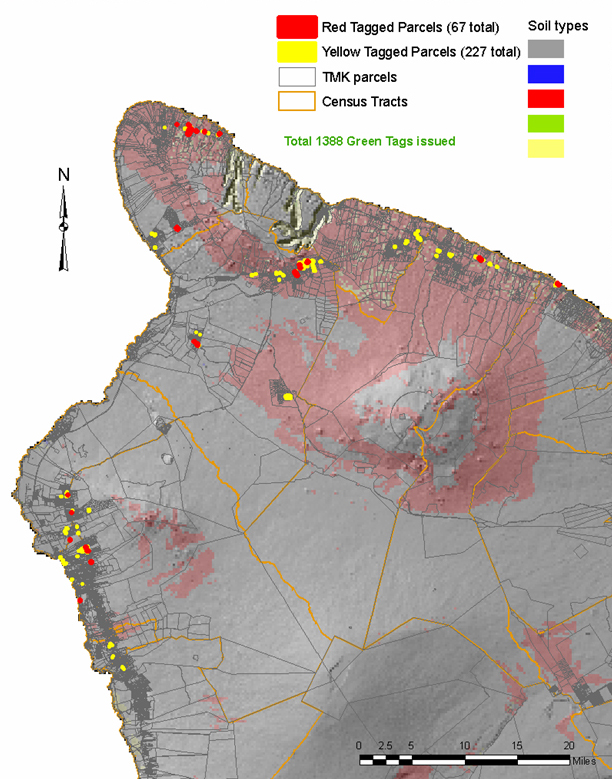 (Above) is a map of the homes that were red tagged and yellow tagged. Essentially, red tag means you cannot go back into the house until its repaired; the houses for all intents and purposes destroyed. Yellow tag is: its unsafe for you to inhabit that house. You have to make significant repairs to the home before you can actually occupy it again.

What we see is that the red and yellow tags are concentrated in these areas of the deep soil. Those are the locations where the risk is the greatest to your home."Don Thomas
Thomas worked closely with engineering colleagues at the University of Hawaii to produce a report on the Kiholo earthquake damage. The study revealed that a post and pier-style home was two-and-a-half times more likely to be red tagged or yellow tagged. In other words: two-and-a-half times more likely to suffer severe damage then a slab on grade-style home.
Thomas said the report gives guidance on what you can do to retrofit your home. Thomas described in detail an accompanying resource designed to help homeowners plan such a retrofit by themselves, from the comfort of their home computer.

I teamed up with the computer science department, and – like every other lazy professor – we got a bunch of students together (and a remarkable set of students they were) – and they designed for us what we call an expert system. An expert system will give you guidance. If you can answer these questions and put that information into their expert system – and we have this available online (screenshot and link below) – you can get the information that you need on the best retrofit option for your home."Don Thomas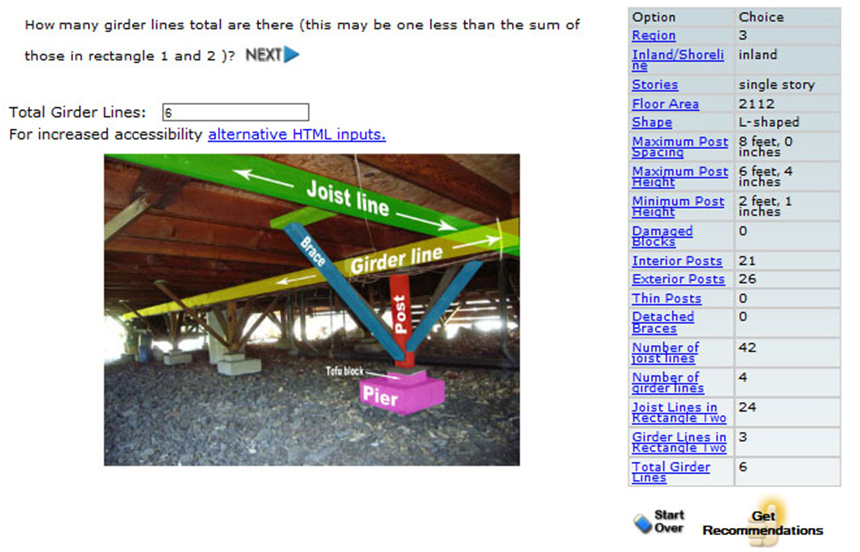 We've tried to make it as easy as possible. We provide you with drawings on how to make those retrofits. We give you the specifications on the fittings that you need to purchase… we show you how to install the various types of connections and basically reinforce the posts and the connection of the post to the ground to ensure that everything stays in place during that earthquake shaking. We even provide you with the piclist that you can take over to Home Depot and say, 'Here, I want these.' "Don Thomas
LINKS:
WEBSITE: The Expert System
REPORT: Structural Seismic Retrofits For Hawaii Single Family Residences With Post and Pier Foundations (March 2009)