The video above features video filmed and distributed by the County of Hawaii.
Video by Hawaii County, Voice of Tim Bryan
PAHOA, Hawaii – A groundbreaking was held for the new Pahoa District Park on Thursday. Its going to be the biggest recreational project in the history of Hawaii County.
The $22.3 million, yearlong construction project will more than double the size of Pahoa Park and deliver increased recreational opportunities to one of Hawaii Island's fastest-growing communities.
Contractor Nan, Inc. is scheduled to start clearing and grading the site on August 4. A variety of covered playcourts and lighted fields will be constructed on the 29 acre site (rendering below), and will compliment the park's existing 15 acre recreational area – already home to a swimming pool, community center and skate park.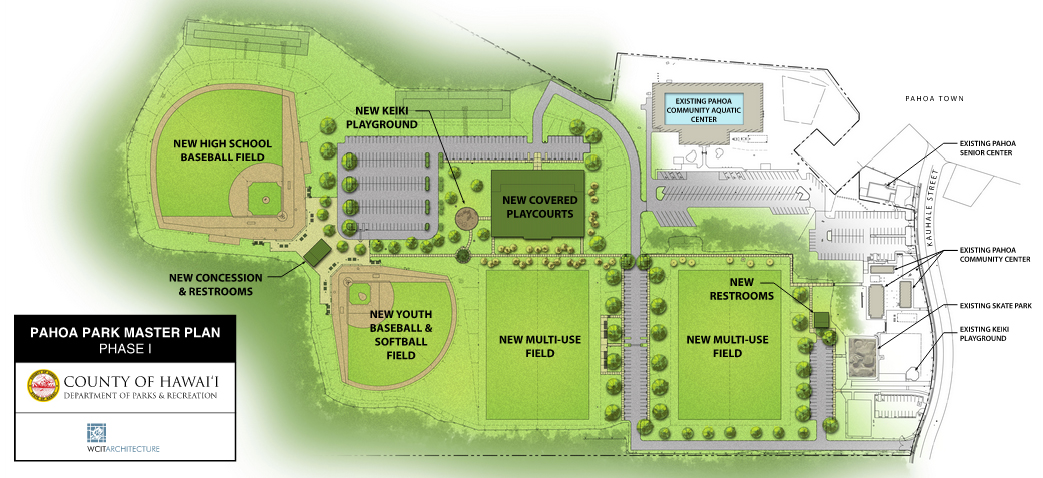 A series of community meeting were held during the planning process. Mayor Billy Kenoi has made vast parks and recreation improvements a hallmark of his administration.
The biggest single investment in recreational opportunity in Hawai'i County history is coming to Lower Puna, following a groundbreaking ceremony this morning for the $22.3 million Pāhoa District Park.

Mayor Billy Kenoi, Councilmembers Greggor Ilagan and Zendo Kern and County officials joined members of the Puna community to kick off the project, which will provide more recreational opportunities than ever before to the fastest growing region of Hawai'i Island.

"We are committed to giving the families of Puna access to first-class recreational opportunities," said Mayor Kenoi. "The facilities in this park will be safe places for our kids to learn good sportsmanship and teamwork, and to stay active and healthy."

This $22.3 million, year-long project to deliver a district-level park to Lower Puna will include a covered playcourt building, two baseball fields, two multipurpose fields, a keiki playground, concession building, new comfort station, accessible walkways, and ample parking areas. Contractor Nan, Inc. is scheduled to start clearing and grading the site immediately.

"This wonderful sports facility is going to really, truly benefit our children," said Kel Lee, president of the Puna Panthers Pop Warner Football Association. "It's a dream come true for Pāhoa."

"Building this park, making this a better place for our children, is a collaborative effort," said Councilmember Zendo Kern, who represents District 5 (Puna Mauka) and remembers playing in the existing Pāhoa Park as a youngster. "It was never a matter of if, and now it's a matter of getting it done."

Totaling more than 29 acres, the improvements will complement the park's existing facilities that include the Pāhoa Community Aquatic Center, Pāhoa Neighborhood Facility, Pāhoa Senior Center, and Pāhoa Skate Park.

"This park will be a place for our community to play, bond, and build memories for generations to come," said Councilmember Greggor Ilagan, who represents District 4 (Puna Makai).

The Puna Community Development Plan, adopted by the Hawai'i County Council in 2008, identified the need for a district park in Lower Puna. A comprehensive planning process involving the community, the County, and project designers WCIT Architecture began in 2012 to ensure these new facilities reflect the recreational needs of Puna's residents.Hawaii County media release