(Above) This image stitched together from two different NOAA satellite images, shows a well defined Major Hurricane Iselle and the formulating threat of Tropical Storm Julio in her wake.
HILO, Hawaii – 1,150 miles from the Big Island, Category 4 Hurricane Iselle continues its western path at 8 miles per hour. Although the storm formation has held at a "remarkably steady state", forecasters still believe Iselle will weaken to a Tropical Storm by the time it hits Hawaii. However, concern is growing over another storm following close behind.
Tropical Storm Julio – following in the wake of Iselle – is presently much weaker (60 mph winds compared to Iselle's 135 mph). Yet the 5-Day Forecast Cone (below) created by the National Weather Service shows Julio as a hurricane strength storm as it nears the Big Island. The two storms are expected to follow a very similar path across the state, and if the tracks hold it could be a damaging one-two punch to the Hawaiian Islands.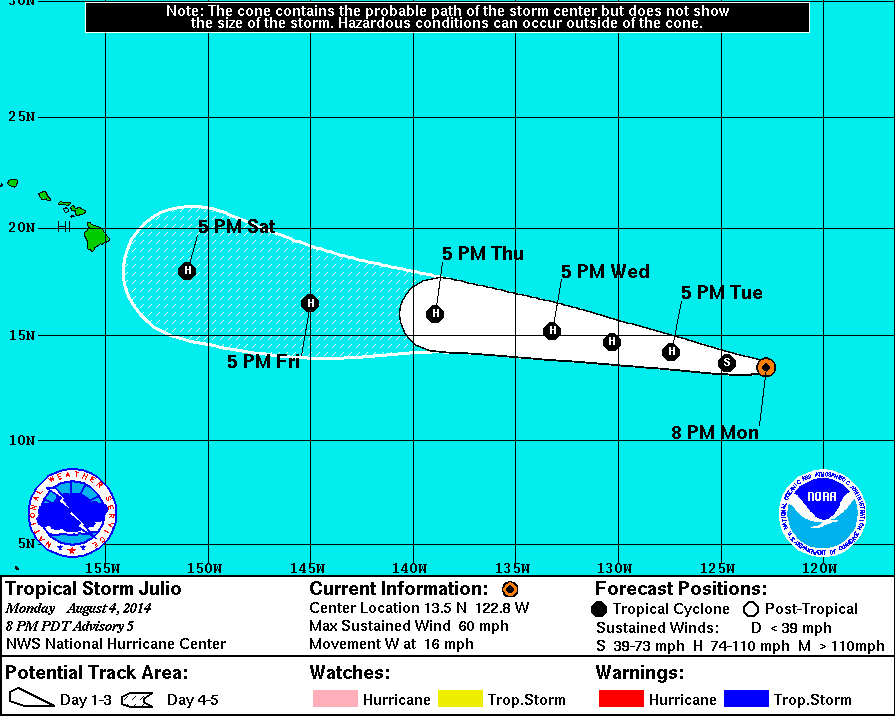 Here is what the National Weather Service says about a strengthening Julio:

Conventional satellite imagery and an earlier GCOM AMSR2 microwave overpass show that Julio's cloud pattern continues to gradually improve. Cold tops of -80 C are now evident in association with the developing banding feature south of the center. The AMSR2 pass as well as visible imagery also indicated that deep convection is now wrapping around the northeast portion of the cyclone despite the relatively moderate northeasterly shear.National Weather Service at 5 p.m. HST
But the first threat is posed by Hurricane Iselle. Hawaii Island should expect to feel the impact on Thursday night. By that time it should be much weaker, forecasters say, but at this point in time its making quite an impression. The hurricane continues to maintain a classic annular structure, which may account for its failure to weaken faster than it has. Images show a large, circular eye surrounded by a nearly uniform ring of convection.
However ominous the system appears, the National Weather Service is unwavering in its prediction that Iselle will become a Tropical Storm before landfall.

Iselle should retain its current annular characteristics during the next 12 hour or so, and thus only slow weakening is likely. After that time, enough of an increase in southwesterly vertical shear and the ingestion of drier and more stable air should disrupt the status quo and result in steadier weakening. Even further weakening should occur by the time the center of Iselle approaches the Hawaiian Islands in 48-72 hours, mostly as a result of a very dry air mass in which the storm will be moving."National Weather Service at 5 p.m. HST
The National Weather Service also offered a statement as to how much weight we should be giving these storm track maps.

Interests in the Hawaiian Islands should closely monitor the progress of Iselle. However, it is important not to focus too closely on the exact track and intensity forecasts because the average track error 72 hours out is about 100 miles, the average intensity error is about 15 kt, and because the hazards of a tropical cyclone can extend over a broad area often well away from the center."National Weather Service at 5 p.m. HST