(above) Latest satellite image of Hurricane Iselle from NOAA. The eye remains well defined.
HILO, Hawaii – Hurricane Iselle continues churning towards Hawaii Island. The storm has weakened slightly. Maximum winds are now 125 miles per hour making it a Category 3 hurricane, and its heading west at 9 miles per hour.
Southwesterly vertical wind shear over Iselle has "not yet disrupted the inner core", say forecasters. The track model guidance forecasts the storm to pass near or over the Hawaiian Islands in 72-84 hours ( 5-Day Forecast Cone below).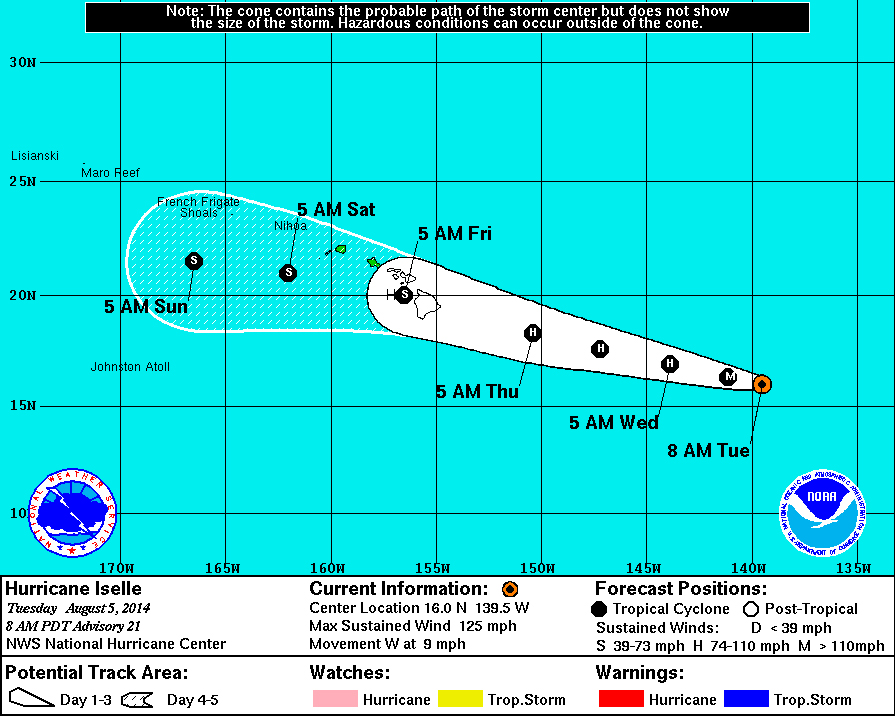 The forecasting models are beginning to disagree somewhat, according to the National Weather Service, and there is uncertainty in how strong the storm will be when it nears the Big Island. The latest information suggests Iselle will be just below hurricane strength as it makes landfall, if current track predictions hold true.

The analyzed and 24-hour forecast shear have both increased since the previous advisory, and it is likely that Iselle will lose its annular structure later today or tonight. This should result in weakening along the lines of the previous forecast since a significant part of the circulation is over sea surface temperatures of less than 26C. The intensity forecast becomes more uncertain after 36 hours. The cyclone will be moving over increasing sea surface temperatures west of 152W. The dynamical models are in poor agreement on how much shear the Iselle will experience, with the UKMET forecasting strong shear while the GFS/ECMWF forecast less shear. One last factor is that the cyclone is likely to encounter a very dry air mass as it approaches Hawaii. The intensity guidance responds to these factors by diverging. The SHIPS and Florida State Superensemble forecast an intensity near 40 kt when Iselle gets near Hawaii, while the GFDL and HWRF forecast it to be a hurricane. The intensity forecast from 48-120 hours has been nudged upward in agreement with the LGEM model and the intensity consensus, and it calls for Iselle to be just below hurricane strength near Hawaii.National Weather Service at 5 a.m. HST
If Iselle spares Hawaii, there won't be time for a sigh of relief. Tropical Storm Juilo – predicted to become a hurricane soon – is following right behind and is predicted to arrive on Sunday. The current 5-Day Forecast Cone shows Julio could be a hurricane by the time it reaches the state.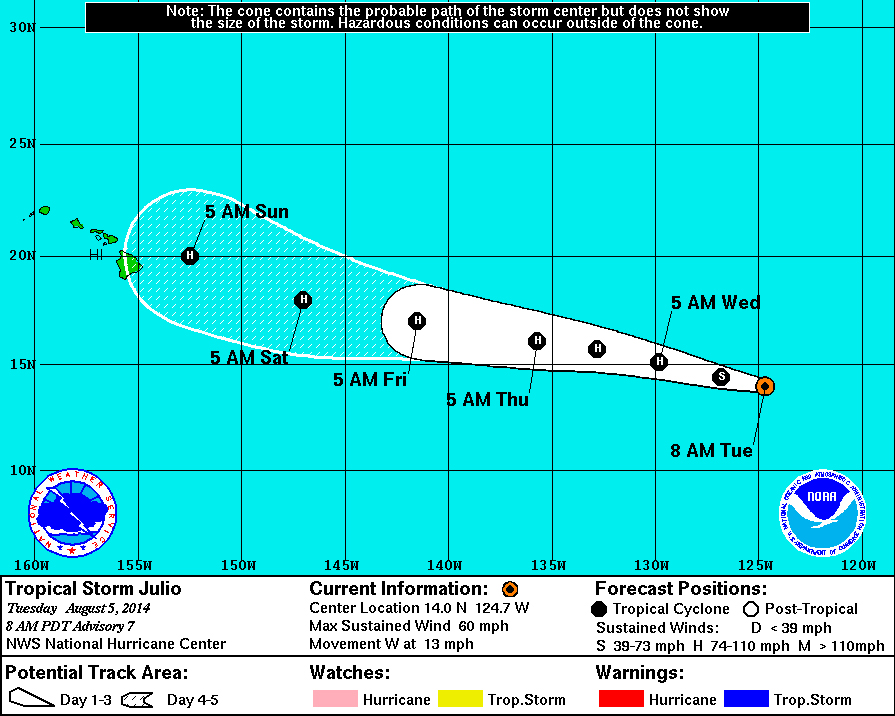 Conditions should support gradual strengthening during the next 2 to 3 days, and the NHC forecast shows Julio becoming a hurricane in about 24 hours. By day 4, the cyclone will be moving over more marginal SSTs around 26C, but then back over warmer water by day 5. Given that the shear remains relatively low late in the period, only a little weakening is shown by day 4 with the intensity leveling off afterward. The NHC forecast is a little above the IVCN intensity consensus through the period.

Microwave and geostationary satellite fixes suggest that the center is located a little to the north of previous estimates, providing an initial motion estimate of 275/11. The track forecast reasoning remains unchanged, as Julio will be steered generally westward through 96 hours by a mid-level ridge to the north. By day 5, the cyclone will be approaching the western edge of the ridge, which should result in a turn toward the west-northwest. The combination of the more northward initial position and a northward shift in the guidance results in the NHC track forecast being nudged northward a bit."National Weather Service at 5 a.m. HST