(VIDEO ABOVE) Hawaii County Civil Defense Administrator Darryl Oliveira takes a moment to share an update from the Hilo headquarters. This interview was conducted c. 10 a.m. HST, just before the Tropical Storm Watch was issued.
Civil Defense Message (August 5, 2014 at 12:04 p.m. HST)
Video by David Corrigan
HILO, Hawaii – A Tropical Storm Watch has been issued for the Big Island as Hurricane Iselle continues its march towards Hawaii.
Hawaii Island is the first land mass in the path of Iselle which appears set to hit the island Thursday night. The population on the Big Island is already bracing itself for a stormy one-two punch. Behind Iselle, Tropical Storm Julio follows closely, and threatens to hit the islands mid-weekend. Many residents have already hit the local stores to stock up on supplies.
During a relatively quiet moment at the Hawaii County Civil Defense Headquarters in Hilo, administrator Darryl Oliveira spoke to us about the early preparations already underway (video uploading to this page now). Officials are also taking Saturday's primary election into consideration. Luckily, early walk-in absentee voting is a already available to registered voters at certain locations around the island.
Currently, Iselle is gusting at 110 miles per hour, putting it right at the high end of a Cateogory 2 hurricane. Some of the predicted weakening appears to be taking place, as well. From the National Weather Service:

Iselle's satellite appearance has degraded since the last advisory… And the system is losing its annular structure in the face of 15 to 20 kt southwesterly shear. The eye is becoming increasingly ragged… And several recent microwave overpasses indicated a deterioration of the eye wall in the southern semicircle. Subjective and objective Dvorak current intensity estimates range from 5.0 to 5.5… And with the satellite appearance showing continued degradation since fix time… The initial intensity has been lowered to 95 kt with this advisory.National Weather Service discussion at 11 a.m. HST
This map was issued aat 11 a.m. HST by the National Weather Service.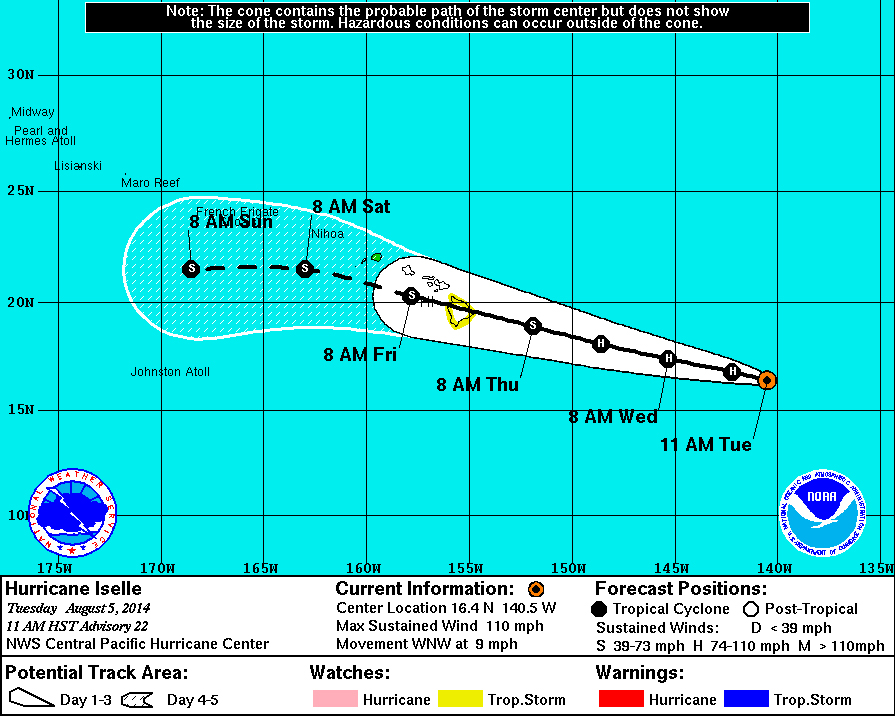 The intensity forecast remains problematic. Iselle has reached peak intensity…And will be on a weakening trend as it approaches the Hawaiian islands. The big question is the rate of weakening that occurs. While ssts are somewhat lower along the immediate forecast track and increase near the Hawaiian islands… This is not the primary factor driving the intensity forecast. Debilitating shear is forecast to continue in the short term before diminishing from hours 24-60… Before ramping up significantly thereafter. The intensity forecast responds by showing a fairly significant weakening in the Short term… And a slower rate of weakening thereafter as the System also encounters a drier air mass. The updated intensity forecast follows the trends depicted by the ships and lgem guidance… But is a little slower… With ships guidance weakening Iselle to a tropical storm in 36 hours.National Weather Service discussion at 11 a.m. HST
Here is what forecasters are thinking for Julio: