ABOVE: Distressed residents line up for aid at the Pahoa Fire Station at 10 a.m. on Saturday (video uploading)
Hawaii County Civil Defense message (Aug. 9 – noon)
Video by David Corrigan
PAHOA, Hawaii – Hundreds of Puna residents lined up for some humanitarian aid at the Pahoa Fire Station on Saturday morning. In the wake of Hurricane Iselle – which seems to have done the most damage in the Puna region of Hawaii Island – thousands remain without power, and some cannot even leave their neighborhood, blocked in all sides by fallen trees and downed power lines.
Hawaii County offered those in need free water, ice and tarps today. Within minutes of the designated distribution time, cars choked Highway 130 and people lined up all around the building.
Supplies went quick. At 4 p.m., Hawaii County Civil Defense issued another alert letting the public know about a new distribution point for water, ice, and tarps at the new Pahoa High School Gym. The distribution point opened at 4 P.M. and was scheduled to remain open while supplies last.
This time, police officers will guide residents through a drive-through. Residents should stay in their vehicles and make their way through the line.
The County also says the Pāhoa Pool and Pāhoa Community Center are also open for residents to take showers and charge cell phones. The pool is not open for swimming.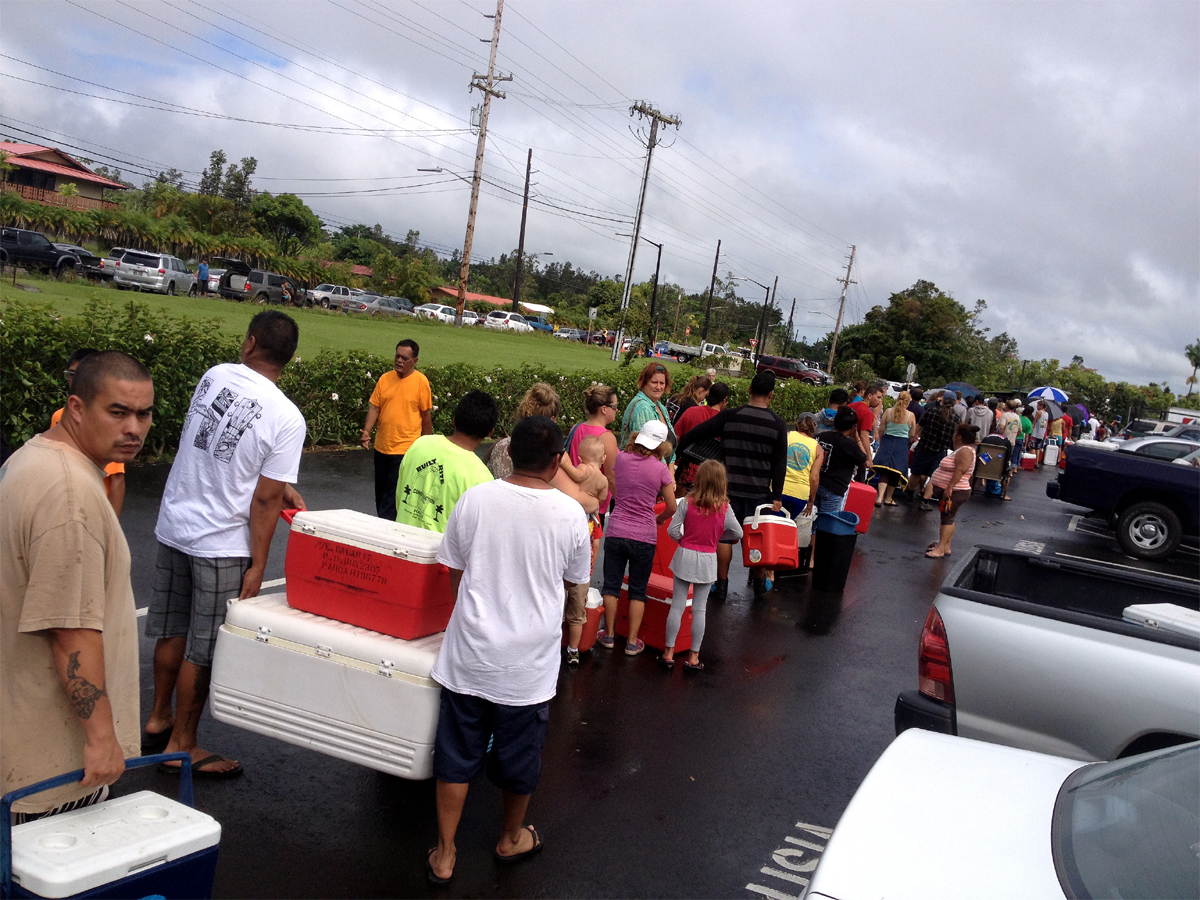 Most of the residents who lined up for help were in relatively good spirits, although many wanted to have an idea when they could expect to have their power turned back on.
Hawaii Electric Light Company crews are working feverishly to restore power. In an answer to some of those questions, HELCO stated in a media release:
An estimated 9,200 customers remain out of power in Hawaiian Paradise Park, Puna, Orchidland Estates, Leilani Estates, Nanawale, Kapoho, Kalapana, Hawaiian Beaches, Hawaiian Shores, and Waipunahina. In addition, there are outages affecting smaller pockets of customers of customers in areas from Hamakua through Volcano. Customers who have not yet reported an outage in a location that is not listed should call 969-6666 to report the outage.

Iselle caused extensive damage to power lines and utility poles and crews are still assessing the damage. As a result, customers still without power should expect extended outages, which could last into next week and in some cases, particularly the Puna area, much longer.

Crews are focusing their efforts on repairing damage to the island's transmission system, which serves as the backbone of the electric grid and is essential to providing service across the island. Much of the damage is in remote areas that are difficult to access. In many cases, crews have to cut their way through fallen trees to provide access for vehicles, equipment and personnel. The Puna District, which was especially hard hit by Iselle, is also quite large; the entire island of O'ahu can fit within the Puna District.

To assist with the restoration process, Hawaiian Electric crews from O'ahu and Maui will be traveling to Hawai'i Island..

Important safety information for those still without power:

· When using a portable generator, carefully read and follow instructions in the manufacturer's manual. Do not plug the generator into your household electrical outlets. Never use a generator inside a home, basement, or garage. Only use the generator outside, away from your home's windows, doors, and vents. Connect a heavy-duty, outdoor-rated power cord to the generator. Appliances can then be connected to the power cord. Make sure the outdoor-rated power cord is sufficient to handle the maximum electrical flow or electrical load from the generator. Check that the generator is properly grounded. Store reserve fuel in a safe place away from the generator or any other equipment that might ignite the fuel; use containers designed for fuel storage.

· Stay away from downed power lines. Assume they are energized, or "live," and dangerous. If you see someone injured after touching a downed power line, call 9-1-1 for help and do not approach the injured person.

Food safety tips:

Refrigerated foods

· Discard any perishable food that has been above 41 degrees Fahrenheit for more than two hours. Use a food thermometer to check the temperature of perishable foods such as meat, poultry, fish, and leftovers before you cook or eat it.

· Always discard any items in the refrigerator that have come into contact with raw meat juices.

Frozen foods

· Foods can stay frozen in the freezer for one to three days: one day for a half-full freezer, three days for a fully stocked freezer

· Food that has been thawed completely and has not been held at or below 41 degrees should be cooked and eaten immediately. If your food still has ice crystals, it's safe to refreeze.

As a general rule, "when it doubt, throw it out."

If your power is out for an extended period, consider using dry ice if available. Please remember to use gloves or tongs when handling dry ice. Dry ice can be placed directly on top of your foods, since dry ice cools things under it.

These tips have been adapted from the Hawaiʻi Department of Health's "Food Safety – During and After a Power Outage" brochure and the U.S. Department of Health and Human Services Foodsafety.gov website. For specifics on when to save or throw out certain types of food, see pages 68 and 69 in our "Handbook for Emergency Preparedness," which can be found at www.hawaiielectriclight.com under the "Safety and Emergency" tab.

Damage Claims:

Customers who wish to submit damage claims can access a claim form at www.hawaiielectriclight.com under the "residential services" section or by calling (808) 969-0279.HELCO media release