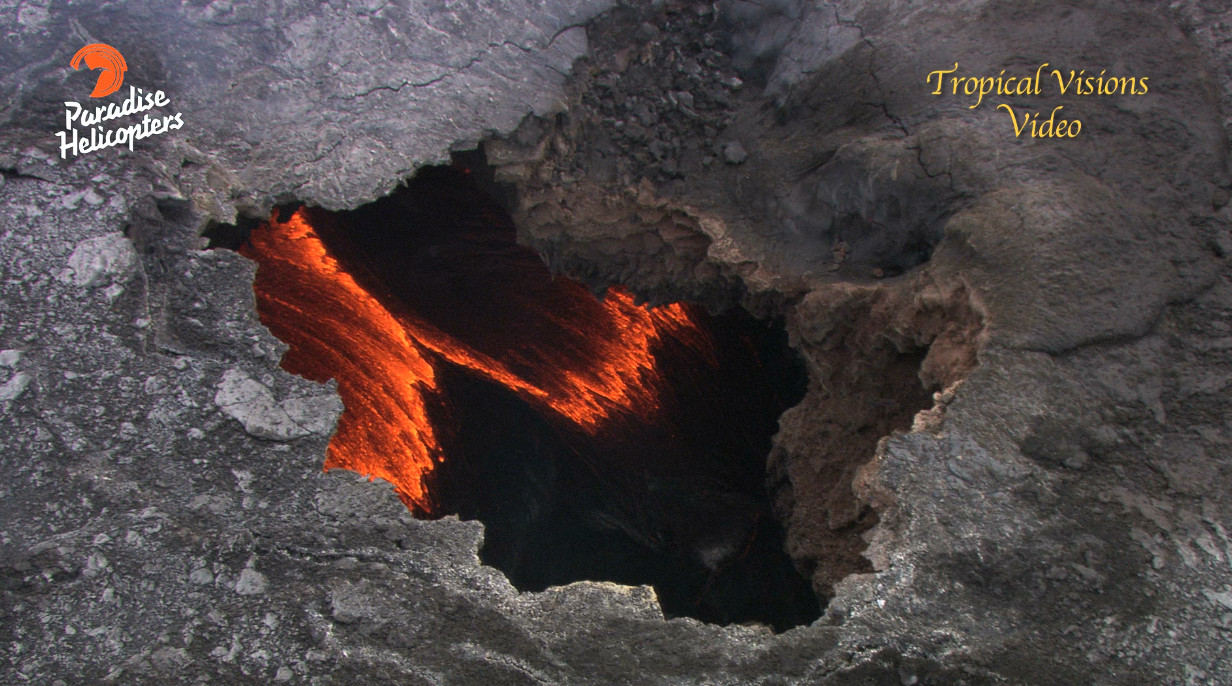 (ABOVE PHOTO) Image taken Dec. 5 by Mick Kalber aboard Paradise Helicopters peers through a skylight on the June 27 lava flow.
NEWS BRIEFS
The lava flow continues its slow approach, advancing 125 yards since yesterday. The front remains 2.4 miles upslope of the Highway 130 and Pahoa Village Road intersection. Until the flow passes beyond the area of flat topography it has entered, where several lines of steepest descent converge, the future flow path is uncertain.
Smoke conditions were moderate this morning in the immediate area with a light north wind blowing the smoke in a south southeast direction.
RECENT RELATED VIDEO
Here is yesterday's civil defense message with flyover video by Mick Kalber recorded the same day.
PRIMARY SOURCES

This morning's assessment shows that the flow front continues to advance however has slowed. The active flow front remains approximately 2.4 miles upslope of the Highway 130 and Pahoa Village Road intersection. The flow had advanced approximately 125 yards since yesterday. Current activity does not pose an immediate threat to area communities and Civil Defense and Hawaiian Volcano Observatory personnel are maintaining close observations of flow activity. Residents down slope will be kept informed of any changes in flow activity, advancement, and status.

Smoke conditions were moderate this morning in the immediate area with a light north wind blowing the smoke in a south southeast direction. Smoke conditions may increase in some areas and residents that may be sensitive or have respiratory problems are advised to take precautions and to remain indoors.

The Pahoa Village Road remains open to all traffic and motorists are advised to exercise caution as some utility pole protection material remains in place. Everyone is asked to please respect the residents of the area who were affected by the lava flow and to not trespass on private property.

Once again we would like to thank everyone for your patience and understanding and your cooperation and assistance is greatly appreciated. Hawaii County Civil Defense on Dec. 6 at 7:45 a.m. HST

Kīlauea Volcano continues to erupt at its summit and within its East Rift Zone. A finger of lava has broken away from the west edge of the flow field below the crack system and continued to move to the north. The leading edge of this finger is approximately 3.9 km (2.4 miles) above the intersection of Pāhoa Village Road and Highway 130, near the Pahoa Marketplace. The summit is currently undergoing deflationary tilt.

June 27th Lava Flow Observations: HVO is monitoring a narrow finger of lava that has broken away from the west edge of the flow field below the crack system and that is moving to the north at rates of several hundred meters per day. Webcam imagery of smoke from burning vegetation at the flow front indicates that the flow advance rate continued to be low. An overflight by Civil Defense on Friday morning located the leading edge as being approximately 3.9 km (2.4 mi) above the intersection of Pāhoa Village Road and Highway 130, near the Pahoa Marketplace. The flow has reached an area where several lines of steepest descent nearly converge due to flat topography and is probably the main factor in the decline of the advance rate. Until the flow passes this area of flat topography, the future flow path is uncertain.

Puʻu ʻŌʻō Observations: Tilt was essentially flat at Puʻu ʻŌʻō over the past 24 hours. All other monitoring data indicate no significant changes at Puʻu ʻŌʻō. Seismic tremor is low and steady, and webcams revealed no strong variations in the pattern of glow from degassing vents or the configuration of the crater floor. GPS-measured deformation across the cone has shown neither extension nor contraction since July. The most recent measurement of sulfur dioxide emissions from the East Rift Zone was about 250 tonnes per day on November 26, 2014.

Summit Observations: DI deflation dominated over the past 24 hours . The summit lava lake showed the usual fluctuations associated with changes in spattering behavior, which are also manifested as variations in tremor amplitudes. Small amounts of particulate material were carried aloft by the plume. The average emission rate of sulfur dioxide was 4,300 tonnes/day for the week ending on December 2 USGS Hawaiian Volcano Observatory on Dec. 6 at 8 a.m. HST