(ABOVE VIDEO) This morning's Civil Defense message (Jan. 29) with video courtesy Mick Kalber filmed on Wednesday, Jan. 28.
NEWS BRIEFS
Lava has not advanced since Monday morning. The lobe on the north side of the flow front is still 0.36 miles from the area of Highway 130 to the west or mauka of the Pahoa Police and Fire Stations. Civil defense says the lobe continues to be active and is widening. The original flow front and south margin breakout remain stalled, but civil defense made note of some breakout activity on the north margin of that lobe several yards behind the stalled distal tip. (map below)
Smoke conditions were light with a light south wind blowing the smoke in a north/northeast direction.
LATEST MAP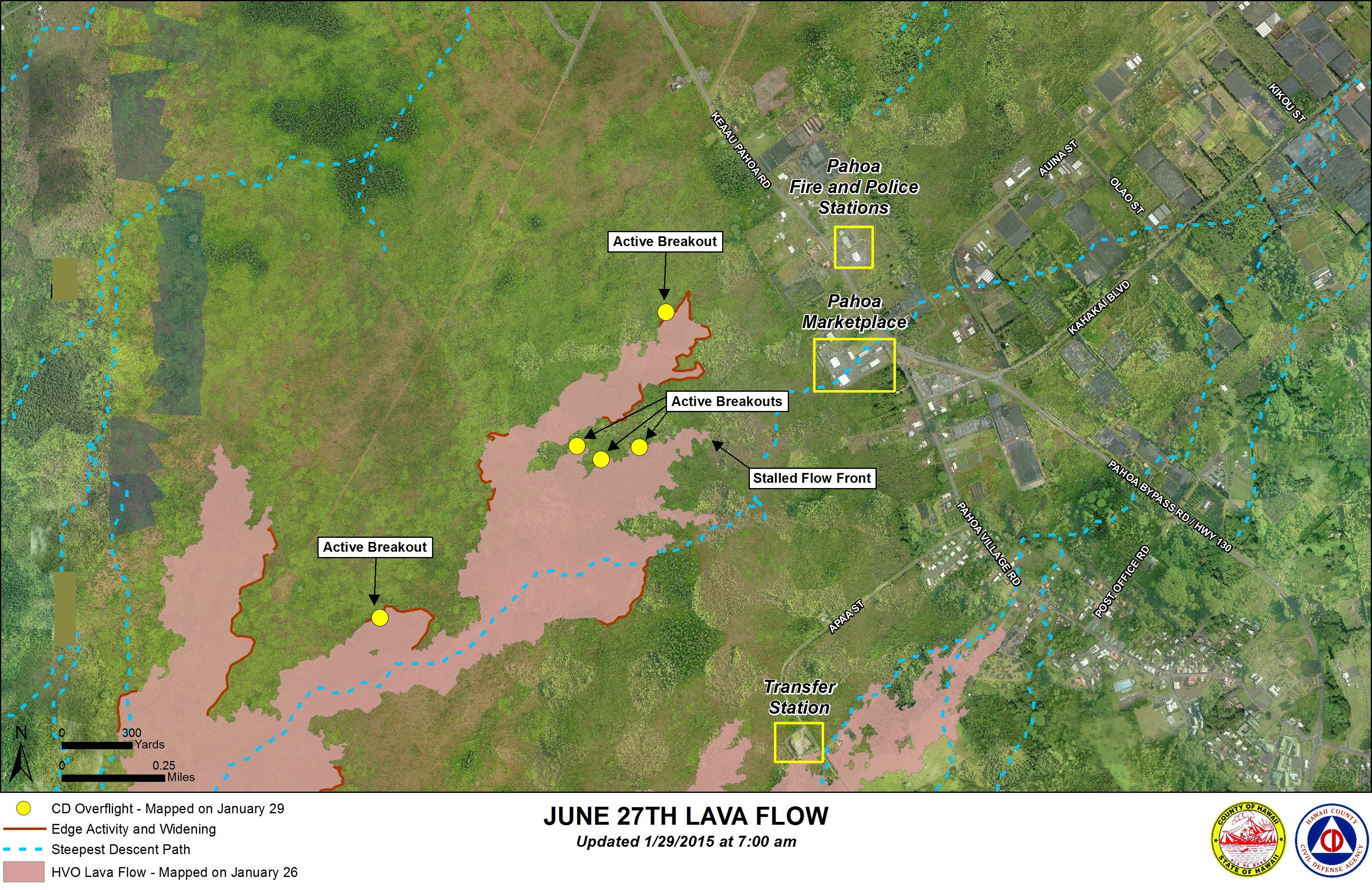 PRIMARY SOURCES

This morning's assessment shows that the original flow front and south margin breakout remain stalled. The breakout along the north side of the flow continues to be active and widening, however showing no signs of advancement. The leading edge or front of this breakout has not advanced since Monday morning and is located approximately 0.36 miles from the area of Highway 130 to the west or mauka of the Pahoa Police and Fire Stations. Two other breakouts along the north margin located 1-1.5 miles further upslope or behind the flow front showed little activity and no signs of advancement. A number of other breakouts along both margins of the flow and within the flow pad were observed however all current activity does not pose an immediate threat to area communities. The Hawaii County Civil Defense Agency and Hawaiian Volcano Observatory are maintaining close observations of the flow. Residents and businesses down slope will be informed of any changes in flow activity and advancement.

Smoke conditions were light with a light south wind blowing the smoke in a north/northeast direction. Smoke conditions may increase in some areas and individuals who may be sensitive or have respiratory problems are advised to take necessary precautions and to remain indoors. No brush fire activity was noted this morning and fire conditions will be monitored closely.

The public is reminded that the Public Lava Viewing area at the Pahoa Transfer Station is closed today to conduct a school education program. The public viewing area will be opened tomorrow Friday January 30 and Saturday January 31st and will be closed effective Sunday February 1st to allow for the restoration and return to normal solid waste collection operations. We apologize for this inconvenience and thank everyone for your patience and understanding.

On behalf of the Hawaii County Civil Defense Agency and our partners we would like to thank everyone for your assistance and cooperation. Hawaii County Civil Defense on Jan. 29 at 7:15 a.m. HST

Kīlauea Volcano continues to erupt at its summit and from its East Rift Zone. The leading tip of the June 27th lava flow remains roughly 500 m (~550 yd) from Highway 130 in the area west of the Pāhoa Fire and Police Stations, and the flow tip has not advanced significantly in the past day, although breakouts continue upslope. No significant changes were noted at Puʻu ʻŌʻō or the summit, with the exception of a small collapse within the summit eruptive vent just before noon on Wednesday. A magnitude-3.2 earthquake occurred beneath Kilauea's south flank just after midnight on Thursday morning and was felt on the east side of the island.

June 27th Lava Flow Observations: This morning's Civil Defense overflight noted that the leading tip of the June 27th lava flow remains stalled upslope of Highway 130, west of the Pahoa Fire and Police stations. The leading tip of the flow is roughly 500 meters (550 yards) from Highway 130. Breakouts remain active a short distance upslope and continue to slowly widen the flow, as confirmed by both direct observations and HVO webcams. An overflight to collect more detailed observations is planned for Thursday morning.

Puʻu ʻŌʻō Observations: Data recorded from instruments on and around Puʻu ʻŌʻō continue to indicate no significant variations in eruptive activity. A few persistent incandescent spots are visible in Webcam images, no net tilt has been recorded over the past day, and seismic tremor has been low and steady. A 3.2-magnitude earthquake occurred beneath the south flank of the volcano a few minutes after midnight on Thursday morning. Although the earthquake was felt by residents on the east side of the island, no changes were associated with this small event. The rate of sulfur dioxide emission from all East Rift Zone vents was about 200 tonnes per day, measured on January 7.

Summit Observations: At 11:37 HST on Wednesday, January 28, a small ledge within the Halemaʻumaʻu Overlook vent collapsed into the lava lake, resulting in a brief period of heightened spattering and a spike in seismic energy release. Otherwise, the vent was characterized by normal lava lake activity, with fluctuations in level corresponding to changes in seismic tremor. Observations on Wednesday morning indicated that the depth to the lake surface from the vent rim continues to be about 40 m (130 ft). Emission rates of sulfur dioxide ranged from around 4,400 to 5,100 tonnes/day during the week ending on January 27.USGS Hawaiian Volcano Observatory on Jan. 29 at 8:12 a.m. HST