(ABOVE VIDEO) Overflight video filmed by Mick Kalber on Friday with discussion by Civil Defense administrator Darryl Oliviera taken from Friday's media conference call.
NEWS BRIEFS
There has been no advancement of any of the down slope flow areas on the June 27 lava flow.
The amount of lava moving through the tube is about the same as the amount measured last week, scientists say. USGS Hawaiian Volcano Observatory completed a measurement of the lava tube cross-sectional area from a location near Puʻu ʻŌʻō during a Thursday overflight.
Smoke conditions were light with a light variable wind blowing the smoke in a southwest direction.
LATEST MAP
Produced by Hawaii County Civil Defense on Friday, Jan. 30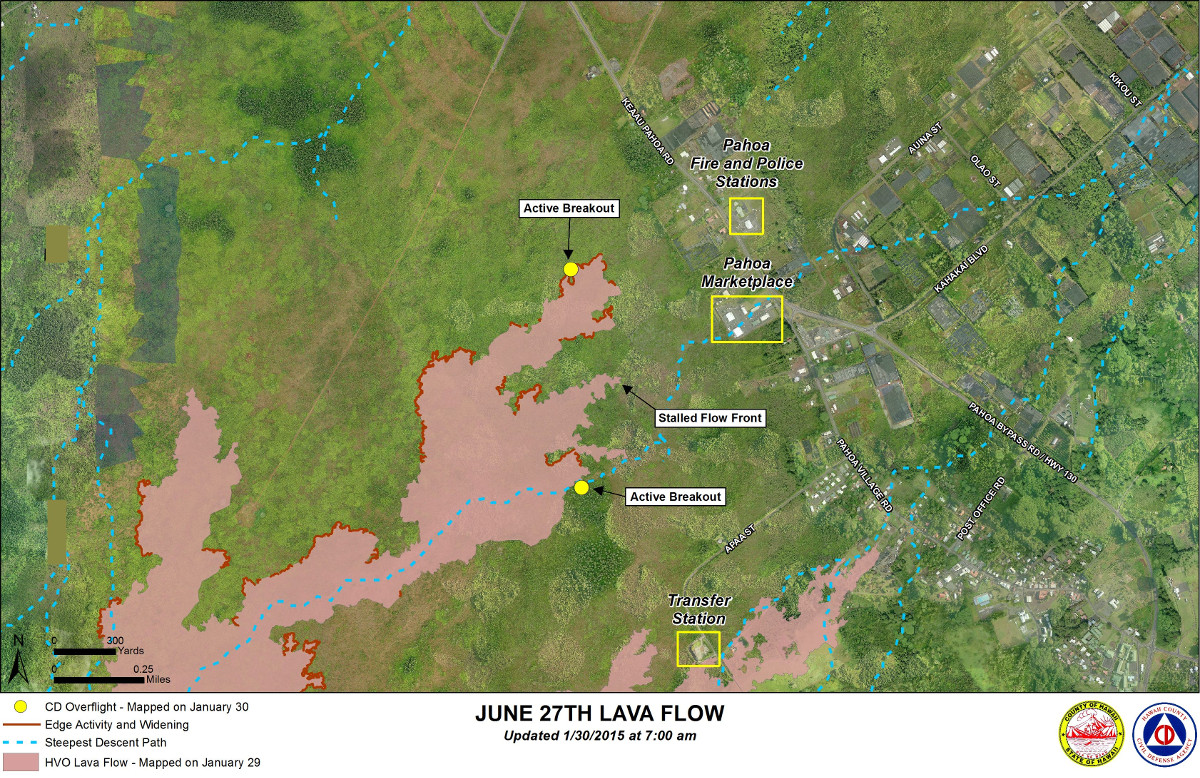 PRIMARY SOURCES

This morning's assessment shows no advancement of any of the down slope flow areas. The breakout along the north side of the flow continues to be active and widening. The leading edge or front of this breakout has not advanced since Monday January 26th and is located approximately 0.36 miles from the area of Highway 130 to the west or mauka of the Pahoa Police and Fire Stations. Two other breakouts along the north margin located 1-1.5 miles further upslope or behind the flow front showed little activity and no signs of advancement. A number of other breakouts along both margins of the flow and within the flow pad were observed however all current activity does not pose an immediate threat to area communities. The Hawaii County Civil Defense Agency and Hawaiian Volcano Observatory are maintaining close observations of the flow. Residents and businesses down slope will be informed of any changes in flow activity and advancement.

Smoke conditions were light with a light variable wind blowing the smoke in a southwest direction. Smoke conditions may increase in some areas and individuals who may be sensitive or have respiratory problems are advised to take necessary precautions and to remain indoors. No brush fire activity was noted this morning and fire conditions will be monitored closely.

On behalf of the Hawaii County Civil Defense Agency and our partners we would like to thank everyone for your assistance and cooperation. Hawaii County Civil Defense on Jan. 31 at &:30 a.m. HST

Kīlauea Volcano continues to erupt at its summit and from its East Rift Zone. The leading tip of the June 27th lava flow remains roughly 500 m (~550 yd) from Highway 130 in the area west of the Pāhoa Fire and Police Stations. The flow has not advanced since Monday, although breakouts are active upslope. The DI event that began on Thursday was mostly over by Friday morning, with only subtle summit inflation since that time.

June 27th Lava Flow Observations: Saturday morning's Civil Defense overflight observed no advancement of any of the flow lobes that are near Highway 130, and that the dominant activity was widening of the existing lobes. Overnight webcam views suggest scattered breakouts across the lower portion of the flow field. A measurement of the lava tube cross-sectional area from a location near Puʻu ʻŌʻō was completed as part of Thursday's overflight. Processing of those data on Friday indicates that the tube area is similar to that measured last week, which suggests that the flux of lava through the tube is about the same as well.

Puʻu ʻŌʻō Observations: There have been no changes in eruptive activity at Puʻu ʻŌʻō over the past several days. Webcams show a few spots of fluctuating glow emanating from small pits within the crater. Seismic tremor has been low, and no net tilt has occurred over the past 24 hours. The rate of sulfur dioxide emission from all East Rift Zone vents was about 200 tonnes per day, measured on January 7.

Summit Observations: The DI (deflation-inflation) event that occurred during Thursday and Friday has ended, with inflation leveling off by 10 AM HST Friday. Since that time, summit deformation has been characterized by subtle, minor inflation. A Friday morning measurement of lava level within the summit vent found a depth of 46 m (150 ft) below the vent rim, but webcam imagery indicates that it has risen by a few meters (yards) since that time, consistent with overall summit inflation. Superimposed on the overall lava level rise were minor fluctuations associated with changes in spattering behavior. A very small collapse of the lava veneer above the lake surface occurred over a several-minute period starting at about 2:33 AM HST on Saturday. Emission rates of sulfur dioxide ranged from around 4,400 to 5,100 tonnes/day during the week ending on January 27.
USGS Hawaiian Volcano Observatory on Jan. 31 at 8:07 a.m. HST