Employee hospitalized, hotel remains open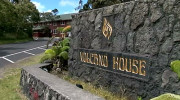 HAWAII VOLCANOES NATIONAL PARK, Hawaii – Officials are investigating the cause of a kitchen fire in the landmark Volcano House that sent a hotel employee to the hospital and closed both restaurants Tuesday morning.
Park rangers, Hawai'i County medics and engine 19 responded quickly to the fire alarm and calls to park dispatch, around 10:30 a.m. Tuesday. A 42-year-old hotel employee suffered burns to his upper arms, and was transported by county medics to the hospital. National Park Service media release
Hawaii Volcanoes National Park reports both The Rim restaurant and Uncle George's Lounge will be temporarily closed as National Park Service investigators determine the cause of the small blaze. Hawai'i Volcanoes Lodge Company, LLC General Manager David Macilwraith says the Volcano House hotel remains open, and the plan is to reopen both restaurants Thursday.