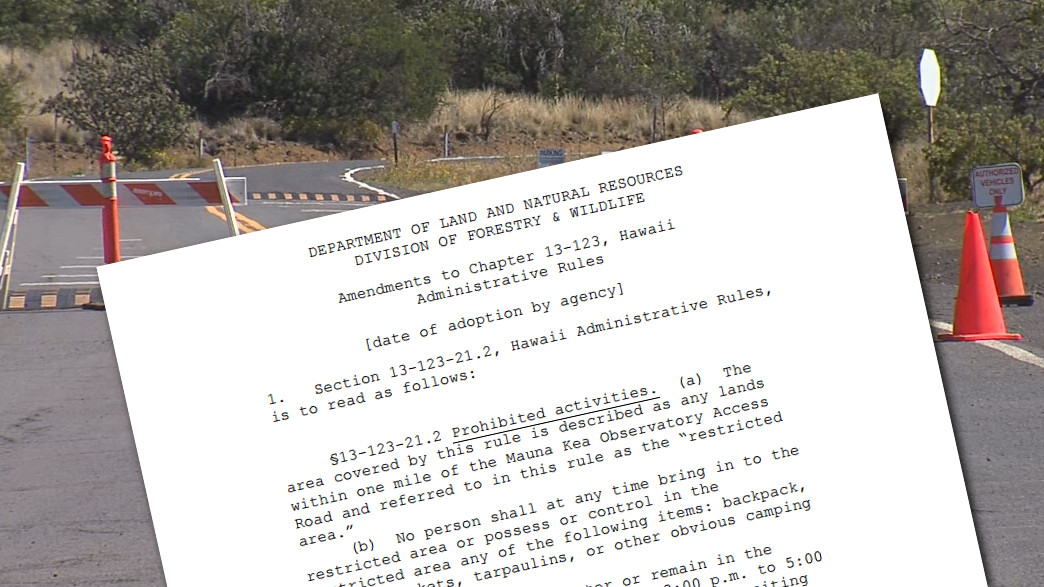 MAUNA KEA – A new set of administrative rules could restrict use of and access to a one mile area near the Mauna Kea Access Road.
The Board of Land and Natural Resources will vote on the proposed administrative rule changes during its Friday meeting on Oahu. The state hopes to adopt a new section under Hawaii Administrative Rules as Title 13 Chapter 123 Section 21.2 "To Restrict Use of and Access to Portions of Public Hunting Areas, Units A and K, Mauna Kea, Hawaii Island."
Last week officials said the state would be enforcing "no camping" laws at the site of the Mauna Kea Visitors Center crosswalk, where opponents of the state-supported Thirty Meter Telescope project maintain a constant vigil in an effort to block TMT construction crews from getting to the summit.
The emergency rulemaking procedures are being enacted "To Protect Against Imminent Peril To Public Safety and Natural Resources," the state reasons.
A draft of the new rules states:
DEPARTMENT OF LAND AND NATURAL RESOURCES
DIVISION OF FORESTRY & WILDLIFE

Amendments to Chapter 13-123, Hawaii Administrative Rules

[date of adoption by agency]

1. Section 13-123-21.2, Hawaii Administrative Rules, is to read as follows:

§13-123-21.2 Prohibited activities. (a) The area covered by this rule is described as any lands within one mile of the Mauna Kea Observatory Access Road and referred to in this rule as the "restricted area."

(b) No person shall at any time bring in to the restricted area or possess or control in the restricted area any of the following items: backpack, tents, blankets, tarpaulins, or other obvious camping paraphernalia.

(c) No person shall enter or remain in the restricted area during the hours of 8:00 p.m. to 5:00 a.m., except to the extent the person is transiting through the restricted area in a motor vehicle on the Mauna Kea Observatory Access Road.

[Eff ] (Auth: HRS §183D-3) (Imp:HRS §§183D-4, 187D-5)
The land baord meets this Friday (July 10, 2015) at 9 a.m. at the Kalanimoku Building (1151 Punchbowl Street) in the Land Board Conference Room 132.