Tropical Storm Guillermo Update – 11 a.m.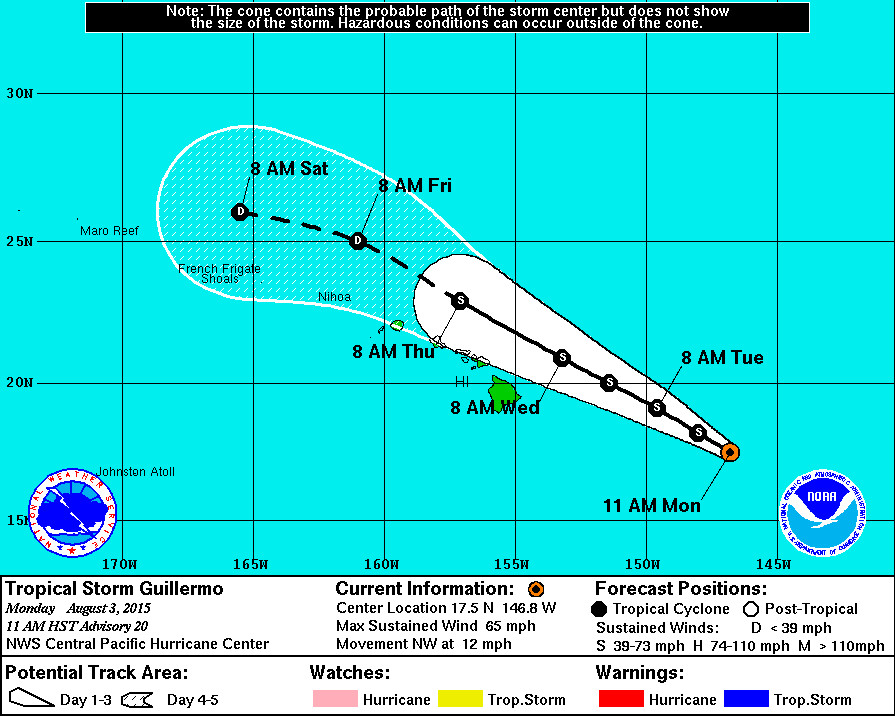 As of 11 a.m. HST Tropical Storm Guillermo was 565 miles east southeast of Hilo, Hawaii. The storm is moving northwest at 12 mph. This motion is expected to continue through Wednesday.
New data shows a northward shift in the track and weaker winds in the southwestern quadrant. The National Weather Service says Guillermo is expected to pass approximately 150 miles northeast of the Big Island on Wednesday. Tropical storm force winds extend outward up to 140 miles from the center.
Tropical Storm Guillermo's maximum sustained winds are measured at 65 mph with higher gusts. Steady weakening is expected during the next couple of days.
There are no coastal watches or warnings in effect.
A High Surf Advisory is now in effect for east facing shores of all islands. Surf is forecast to be 10 to 14 feet through Tuesday.
National Weather Service – 11 a.m.
Satellite images show that Guillermo is maintaining a rather ragged appearance this morning. Deep convection and the coldest cloud tops are displaced toward the northeast which is indicative of the vertical shear affecting the system. USAF Reserve Weather Recon data have been crucial in helping locate the center of the system within the ragged cloud mass. Subjective Dvorak current intensities from JTWC and SAB came in at 55 kt while PHFO came in at 65 kt. The CIMSS ADT at 1800 UTC was also 55 kt. Lastly… The adjusted wind data from the USAF Weather Recon mission produced 53 kt northeast of the center. Using a consensus of these values… The initial intensity will be 55 kt.

Guillermo is continuing to move toward a break in the ridge aloft. However… Data from the USAF Reserve Weather Recon flight this morning found the center of Guillermo a little farther north than the forecast track projection. The adjustment results in an initial motion of 310/10 kt. With the northward track shift… And also possibly due to added data from ongoing aerial recon missions… The objective aids have also adjusted northward with even the outlying UKMET taking Guillermo north of the Main Hawaiian Islands. As a result… The forecast has been nudged northward from the previous package and is aligned closely with the HWRF and GFS through 48 hours then south of the dynamic consensus beyond that time.

Along the forecast track… Guillermo will be continuing to move toward an increasingly hostile vertical shear environment. Ships shear projections show values going above 20 kts by 12 hours and above 30 kts at 60 hours. This is consistent with upper level winds projected by the global models. The forecast calls for continued weakening of Guillermo as it approaches the main Hawaiian Islands and is in line with the previous forecast.

As Guillermo moves closer to Hawaii… Watches may be issued later today or tonight for portions of the state. The decision to hold off on a watch issuance for this package is due to the northward shift in the track and the weaker winds in the southwestern quadrant. It is still too soon to determine with certainty which islands are most likely to experience the greatest impacts from Guillermo. It is also important to note that significant impacts can extend well away from the center.

Forecast positions and max winds

Init 03/2100z 17.5n 146.8w 55 kt 65 mph
12h 04/0600z 18.2n 148.0w 50 kt 60 mph
24h 04/1800z 19.1n 149.6w 45 kt 50 mph
36h 05/0600z 20.0n 151.4w 45 kt 50 mph
48h 05/1800z 20.9n 153.2w 40 kt 45 mph
72h 06/1800z 22.9n 157.1w 35 kt 40 mph
96h 07/1800z 25.0n 161.0w 30 kt 35 mph
120h 08/1800z 26.0n 165.5w 25 kt 30 mph