Tropical Storm Guillermo Update – 5 p.m.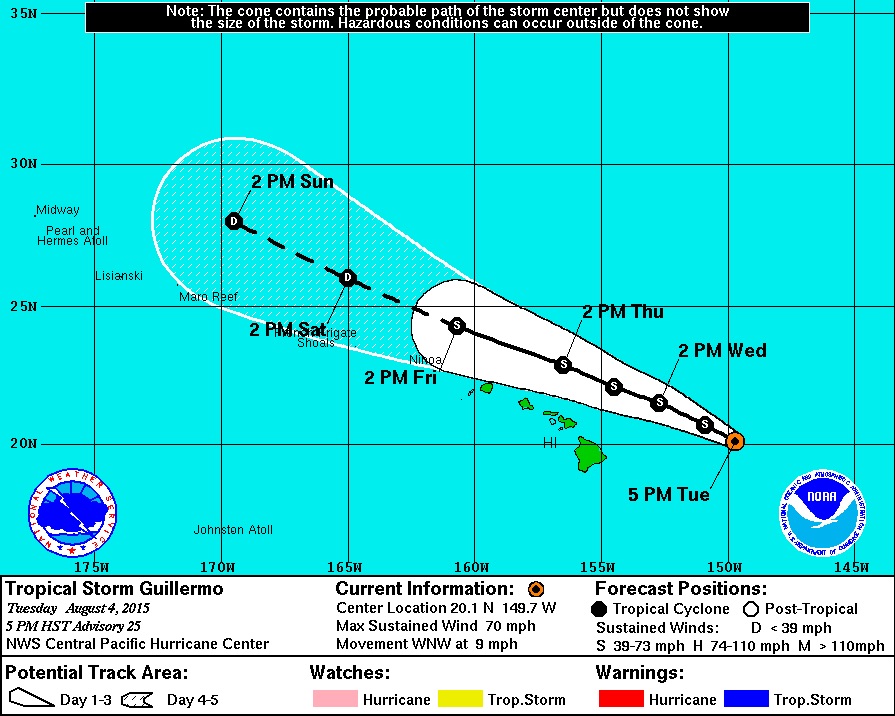 A Flash Flood Watch is in effect for Hawaii Island and Maui until 6 p.m. Thursday. As abundant moisture from Tropical Storm Guillermo moves over the area, conditions may develop that lead to flash flooding. Total rainfall amounts of 1 to 3 inches are expected on Hawaii Island, with isolated maximum amounts near 7 inches mainly in higher terrain.
A Tropical Storm Watch remains in effect for Hawaii Island, as well as the Islands of Maui, Molokai, Lanai and Kahoolawe.
As of 5 p.m. HST Tropical Storm Guillermo was 350 miles east of Hilo, Hawaii. The storm is slowly moving west northwest at 9 mph. The National Weather Service now says the center of Guillermo is expected to pass 150 miles north northeast of Hilo Wednesday night, closer than the track reported at 11 a.m.
Tropical Storm Guillermo is just below hurricane strength, with maximum sustained winds at 70 mph with higher gusts. Steady weakening anticipated.
A High Surf Advisory is still in effect for east facing shores of all islands. Wave heights will be in the 5 to 8 ft. range.
National Weather Service – 5 p.m.
DESPITE AN INCREASINGLY RAGGED APPEARANCE ON SATELLITE IMAGES…US AIR FORCE WEATHER RECON DATA SHOWED THAT GUILLERMO HAS BEEN ABLE TO MAINTAIN ITS INTENSITY OVER THE PAST SIX HOURS. DROPSONDE DATA SHOWED 60 KT IN THE NORTHWEST QUADRANT…MBL SHOWED 58 KT AND WL150 SHOWED 55 KT…ALL OF WHICH SUPPORT KEEPING GUILLERMO AT 60 KT. RECON FIXES ALSO SHOWED THAT THE CENTER OF GUILLERMO HAS SHIFTED WESTWARD WHICH MAY BE INDICATIVE OF THE LOW LEVEL CENTER DECOUPLING IN THE FACE OF 34 KT OF VERTICAL SHEAR AS SHOWN IN THE CIMSS 0000 UTC ANALYSIS.

A DECOUPLING OF THE LOW LEVEL CENTER SHOULD BE INDICATIVE OF THE START OF A WEAKENING TREND. THE OBJECTIVE AIDS SHOW THIS TREND WITH SHIPS DISSIPATING GUILLERMO BY 72 HOURS. HWRF HOLDS THE INTENSITY UP A LITTLE LONGER…FOR 12 HOURS…THEN BEGINS THE WEAKENING TREND. THE FORECAST CALLS FOR A STEADY WEAKENING WITH GUILLERMO BECOMING A TROPICAL DEPRESSION AFTER DAY 3. THIS IS CLOSE TO THE PREVIOUS PACKAGE AND THE IVCN CONSENSUS.

THE SHORT TERM WESTWARD SHIFT HAS RESULTED IN AN ADJUSTMENT OF THE FORECAST TRACK CLOSER TO THE MAIN HAWAIIAN ISLANDS THAN THE PREVIOUS PACKAGE AND A BIT SLOWER AS WELL. A DECOUPLED SYSTEM WILL RESULT IN THE CENTER OF GUILLERMO BEING STEERED MORE BY THE LOWER LEVEL FLOW SO THE FORECAST LEANS TOWARD BAMS GUIDANCE AND IS SOUTH OF THE GFS…ECMWF…HWRF AND THE MODEL CONSENSUS. THE TRACK CHANGE AND THE ADJUSTMENT CLOSER TO THE MAIN HAWAIIAN ISLANDS WARRANTS MAINTAINING THE TROPICAL STORM WATCH FOR THE BIG ISLAND AND MAUI COUNTY. MOVEMENT AND INTENSITY TRENDS TONIGHT…WITH SUPPORTING DATA FROM ONGOING USAF RESERVE WEATHER RECON…WILL DETERMINE THE FUTURE STATUS OF WATCHES FOR THE STATE OF HAWAII.