Tropical Storm Guillermo Update – 5 a.m.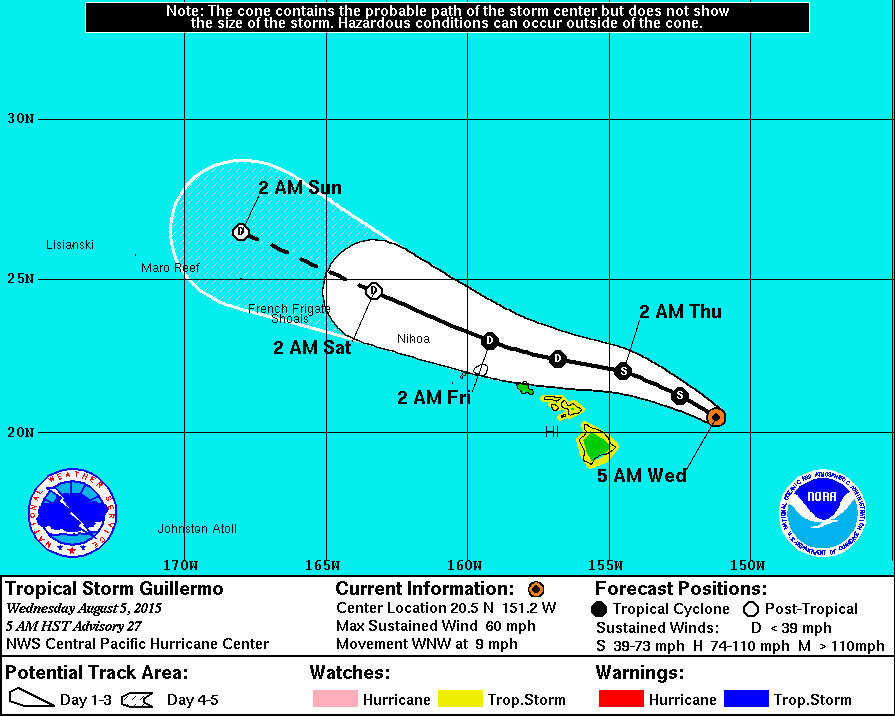 A Flash Flood Watch is in effect for Hawaii Island and Maui.
A Tropical Storm Watch remains in effect for Hawaii Island, as well as the Islands of Maui, Molokai, Lanai and Kahoolawe.
As of 5 a.m. HST Tropical Storm Guillermo was 260 miles east northeast of Hilo, Hawaii. The storm is slowly moving west northwest at 9 mph. The National Weather Service now says the center of Guillermo is expected to pass 160 miles north northeast of Hilo Wednesday night.
Tropical Storm Guillermo has again weakened, with sustained winds measured at 60 mph with higher gusts. Steady weakening is anticipated over the next few days.
A High Surf Advisory is still in effect for east facing shores of all islands.
National Weather Service – 5 a.m.
Guillermo is giving in to strong and persistent shear… With deep convection diminishing and becoming increasingly detached from the low level center. A U.S Air Force Hurricane Hunter aircraft had been sampling Guillermo through most of the night…Providing crucial data regarding the cyclone/s wind field and center location. As tasked… The aircraft was locating a flight level center… At an altitude near 10 kft. Dropsondes released near the flight level center were consistently finding fairly strong surface winds… Leading to the conclusion that the system is tilted with height. Available microwave imagery supports this notion… And it would not be a surprise if conventional visible imagery reveals an exposed llcc later today. The initial intensity for this advisory has been lowered to 50 kt… Based on maximum flight level winds of 55 kt and sfmr winds near 50 kt… With these winds primarily located north of the center.

As the cyclone is north of a ridge axis aloft…It is now firmly embedded in an area of strong westerly winds aloft associated with the subtropical jet. Southwesterly shear is currently analyzed to be between 35 and 40 kt… With even greater shear values along the forecast track. With the system in this hostile environment… Steadyweakening is forecast…With degeneration to a remnant low now forecast by day 3. Ships guidance dissipates the system within 48 hours… And the latest ecmwf guidance follows suit. The latest intensity forecast is similar to the previous… But has accelerated the weakening trend… And closely follows the ivcn consensus.

The initial motion vector is a somewhat uncertain 290/08 kt…With the recent turn toward the west-northwest related to the system becoming increasingly shallow. The updated track forecast is essentially an update of the previous… Is close to the gfex and tvcn consensus… And assumes a fairly shallow system will be steered by the low-level trade wind flow provided by a surface high centered to the distant north-northeast. Although the probability of sustained tropical storm force winds in the watch area have diminished slightly with this advisory… No changes will be made to the tropical storm watch at this time.