Tropical Storm Guillermo Update – 11 p.m.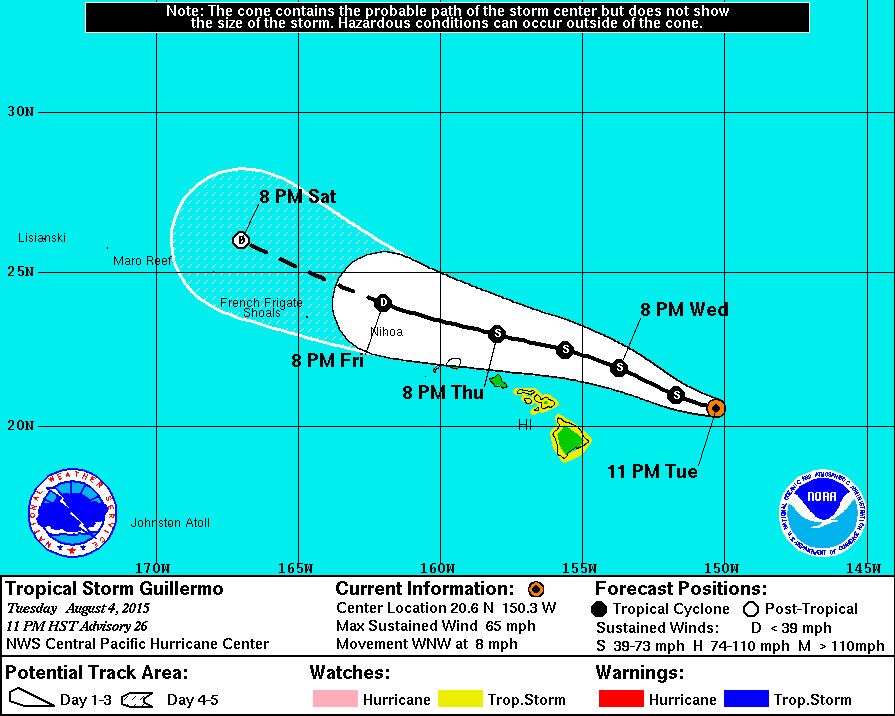 A Flash Flood Watch is in effect for Hawaii Island and Maui until 6 p.m. Thursday. As abundant moisture from Tropical Storm Guillermo moves over the area, conditions may develop that lead to flash flooding. Total rainfall amounts of 1 to 3 inches are expected on Hawaii Island, with isolated maximum amounts near 7 inches mainly in higher terrain.
A Tropical Storm Watch remains in effect for Hawaii Island, as well as the Islands of Maui, Molokai, Lanai and Kahoolawe.
As of 11 p.m. HST Tropical Storm Guillermo was 315 miles east northeast of Hilo, Hawaii. The storm is slowly moving west northwest at 8 mph. The National Weather Service now says the center of Guillermo is expected to pass 175 miles north northeast of Hilo Wednesday night.
Tropical Storm Guillermo has weakened a bit, with sustained winds measured at 65 mph with higher gusts. Steady weakening is anticipated over the next few days.
A High Surf Advisory is still in effect for east facing shores of all islands. Wave heights will be in the 5 to 8 ft. range.
National Weather Service – 11 p.m.
We once again have the luxury of real-time in situ observations of Guillermo… Provided by U.S. Air Force Hurricane Hunters. The latest aircraft data… As well as satellite observations… Indicate that Guillermo is beginning to weaken… With maximum sustained surface winds estimated to be 55 kt based on SFMR and flight level winds.

While water temperatures along the forecast track are sufficiently warm to support a strong hurricane… Persistent strong vertical shear will preclude that from occurring. The cyclone has moved north of a ridge axis aloft… And is now encountering strong westerly winds aloft… Associated with the subtropical jet. The initial motion vector is estimated to be 295/07 kt… With the recent slowing and westward turn likely related to the system becoming increasingly decoupled in the presence of the strong shear… Analyzed as being as high as 35 kt. With even greater shear values along the forecast track… A steady weakening trend is anticipated until dissipation occurs by day 5. Ships guidance dissipates the system within 72 hours… And the latest ECMWF guidance offered a dramatic change from previous runs… With Guillermo now depicted as weakening to an open wave within 48 hours. The latest intensity forecast is similar to the previous… But has accelerated the weakening trend… And closely follows the Ivcn.

As far as the track forecast…The much weaker system assumes a nearly due west track in the latest ECMWF guidance… Steered by the low level trade wind flow… And thus the TVCN and GFEX consensus guidance has shifted southward again… Continuing a trend that began about 12 hours ago. The updated track forecast parallels the previous… But has been shifted slightly southward… And closely mirrors the GFEX. Although the probability of sustained tropical storm force winds in the watch area have diminished slightly with this advisory… No changes will be made to the watch at this time. 12 foot sea radii were expanded in most quadrants due to observations from NOAA buoy 51004… Which indicated that current wave watch guidance was underdone in the southwest quadrant.