11 am Update – Hurricane Hilda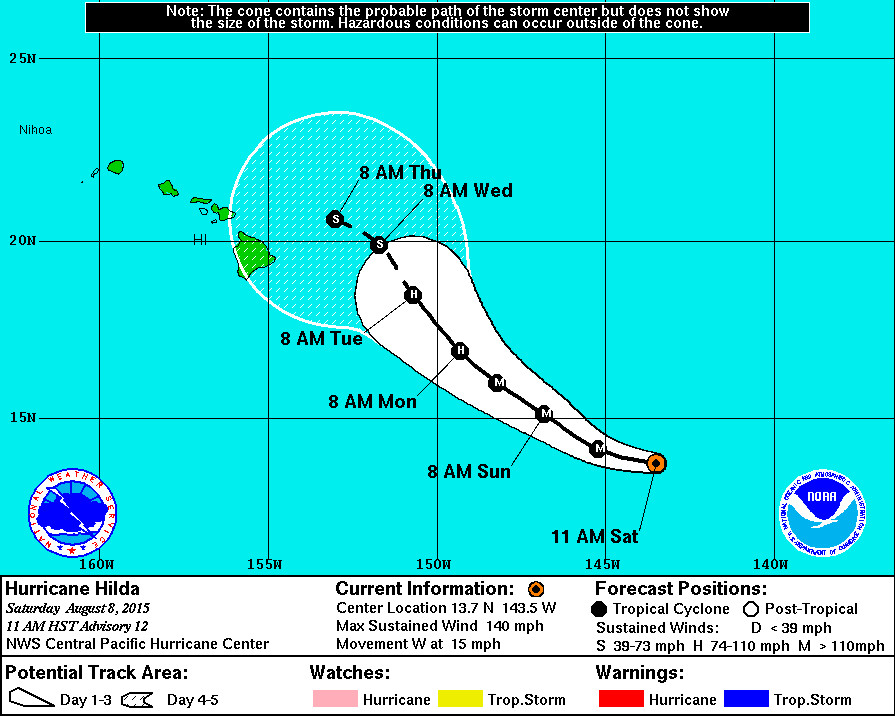 LOCATION: Hurricane Hilda is 870 miles east southeast of Hilo and moving west at 15 mph. There are currently no coastal watches or warnings in effect. The National Weather Service says a gradual turn toward the northwest is expected over the next couple of days with a slowing of forward speed.
STRENGTH: Hilda is now a Category 4 hurricane with maximum sustained winds of 140 mph. Some additional strengthening is still possible today, forecasters say, followed by weakening on Sunday and Monday.
SIZE: Hilda has previously been called a tiny storm. Hurricane force winds extend outward up to 25 miles from the center and tropical storm force winds extend outward up to 125 miles.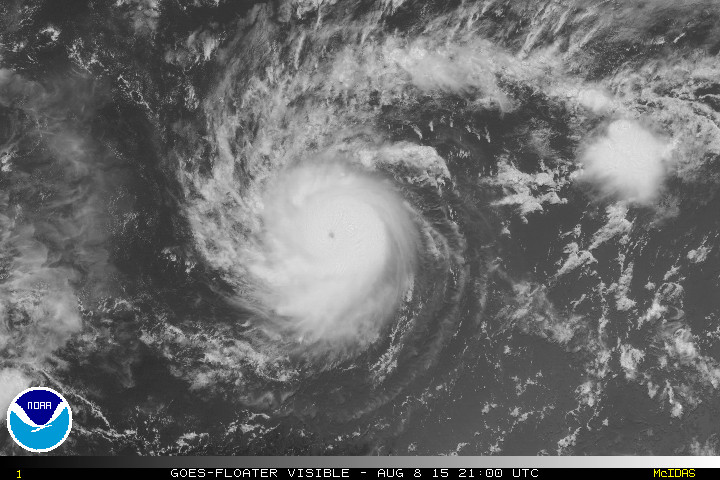 National Weather Service – 11 am
HILDA HAS BEEN UNDERGOING ANOTHER PERIOD OF RAPID INTENSIFICATION THIS MORNING. THE IMPRESSIVE HURRICANE HAS AN EXCELLENT SATELLITE PRESENTATION WITH INCREASINGLY SYMMETRIC DEEP COLD CONVECTIVE TOPS SURROUNDING A SMALL AND FAIRLY WELL DEFINED EYE. SATELLITE INTENSITY ESTIMATES FROM VARIOUS AGENCIES CONTINUE TO CLIMB… AND WERE 6.5 FROM SAB AND JTWC… AND 6.0 FROM PHFO. THE CIMSS RAW ADT WAS 6.5 AND THE NESDIS INI WAS 6.3. BASED ON A CONSENSUS OF THESE ESTIMATES… THE INITIAL INTENSITY HAS BEEN RAISED TO 120 KT.

FURTHER STRENGTHENING OVER THE NEXT 12 HOURS OR SO CERTAINLY SEEMS POSSIBLE AS HILDA MOVES OVER SEA SURFACE TEMPERATURES OVER 28C WITH LITTLE SHEAR. BY 24-36 HOURS… SSTS DECREASE A LITTLE ALONG THE FORECAST TRACK… AND SHEAR INCREASES A LITTLE… THUS A WEAKENING TREND IS EXPECTED TO COMMENCE. THE SHEAR IS EXPECTED TO INCREASE SIGNIFICANTLY ALONG THE TRACK BEYOND 48 HOURS… WITH VALUES REACHING 50 KNOTS OR GREATER BY DAY 4… AS HILDA MOVES FARTHER UNDERNEATH THE SUBTROPICAL JET. THIS WILL LEADING TO RAPID WEAKENING BY DAYS 3 AND BEYOND.

HILDA IS CURRENTLY TRACKING ABOUT 280/13 TO THE SOUTH OF THE SUBTROPICAL RIDGE. THE GLOBAL MODELS ARE SHOWING A BREAK OR COL DEVELOPING IN THE RIDGE BY MONDAY WHICH WILL CAUSE THE CYCLONE TO SLOW. BEYOND 72 HOURS… HILDA WILL BE LOCATED NEAR THIS COL THAT WILL RESULT IN VERY SLOW MOTION TOWARD THE NW BY DAY 4. THERE IS CONSIDERABLE SPREAD IN THE GUIDANCE AFTER DAY 3 OWING TO THE DIFFERENCES IN HOW THE MODELS ALTER THE DEPTH OF THE STEERING FLOW FOR THE CYCLONE AS THE DEEP CONVECTION BECOMES INCREASINGLY SHEARED. OUR OFFICIAL FORECAST INDICATES A LITTLE MORE NORTHWARD MOTION THAN PREVIOUSLY AT 96 HOURS…FOLLOWED BY MORE OF A BEND BACK TOWARD THE WNW AT THE END OF THE PERIOD AS HILDA IS EXPECTED TO BE A SHALLOW SYSTEM BY THEN.

FORECAST POSITIONS AND MAX WINDS

INIT 08/2100Z 13.7N 143.5W 120 KT 140 MPH
12H 09/0600Z 14.1N 145.2W 125 KT 145 MPH
24H 09/1800Z 15.1N 146.8W 115 KT 135 MPH
36H 10/0600Z 16.0N 148.2W 100 KT 115 MPH
48H 10/1800Z 16.9N 149.3W 85 KT 100 MPH
72H 11/1800Z 18.5N 150.7W 65 KT 75 MPH
96H 12/1800Z 19.9N 151.7W 45 KT 50 MPH
120H 13/1800Z 20.6N 153.0W 40 KT 45 MPH