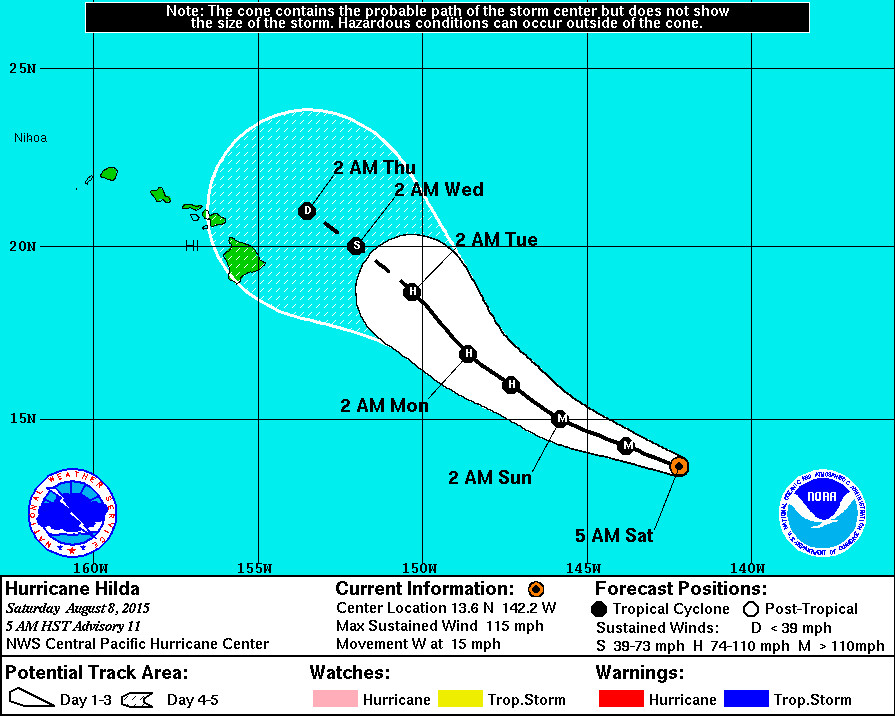 Hurricane Hilda is 950 east southeast of Hilo and moving west at 15 mph. There are currently no coastal watches or warnings in effect.
Hilda is a Category 3 hurricane with maximum sustained winds of 115 mph. More strengthening is forecast through tonight, with a weakening trend forecast to begin on Sunday.
Hilda has previously been called a tiny storm. Hurricane force winds extend outward up to 25 miles from the center and tropical storm force winds extend outward up to 90 miles.
National Weather Service – 5 am
THE CLOUD-FILLED EYE OF HILDA HAD BEEN FAIRLY PERSISTENT IN INFRARED SATELLITE IMAGERY IN THE HOURS LEADING UP TO SYNOPTIC TIME… WITH A RING OF VERY COLD CLOUD TOPS NEARLY ENCIRCLING THE CENTER AT TIMES. THIS LED TO DVORAK SUBJECTIVE INTENSITY ESTIMATES FROM PHFO/SAB/PGTW THAT RANGED BETWEEN 5.0/90 KT AND 5.5/102 KT. THE ADDITIONAL WARMING OF THE EYE IN THE LAST COUPLE OF SATELLITE IMAGES… AND COOLING EYE WALL TEMPERATURES… SUPPORTS INCREASING THE INITIAL INTENSITY FOR THIS ADVISORY TO 100 KT… WHICH MAKES HILDA A CATEGORY 3 HURRICANE.

LITTLE SIGNIFICANT CHANGE TO THE TRACK AND INTENSITY FORECAST PHILOSOPHY ACCOMPANIES THIS FORECAST PACKAGE. HILDA IS CURRENTLY BEING STEERED STEADILY WEST-NORTHWESTWARD BY A DEEP LAYER RIDGE CENTERED TO ITS NORTHEAST… WITH AN INITIAL MOTION ESTIMATE OF 280/13 KT. HILDA IS FORECAST TO TRACK TOWARD THE WEST-NORTHWEST WITH A GRADUAL DECREASE IN FORWARD SPEED OVER THE NEXT 48 HOURS… AND THEN TURN TOWARD THE NORTHWEST ON DAYS 3 AND 4 WITH A FURTHER DECREASE IN FORWARD SPEED. THIS WILL OCCUR AS HILDA REACHES AND THEN ROUNDS THE WESTERN EXTENT OF THE RIDGE… AND BEGINS TO INTERACT WITH A DEVELOPING DEEP LAYER LOW ALOFT NORTH OF THE MAIN HAWAIIAN ISLANDS. AT THE END OF THE FORECAST PERIOD… A RELATIVELY WEAK HILDA IS FORECAST TO MAKE A TURN BACK TOWARD THE WEST-NORTHWEST… AS IT IS EXPECTED TO BE A SHALLOW SYSTEM THAT IS STEERED BY THE LOW-LEVEL TRADE WINDS. THE OFFICIAL TRACK FORECAST IS SIMILAR TO THE PREVIOUS… CLOSELY FOLLOWS A TIGHTLY CLUSTERED GUIDANCE ENSEMBLE IN THE EARLIER PERIODS… AND IS CLOSE TO THE TVCN CONSENSUS IN THE LATER PERIODS WHEN THE GUIDANCE ENVELOPE BEGINS TO INCREASE DUE TO DIFFERENCES IN MODEL INTENSITIES.

A SMALL WINDOW FOR SOME INTENSIFICATION APPEARS TO EXIST FOR THE NEXT 24 HOURS OR SO… AS SHEAR IS FORECAST TO REMAIN LIGHT AND THE HURRICANE TRAVERSES SUFFICIENTLY WARM WATER. AFTER ABOUT 48 HOURS HILDA WILL ENCOUNTER STEADILY INCREASING SHEAR AND GRADUALLY DIMINISHING WATER TEMPERATURES AS IT ROUNDS THE RIDGE. ONCE HILDA MOVES NORTH OF THE RIDGE AXIS… IT/S CIRCULATION IS EXPECTED TO BE COMPROMISED AS IT BEGINS TO FEEL THE STRONG DEEP-LAYER WESTERLY FLOW ALOFT ASSOCIATED WITH THE AFOREMENTIONED CLOSED LOW DEVELOPING NORTH OF HAWAII. SHIPS GUIDANCE INDICATES SHEAR VALUES NEAR 20 KT MONDAY MORNING WILL STEADILY INCREASE TO OVER 50 KT BY EARLY THURSDAY… AND FORECASTS DISSIPATION AT THAT TIME. THUS SLIGHT INTENSIFICATION IS FORECAST THROUGH TONIGHT… WITH GRADUAL WEAKENING FORECAST TO COMMENCE THEREAFTER… AND RAPID WEAKENING ANTICIPATED IN THE LATTER PART OF THE FORECAST PERIOD. THE OFFICIAL INTENSITY FORECAST CLOSELY FOLLOWS THE PREVIOUS AND THE IVCN CONSENSUS… BUT IS LESS AGGRESSIVE IN FORECAST WEAKENING THAN SHIPS GUIDANCE ON DAY 5.

FORECAST POSITIONS AND MAX WINDS

INIT 08/1500Z 13.6N 142.2W 100 KT 115 MPH
12H 09/0000Z 14.2N 143.8W 105 KT 120 MPH
24H 09/1200Z 15.0N 145.8W 105 KT 120 MPH
36H 10/0000Z 16.0N 147.3W 95 KT 110 MPH
48H 10/1200Z 16.9N 148.6W 85 KT 100 MPH
72H 11/1200Z 18.7N 150.3W 65 KT 75 MPH
96H 12/1200Z 20.0N 152.0W 40 KT 45 MPH
120H 13/1200Z 21.0N 153.5W 30 KT 35 MPH