Monday 11 pm Update – Hurricane Hilda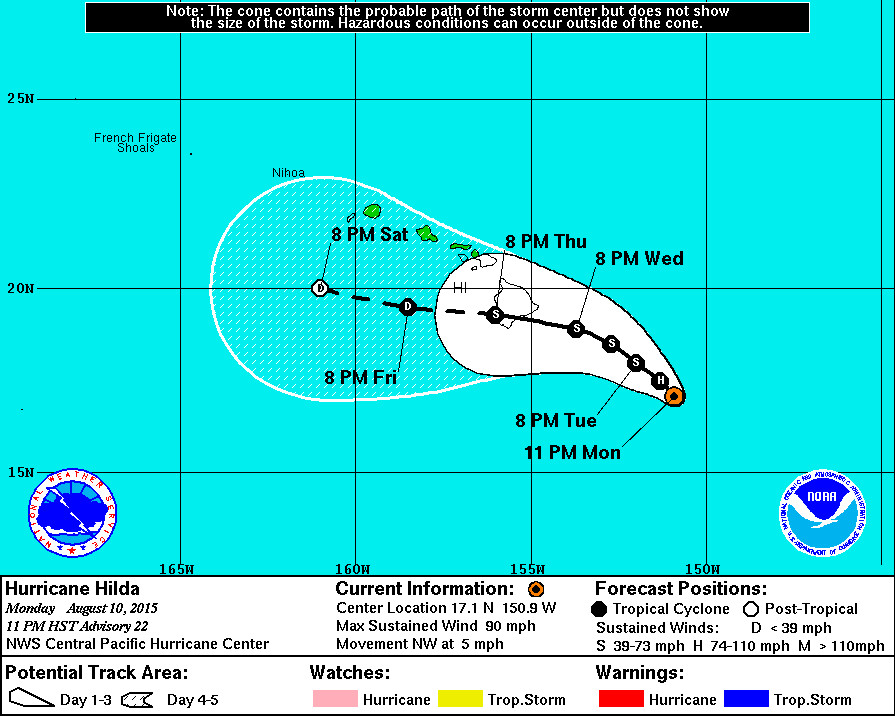 WARNINGS: There are currently no coastal watches or warnings in effect. The National Weather Service says a tropical storm watch may be required for the Big Island on Tuesday. There is also a Hurricane Warning for the Hawaiian offshore waters beyond 40 nautical miles out to 240 nautical miles (this is different than a warning for land).
LOCATION: Hurricane Hilda is 330 miles east southeast of Hilo and is slowly moving northwest at 5 mph. This general motion is expected to continue through Wednesday morning. A turn toward the west-northwest and a slight increase in forward speed is expected Wednesday night.
STRENGTH: Hilda continues to be a category one hurricane, with maximum sustained winds of 90 mph (the same measurement that recorded at 5 am this morning). The National Weather Service expects to see Hilda weaken to a tropical storm by Tuesday night.
SIZE: Hurricane force winds extend outward up to 25 miles from the center and tropical storm force winds extend outward up to 70 miles.
HIGH SURF: A High Surf Advisory is in effect for east facing shores. Waves are predicted to be 8 to 12 feet with locally higher sets tonight and early Tuesday, dropping to 6 to 10 feet Tuesday afternoon.
RAIN: Heavy rain and flash flooding possible Thursday and Friday. Location and amount of rainfall remain uncertain and are highly dependent on the eventual track of Hilda.
National Weather Service at 11 pm
DATA COLLECTED BY U.S. 53RD WEATHER RECONNAISSANCE AIRCRAFT WAS CRITICAL IN DETERMINING THE INITIAL INTENSITY AND WIND STRUCTURE OF HILDA THIS EVENING. ALTHOUGH HILDA IS ENCOUNTERING A PROVERBIAL WALL OF SHEAR… WITH ANALYSES FROM UW-CIMSS INDICATING AROUND 35 KT OF SOUTHWESTERLY SHEAR… HILDA HAS THUS FAR BEEN ABLE TO MAINTAIN AN INNER CORE. MAXIMUM SFMR WINDS ON THE INITIAL PENETRATION WERE NEAR 80 KT… AND A REDUCTION OF MAXIMUM FLIGHT LEVEL WINDS YIELDS SURFACE WINDS 0F 77 KT… THUS THE INITIAL INTENSITY WILL BE MAINTAINED AT 80 KT FOR THIS ADVISORY. A 25 TO 30 NM WIDE EYE WAS NOTED BY THE FLIGHT CREW TO BE OPEN TO THE SOUTHWEST… WHICH WAS NICELY HIGHLIGHTED BY 0405Z SSMI/S AND 0411Z GPM MICROWAVE OVERPASSES. IN COORDINATION WITH CHIEF… AERIAL RECONNAISSANCE COORDINATION… ALL HURRICANES /CARCAH/… FLIGHTS INTO HILDA WILL BEGIN AT 6 HOURLY INTERVALS STARTING TUESDAY EVENING… WITH THE NEXT MISSION SLATED FOR TUESDAY MORNING.

THE AIRCRAFT CENTER FIXES INDICATED THAT HILDA WAS MOVING VERY SLOWLY… HAVING MOVED ABOUT 7 NM TOWARD THE NORTH-NORTHWEST IN 2 HOURS. A SLIGHTLY LONGER TERM INITIAL MOTION ESTIMATE FOR THIS ADVISORY IS DETERMINED TO BE 315/04 KT. ALTHOUGH THE UPPER LEVEL FLOW OVER HILDA FEATURES RELATIVELY STRONG WESTERLY WINDS… THE CYCLONE IS CURRENTLY IN AN AREA OF LIGHT STEERING WINDS.

OVER THE NEXT 36 HOURS… HILDA IS FORECAST TO MOVE SLOWLY TOWARD THE NORTHWEST… STEERED BY THE WEAK CURRENTS BETWEEN A LOW ALOFT NORTH OF HAWAII… AND A HIGH TO THE DISTANT EAST. THIS WILL LEAD TO GRADUAL WEAKENING… DUE TO STRONG UPPER LEVEL WESTERLIES SHEARING AT LEAST THE UPPER PORTIONS OF THE CYCLONE NORTHEASTWARD. A TURN TOWARD THE WEST-NORTHWEST AND A SLIGHT ACCELERATION ARE EXPECTED THEREAFTER AS HILDA BECOMES INCREASINGLY SHALLOW AND THE VERTICAL STRUCTURE OF THE CYCLONE BECOMES INCREASINGLY COMPROMISED. THE OFFICIAL TRACK AND INTENSITY FORECASTS FOR THIS PACKAGE CLOSELY FOLLOW THE PREVIOUS… WITH THE TRACK PARALLELING THE TVCN CONSENSUS… AND CLOSE TO THE LATEST HWRF GUIDANCE. AFTER ACCOUNTING FOR THE INITIAL INTENSITY… THE OFFICIAL FORECAST CLOSELY FOLLOWS THE PREVIOUS… AND IS CLOSE TO SHIPS GUIDANCE THROUGH 48 HOURS. THE RATE OF WEAKENING THEREAFTER IS CLOSE TO THE IVCN CONSENSUS… AND SLOWER THAN SHIPS GUIDANCE… AND ANTICIPATES THAT HILDA WILL BECOME A REMNANT LOW BY THE END OF THE FORECAST PERIOD.

ON THE FORECAST TRACK… A TROPICAL STORM WATCH MAY BE REQUIRED FOR THE BIG ISLAND… POSSIBLY AS EARLY AS TUESDAY MORNING. UNCERTAINTY REMAINS AS TO THE EVENTUAL IMPACTS THAT MAY BE FELT IN THE HAWAIIAN ISLANDS FROM HILDA… BUT THE POTENTIAL FOR LARGE SURF AND VERY HEAVY RAINFALL APPEARS TO BE INCREASING.

FORECAST POSITIONS AND MAX WINDS

INIT 11/0900Z 17.1N 150.9W 80 KT 90 MPH
12H 11/1800Z 17.5N 151.3W 70 KT 80 MPH
24H 12/0600Z 18.0N 152.0W 60 KT 70 MPH
36H 12/1800Z 18.5N 152.7W 50 KT 60 MPH
48H 13/0600Z 18.9N 153.7W 40 KT 45 MPH
72H 14/0600Z 19.3N 156.0W 35 KT 40 MPH
96H 15/0600Z 19.5N 158.5W 30 KT 35 MPH
120H 16/0600Z 20.0N 161.0W 25 KT 30 MPH…POST-TROP/REMNT LOW