Monday 5 pm Update – Hurricane Hilda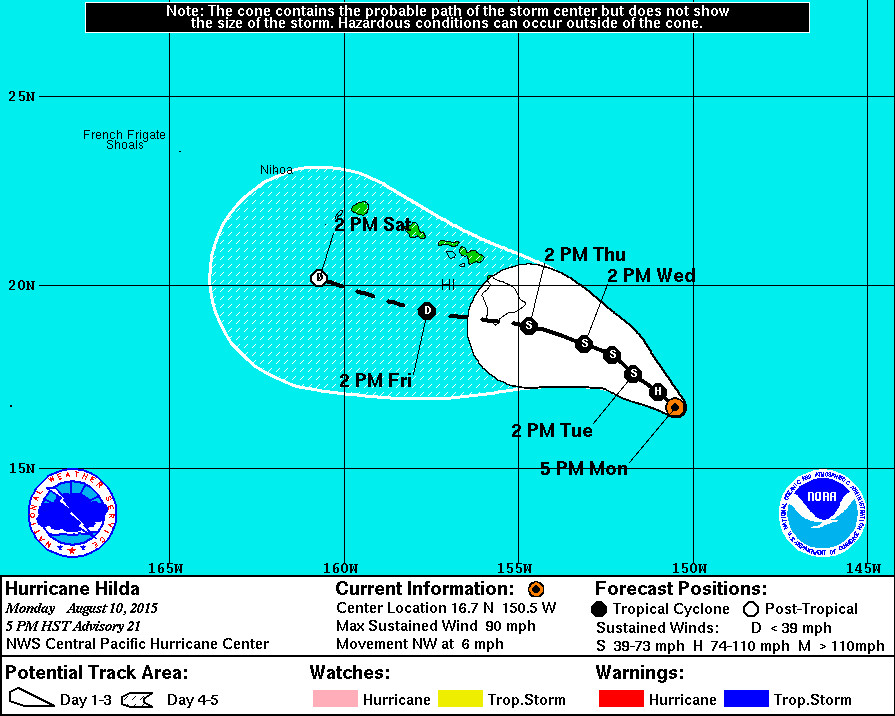 WARNINGS: There are currently no coastal watches or warnings in effect. The National Weather Service says a tropical storm watch may be required for the Big Island tonight. There is also a Hurricane Warning for the Hawaiian offshore waters beyond 40 nautical miles out to 240 nautical miles (this is different than a warning for land).
LOCATION: Hurricane Hilda is 365 miles southeast of Hilo and is slowly moving northwest at 6 mph. This general motion is expected over the next couple of days.
STRENGTH: Hilda continues to be a category one hurricane, with maximum sustained winds of 90 mph (the same measurement that recorded at 5 am this morning). The National Weather Service expects to see steady weakening over the next 48 hours with Hilda forecast to become a tropical storm on Tuesday.
SIZE: Hurricane force winds extend outward up to 25 miles from the center and tropical storm force winds extend outward up to 90 miles.
HIGH SURF: A High Surf Advisory is in effect for east facing shores. Waves are predicted to be 8 to 12 feet with locally higher sets tonight and early Tuesday, dropping to 6 to 10 feet Tuesday afternoon.
RAIN: Heavy rain and flash flooding possible Thursday and Friday. Location and amount of rainfall remain uncertain and are highly dependent on the eventual track of Hilda.
National Weather Service at 5 pm
DEEP CONVECTION CONTINUES TO FIRE OVER THE LOW LEVEL CIRCULATION CENTER OF HILDA THIS AFTERNOON… WITH QUITE A BIT OF LIGHTNING NOTED NEAR THE CENTER OF THE SYSTEM. AFTER APPEARING RATHER RAGGED AROUND THE TIME OF THE PREVIOUS ADVISORY… THE SATELLITE PRESENTATION HAS IMPROVED SIGNIFICANTLY OVER THE LAST COUPLE OF HOURS DESPITE PERSISTENT STRONG WESTERLY VERTICAL WIND SHEAR. THE LATEST UW-CIMSS VERTICAL WIND SHEAR ANALYSIS CONTINUES TO SUPPORT THE IDEA OF A STRONGLY SHEARED ENVIRONMENT… DEPICTING 37 KNOTS FROM 260 DEGREES. THE LATEST FIXES FROM PHFO… SAB AND JTWC INDICATED T NUMBERS OF 4.5 TO 5.0 OR 77 TO 90 KNOTS. BASED ON THE LATEST FIXES… THE IMPROVEMENT IN THE SATELLITE PRESENTATION… AND DATA FROM THE U.S. 53RD WEATHER RECONNAISSANCE AIRCRAFT WHICH SAMPLED THE INNER CORE OF HILDA EARLIER THIS MORNING… THE INITIAL INTENSITY WAS KEPT AT 80 KNOTS FOR THIS ADVISORY. THE INITIAL MOTION IS BASED ON A COMBINATION OF THE SATELLITE FIXES… EARLIER AIRCRAFT FIXES AND SATELLITE EXTRAPOLATION… AND WILL BE SET AT 310 DEGREES AT 5 KNOTS.

HILDA REMAINS WITHIN A WEAKNESS IN THE MID TO UPPER LEVEL RIDGE EXTENDING FROM A LOW ALOFT NEAR 27N156W… SOUTHEASTWARD TO THE TROPICAL CYCLONE. THE LOW ALOFT WELL TO THE NORTHWEST OF THE SYSTEM IS EXPECTED TO RETROGRADE OFF TO THE NORTHWEST OVER THE NEXT COUPLE OF DAYS. WITH VERTICAL WIND SHEAR VALUES REMAINING NEARLY UNCHANGED THROUGH 48 HOURS… WE EXPECT THAT HILDA WILL CONTINUE TO BE STEERED BY THE DEEP LAYER FLOW AND TRACK SLOWLY OFF TO THE WEST-NORTHWEST. THIS IS IN LINE WITH THE MODEL CONSENSUS GUIDANCE AND THE PREVIOUS OFFICIAL FORECAST. BEYOND 48 HOURS… THE WESTERLY VERTICAL WIND SHEAR IS FORECAST TO INCREASE OVER THE SYSTEM… AND THIS SHOULD ACT TO DISPLACE THE DEEP CONVECTION AND ALLOW HILDA TO BECOME MORE INFLUENCED BY THE TRADE WIND FLOW. AS A RESULT… WILL SHOW HILDA TRACKING WESTWARD BEYOND 48 HOURS… AND VERY CLOSE TO THE PREVIOUS OFFICIAL FORECAST AS WELL.

THE INTENSITY FORECAST FOR HILDA WILL BE HIGHLY DEPENDENT ON THE TIMING OF INCREASED WESTERLY VERTICAL WIND SHEAR OVER THE SYSTEM. THE COMBINATION OF THE INCREASED SHEAR AND VERY DRY MID LEVEL AIR TO THE WEST OF THE SYSTEM WHICH IS EVIDENT IN WATER VAPOR IMAGERY… SHOULD ALLOW FOR SLOW AND STEADY WEAKENING THROUGH THE FORECAST PERIOD. ADDITIONALLY… GIVEN THE SLOW MOTION OF THE SYSTEM… THERE COULD BE SOME WEAKENING AS A RESULT OF UPWELLING OF COLDER SUB SURFACE WATER. THE OFFICIAL INTENSITY FORECAST IS VIRTUALLY UNCHANGED AND REMAINS VERY CLOSE TO ICON. THE FORECAST SHOWS HILDA WEAKENING TO TROPICAL STORM STRENGTH ON TUESDAY AND BECOMING A TROPICAL DEPRESSION THURSDAY NIGHT OR FRIDAY.

U.S AIR FORCE HURRICANE HUNTERS HAVE DEPARTED ON A MISSION TO FLY THROUGH HILDA THIS EVENING. THE VALUABLE DATA FROM THIS MISSION SHOULD HELP REFINE OUR FUTURE TRACK AND INTENSITY FORECASTS.

FORECAST POSITIONS AND MAX WINDS

INIT 11/0300Z 16.7N 150.5W 80 KT 90 MPH
12H 11/1200Z 17.1N 151.0W 70 KT 80 MPH
24H 12/0000Z 17.6N 151.7W 60 KT 70 MPH
36H 12/1200Z 18.1N 152.3W 50 KT 60 MPH
48H 13/0000Z 18.4N 153.1W 45 KT 50 MPH
72H 14/0000Z 18.9N 154.7W 35 KT 40 MPH
96H 15/0000Z 19.3N 157.6W 30 KT 35 MPH
120H 16/0000Z 20.2N 160.7W 25 KT 30 MPH…POST-TROP/REMNT LOW