Tuesday 11 am Update – Hurricane Hilda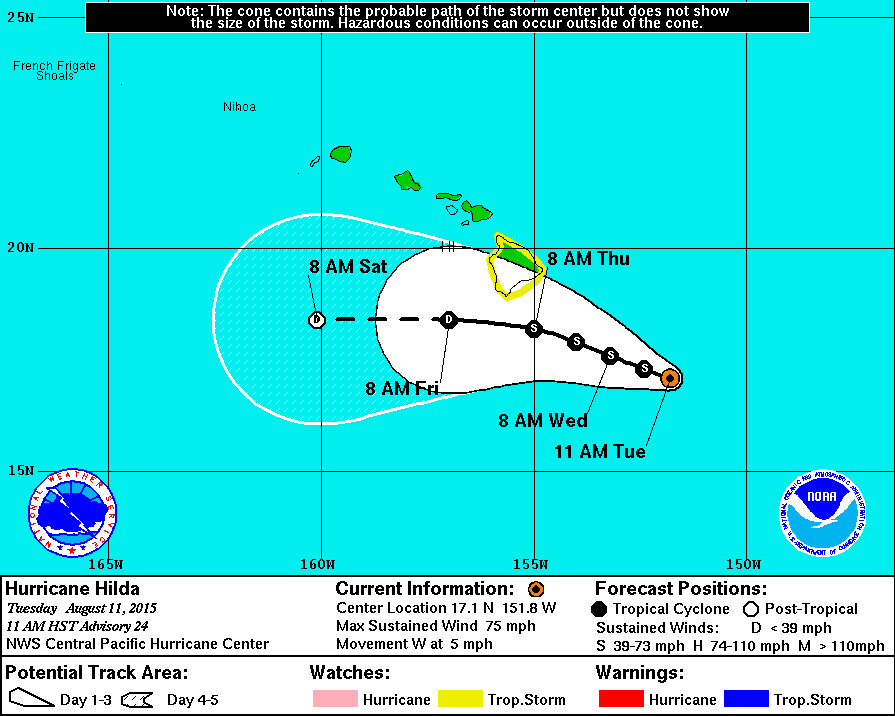 WARNINGS: A Tropical Storm Watch is in effect for Hawaii Island. A Tropical Storm Watch means that tropical storm conditions are possible within the watch area generally within 48 hours. A High Surf Warning is also in effect, as well as a Flash Flood Watch.
LOCATION: Hurricane Hilda is 280 miles southeast of Hilo and is slowly crawling west at 5 mph. This general motion is expected to continue over the next few days.
STRENGTH: Hilda is just barely a category one hurricane, with maximum sustained winds of 75 mph. The National Weather Service forecasts Hilda to weaken to a tropical storm later today.
SIZE: Hurricane force winds extend outward up to 25 miles from the center and tropical storm force winds extend outward up to 85 miles.
HIGH SURF: A High Surf Warning is in now effect for east facing shores. Wave heights of 10 to 15 feet are expected today.
RAIN: A Flash Floow Watch is in effect. Hilda is expected to produce 6 to 12 inches of rainfall, with maximum values of up to 18 inches possible, along and north of its path. These rains could result in life threatening flash floods and mud slides across portions of the Hawaiian Islands late Wednesday into the weekend.
National Weather Service at 11 am
THE SATELLITE PRESENTATION OF HILDA HAS STEADILY DEGRADED IN APPEARANCE SINCE THE PREVIOUS ADVISORY… WITH THE LOW LEVEL CIRCULATION CENTER NOW PARTIALLY EXPOSED ON THE WESTERN EDGE OF THE LINGERING DEEP CONVECTION. WESTERLY VERTICAL WIND SHEAR CONTINUESTO HAMMER HILDA… WITH LATEST UW-CIMSS SHEAR ANALYSIS INDICATING 40 KNOTS FROM 260 DEGREES. THE U.S. 53RD WEATHER RECONNAISSANCE AIRCRAFT CONFIRMED THAT THE WIND SHEAR IS BEGINNING TO TAKE A TOLL ON HILDA EARLIER THIS MORNING… WITH MAXIMUM SUSTAINED WINDS OF 64 KNOTS FOUND IN THE SFMR DATA. THIS AGREES WELL WITH THE SATELLITE FIX DATA T NUMBERS OF 4.0/65 KNOTS FROM SAB AND JTWC… WITH JTWC COMING IN WITH 4.5/77 KNOTS. AS A RESULT… THE INITIAL INTENSITY OF HILDA WAS SET AT 65 KNOTS… WITH AN INITIAL MOTION VECTOR OF 270 DEGREES AT 4 KNOTS.

THE TRACK OF HILDA WAS SHIFTED SOUTH OF THE PREVIOUS FORECAST TRACK… AND NOW LIES TO THE SOUTH OF GUIDANCE CONSENSUS. THE GUIDANCE INITIALLY TAKES HILDA OFF TO THE NORTHWEST…AND THIS APPEARS UNLIKELY GIVEN THE INITIAL MOTION OF THE SYSTEM OFF TO THE WEST. THIS ALONG WITH THE WIND SHEAR NOW PARTIALLY EXPOSING THE LOW LEVEL CIRCULATION CENTER OF HILDA… SHOULD KEEP THE MOTION MORE INFLUENCED BY THE LOW LEVEL TRADE WIND FLOW AS OPPOSED TO THE DEEP LAYER STEERING FLOW. THE SPEED OF THE TRACK WILL FOLLOW CLOSELY ALONG WITH THE SPEED OF THE GUIDANCE CONSENSUS… WHICH WILL TAKE THE SYSTEM SLOWLY WEST-NORTHWEST OVER THE NEXT COUPLE OF DAYS… WITH A MORE WESTWARD BEND AND INCREASE IN THE FORWARD SPEED BEYOND 48 HOURS.

THE COMBINATION OF STRONG WESTERLY VERTICAL WIND SHEAR REMAINING IN PLACE OVER HILDA ALONG WITH THE ENTRAINMENT OF VERY DRY MID/UPPER LEVEL AIR AS EVIDENT IN WATER VAPOR IMAGERY… SHOULD RESULT IN A STEADY WEAKENING OF THE SYSTEM OVER THE NEXT SEVERAL DAYS. THE INTENSITY FORECAST IS CLOSELY ALIGNED WITH ICON… AND CALLS FOR HILDA TO WEAKEN TO TROPICAL STORM STRENGTH LATER TODAY AND CONTINUE WEAKENING INTO A MINIMAL TROPICAL STORM IN 36 HOURS.

THE U.S. AIR FORCE HURRICANE HUNTERS ARE SCHEDULED TO FLY ANOTHER MISSION INTO HILDA THIS EVENING. THE VALUABLE DATA FROM THIS MISSION SHOULD HELP REFINE OUR FUTURE TRACK AND INTENSITY FORECASTS.

FORECAST POSITIONS AND MAX WINDS

INIT 11/2100Z 17.1N 151.8W 65 KT 75 MPH
12H 12/0600Z 17.3N 152.4W 50 KT 60 MPH
24H 12/1800Z 17.6N 153.2W 40 KT 45 MPH
36H 13/0600Z 17.9N 154.0W 35 KT 40 MPH
48H 13/1800Z 18.2N 155.0W 35 KT 40 MPH
72H 14/1800Z 18.4N 157.0W 30 KT 35 MPH
96H 15/1800Z 18.4N 160.1W 25 KT 30 MPH…POST-TROP/REMNT LOW
120H 16/1800Z…DISSIPATED