Tuesday 5 am updated Hilda track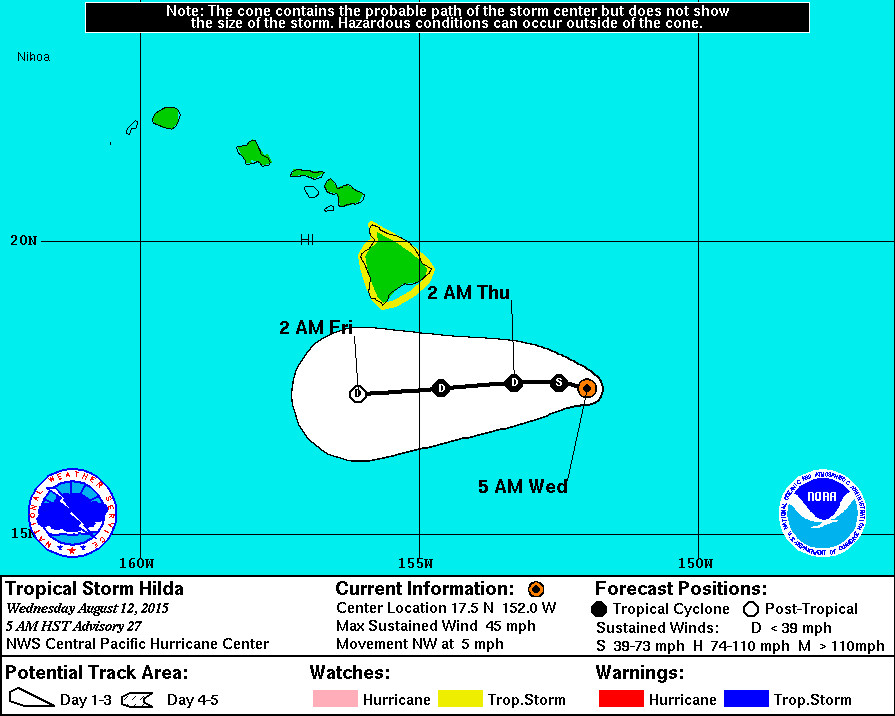 WARNINGS: A Tropical Storm Watch is still in effect for Hawaii Island. A High Surf Warning is also in effect, as well as a Flash Flood Watch.
STRENGTH: Hilda is a Tropical Storm, with maximum sustained winds of 45 mph. The National Weather Service says Hilda is forecast to be a tropical depression tonight or Thursday and a remnant low by Thursday night.
LOCATION: Tropical Storm Hilda is 255 miles southeast of Hilo and is moving northwest at 5 mph. A gradual turn toward the west and an increase in forward speed tonight through Thursday night.
SIZE: Tropical storm force winds extend outward up to 70 miles.
HIGH SURF: A High Surf Warning is in now effect for east facing shores. Wave heights of 12 to 18 feet are expected today through Thursday.
RAIN: A Flash Flood Watch is in effect. Hilda could produce 6 to 12 inches of rainfall, with maximum values of up to 18 inches possible. These rains could result in life threatening flash floods and mud slides across portions of the Hawaiian Islands late Wednesday into the weekend.
National Weather Service 5 am
PULSING DEEP CONVECTION CONTINUES IN THE EASTERN QUADRANT OF HILDA AS STRONG VERTICAL WIND SHEAR PERSISTS. DATA FROM THE LAST PASSES THROUGH HILDA BY U.S. AIR FORCE WEATHER RECONNAISSANCE AIRCRAFT SUPPORTED AN INITIAL INTENSITY OF 40 KT. DVORAK CURRENT INTENSITY VALUES FROM HFO AND JTWC CAME IN AT 3.0/45 KT… AND SAB HAD A 2.5/35 KT… WITH CIMSS ADT SUGGESTING 37 KT. A BLEND OF THESE VALUES IS IN LINE WITH THE RECONNAISSANCE DATA… AND GIVEN THE PULSING OF THE DEEP CONVECTION AND CONTINUED PARTIAL EXPOSURE OF THE LOW LEVEL CIRCULATION… THE INITIAL INTENSITY IS LOWERED TO 40 KT. THE RECONNAISSANCE DATA… A 0756 UTC ASCAT PASS… AND NEARBY NOAA BUOY 51004 OBSERVATIONS WERE USED TO FINE TUNE A REDUCTION IN THE WIND AND SEAS RADII.

HILDA IS EXPECTED TO CONTINUE WEAKENING UNDER PERSISTENT VERTICAL WIND SHEAR. THE LATEST CIMSS ANALYSIS ESTIMATES THE WESTERLY WIND SHEAR TO BE NEARLY 40 KT… AND THE UPPER LEVEL TROUGH PRODUCING THE STRONG UPPER LEVEL WINDS RESPONSIBLE FOR THE SHEAR WILL REMAIN IN PLACE FOR THE NEXT FEW DAYS. THE FORECAST FOLLOWS ICON CLOSELY AND IS LESS AGGRESSIVE WITH THE WEAKENING TREND THAN SHIPS AND LGEM. HILDA IS EXPECTED TO WEAKEN TO A TROPICAL DEPRESSION TONIGHT OR THURSDAY AND DEGENERATE TO A REMNANT LOW BY THURSDAY NIGHT.

HILDA WILL REMAIN IN A WEAK STEERING ENVIRONMENT FOR THE SHORT TERM… ENSURING A SLOW MOVEMENT AS IT NEARS THE HAWAIIAN ISLANDS. THE MID TO UPPER LEVEL TROUGH OVER THE REGION IS PRODUCING WESTERLY WINDS ALOFT… WHILE A RATHER STRONG SURFACE HIGH FAR NORTH OF HAWAII IS GENERATING A SHALLOW LAYER OF EASTERLY WINDS. U.S. AIR FORCE WEATHER RECONNAISSANCE FOUND HILDA MAKING A SLOW DRIFT TO THE NORTHWEST THROUGH MUCH OF THE NIGHT… AND THE INITIAL MOTION IS TOWARD THE NORTHWEST… OR 305 DEGREES… AT 4 KT. THIS MOTION IS EXPECTED TO HOLD TODAY… FOLLOWED BY A GRADUAL TURN TOWARD THE WEST AND AN INCREASE IN FORWARD SPEED TONIGHT AND THURSDAY… AS HILDA BECOMES INCREASINGLY SHALLOW AND STEERED BY THE LOW LEVEL TRADE WIND FLOW. THE FORECAST TRACK CHANGED LITTLE FROM THE PAST ADVISORY AND RUNS ALONG THE NORTHERN EDGE OF THE GUIDANCE ENVELOPE.

DUE TO UNCERTAINTY IN THE SHORT TERM… THE TROPICAL STORM WATCH WILL REMAIN POSTED FOR THE BIG ISLAND OF HAWAII.

FORECAST POSITIONS AND MAX WINDS

INIT 12/1500Z 17.5N 152.0W 40 KT 45 MPH
12H 13/0000Z 17.6N 152.5W 35 KT 40 MPH
24H 13/1200Z 17.6N 153.3W 30 KT 35 MPH
36H 14/0000Z 17.5N 154.6W 30 KT 35 MPH
48H 14/1200Z 17.4N 156.1W 25 KT 30 MPH…POST-TROP/REMNT LOW
72H 15/1200Z…DISSIPATED