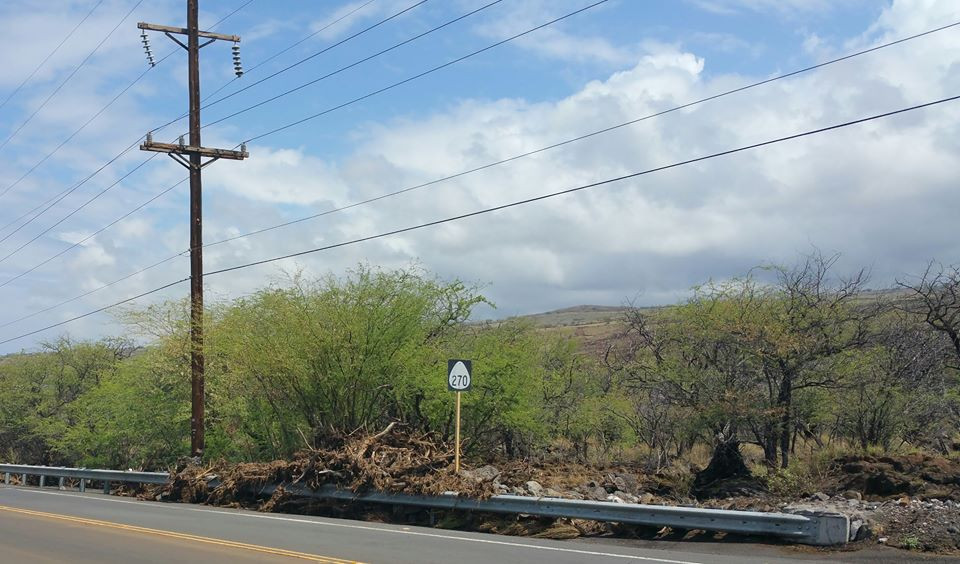 ABOVE PHOTO: Debris piled against the Rt. 270 guardrail. Photo by Kincaid Krizek
HAWAII ISLAND – The National Weather Service has reissued a Flash Flood Watch for the Big Island effective through 6:00 a.m. tomorrow morning, and now the Kohala area is under a Flash Flood Advisory.
Acording to NWS Honolulu:
AT 1142 AM HST…RADAR SHOWED HEAVY RAIN OVER THE WINDWARD SIDE OF THE NORTH KOHALA DISTRICT WITH RATES OF 2 TO 3 INCHES PER HOUR. ADDITIONAL RAINFALL IS EXPECTED TO DEVELOP OVER OTHER AREAS OF THE NORTH AND SOUTH KOHALA DISTRICTS OVER THE NEXT COUPLE OF HOURS.

* OTHER LOCATIONS IN THE ADVISORY INCLUDE BUT ARE NOT LIMITED TO HAWI… KAPAAU… WAIKOLOA… KAWAIHAE AND WAIMEA.
"Extremely moist and unstable conditions over parts of the island support the possibility of heavy rains that may cause flood conditions," Civil Defense warned earlier today. "Some areas of the island continue to experience high stream levels and overflow and runoff. Presently all major highways and roadways are open. Everyone is advised to remain out of streams and drainages as sudden flash flooding is possible. Motorists are advised to anticipate road hazards and possible traffic delays."
Hawaii County is still cleaning up after yesterday's flash flooding in the Kawaihae area. Spencer Park at 'Ōhai'ula Beach was closed until noon today, in order to remove debris and fix damage from Monday's flooding.