Friday 8 am – Tropical Storm Kilo update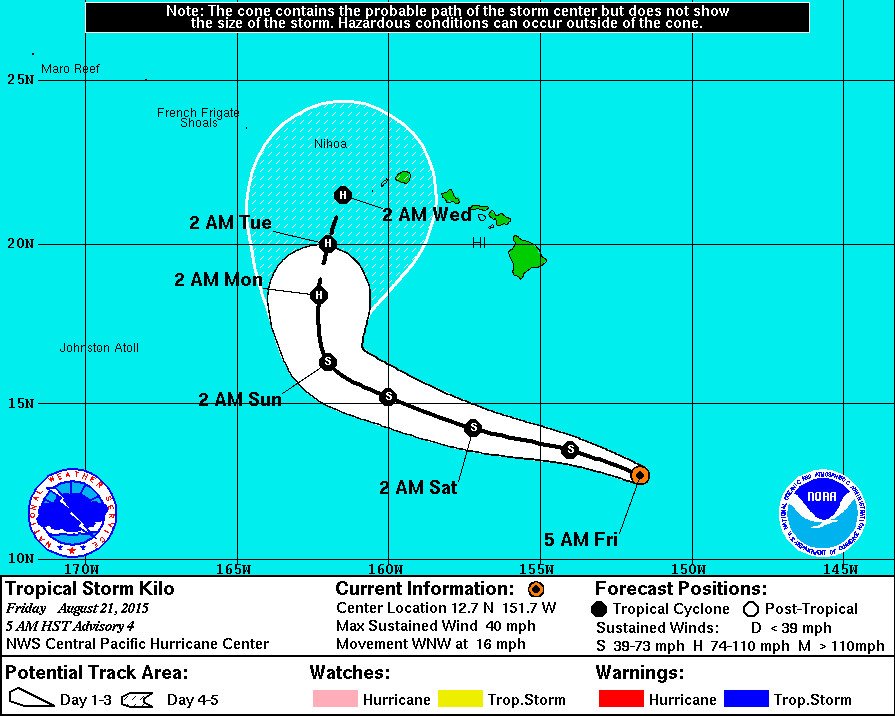 WARNINGS: There are no coastal watches or warnings in effect.
LOCATION: Tropical Storm Kilo is 535 miles south southeast of Hilo and is moving west northwest at 16 mph. This general motion is expected to continue over the next couple of days, with a gradual decrease in forward speed expected early Sunday.
STRENGTH: Kilo is a Tropical Storm, with maximum sustained winds of 40 mph. Gradual strengthening is expected the next couple of days.
SIZE: Tropical storm force winds extend outward up to 115 miles from the center.
National Weather Service 5 am
AN AREA OF PERSISTENT DEEP CONVECTION ASSOCIATED WITH THE CYCLONE HAS BEEN EXPANDING SINCE THE PREVIOUS ADVISORY… WHILE TRACKING STEADILY TOWARD THE WEST-NORTHWEST. THE LOW-LEVEL CIRCULATION CENTER /LLCC/ IS ESTIMATED TO BE ON SOUTHEAST EDGE OF THIS DEEP CONVECTION… WITH BI-SPECTRAL IMAGERY HELPING TO HIGHLIGHT LOW CLOUD MOTIONS ASSOCIATED WITH APPEARS TO BE A PARTIALLY EXPOSED LLCC. THIS POSITION ESTIMATE CORRELATES WELL WITH SHEAR EVALUATIONS FROM UW-CIMSS AND SHIPS GUIDANCE… WHICH INDICATE EASTERLY SHEAR ON THE ORDER OF 15 TO 20 KT. DVORAK CURRENT INTENSITY ESTIMATES RANGE FROM 1.0/25 KT TO 3.0/45 KT… AND WITH THE LLCC ESTIMATED TO BE RELATIVELY CLOSE TO THE DEEP CONVECTION… THE SYSTEM IS BEING UPGRADED TO A 35 KT TROPICAL STORM WITH THIS ADVISORY… AND HAS BEEN NAMED KILO.

THE INITIAL MOTION ESTIMATE FOR THIS ADVISORY IS 295/14 KT… WITH THE STORM BEING DRIVEN WEST-NORTHWESTWARD BY A MID- AND UPPER-LEVEL RIDGE CENTERED TO THE NORTH-NORTHEAST. THE CYCLONE IS FORECAST TO MOVE ON THIS GENERAL TRAJECTORY THROUGH THE NEXT 36 TO 48 HOURS… WITH A WEAKNESS IN THE RIDGE FORECAST TO DEVELOP THEREAFTER. AFTER THIS TIME… THE FORWARD SPEED OF THE CYCLONE IS FORECAST TO DIMINISH SIGNIFICANTLY AS IT MOVES INTO THIS WEAKNESS… WITH A GRADUAL TURN TOWARD THE NORTH-NORTHEAST. THE DYNAMICAL MODELS DIFFER ON THE TIMING AND LOCATION OF THIS TURN DUE TO DIFFERENCES IN THE STRENGTH OF THE RIDGE… WITH THE HWRF REMAINING ON THE EAST SIDE OF THE GUIDANCE ENVELOPE AND THE TVCN CONSENSUS ON THE WEST SIDE… DUE TO THE ECMWF… WHICH REMAINS ON THE WESTERN SIDE OF THE ENVELOPE. THE UPDATED TRACK FORECAST HAS BEEN NUDGED TO THE LEFT… IS NEAR THE MIDDLE OF A WELL CLUSTERED GUIDANCE ENVELOPE THROUGH DAY 3… AND LIES CLOSE TO A BLEND OF THE HWRF… GFS AND GFDL ON DAYS 4 AND 5.

KILO IS MOVING OVER VERY WARM WATER… ABOVE 29C IN THE LATEST ANALYSIS… AND THE OCEAN HEAT CONTENT ANALYSIS FROM RAMMB-CIRA INDICATES INCREASING VALUES ALONG THE FORECAST TRACK. EASTERLY SHEAR IS EXPECTED TO SLOWLY WEAKEN LATER TODAY… AND THEN REMAIN RATHER WEAK THROUGH DAY 3. THESE FACTORS SUGGEST THAT THE STORM WILL STRENGTHEN… AND THE LATEST DYNAMICAL AND STATISTICAL MODELS AGREE. WHILE THE UPDATED INTENSITY FORECAST IS SIMILAR TO THE PREVIOUS… THE RATE OF INTENSIFICATION HAS BEEN SLOWED… AND REPRESENTS A BLEND OF THE PREVIOUS FORECAST AND THE ICON INTENSITY CONSENSUS.

THE U.S. 53RD WEATHER RECONNAISSANCE SQUADRON /WRS/ WILL BEGIN FLIGHTS INTO KILO THIS EVENING…AND WILL CONTINUE TO DO SO AT 12 HOURLY INTERVALS UNTIL FURTHER NOTICE… PROVIDING CRITICAL INSIGHT INTO KILO'S STRUCTURE AND INTENSITY. WITH THE G-IV AIRCRAFT TASKED IN THE ATLANTIC… THE 53RD WRS IS ALSO SCHEDULED TO DO A SYNOPTIC SURVEILLANCE MISSION ON SATURDAY MORNING IN ORDER TO SAMPLE THE STRENGTH OF RIDGE TO THE NORTH OF KILO.

FORECAST POSITIONS AND MAX WINDS

INIT 21/1500Z 12.7N 151.7W 35 KT 40 MPH
12H 22/0000Z 13.5N 154.0W 40 KT 45 MPH
24H 22/1200Z 14.2N 157.2W 40 KT 45 MPH
36H 23/0000Z 15.2N 160.0W 45 KT 50 MPH
48H 23/1200Z 16.3N 162.0W 50 KT 60 MPH
72H 24/1200Z 18.4N 162.3W 65 KT 75 MPH
96H 25/1200Z 20.0N 162.0W 75 KT 85 MPH
120H 26/1200Z 21.5N 161.5W 85 KT 100 MPH