Saturday 11 pm – Tropical Depression update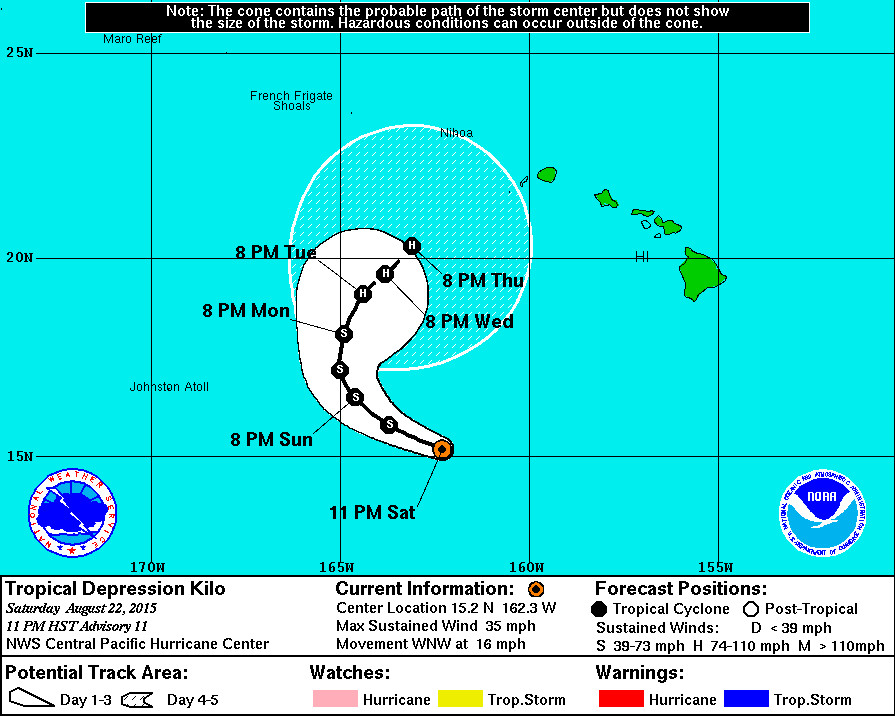 WARNINGS: There are no coastal watches or warnings in effect.
LOCATION: Kilo is now a Tropical Depression, located 505 miles west southwest of South Point and moving west northwest at 16 mph. This general motion is expected to continue through Sunday, reports the National Weather Service, followed by a gradual turn toward the northwest and a decrease in forward speed Sunday night and Monday.
STRENGTH: Kilo remains a Tropical Depression, with maximum sustained winds of 35 mph. Some slow intensification is expected through Monday night, and Kilo is forecast to become a tropical storm again later this weekend.
National Weather Service 11 pm
ANOTHER FLIGHT BY A CREW FROM THE 53RD WEATHER RECONNAISSANCE SQUADRON WENT INTO KILO EARLY THIS EVENING. THEIR FLIGHT-LEVEL WINDS FROM AROUND 5 THOUSAND FEET SHOWED STRONGEST WINDS OF AROUND 33 KT…WITH AN ESTIMATED SURFACE WIND OF ABOUT 28 KT FAR NORTHEAST OF THE FLIGHT-LEVEL CENTER. THEY ALSO WERE NOT ABLE TO FIND A WELL-DEFINED LOWER LEVEL CENTER OF CIRCULATION AS THEY PASSED THROUGH THE APPARENT CENTER BEFORE THEIR RETURN TO HONOLULU. SATELLITE IMAGERY SHOWS A RATHER RAGGED LOOKING SYSTEM…SO IT IS NOT SURPRISING THAT THEY WERE NOT ABLE TO TRACK A DEFINITIVE LOW LEVEL CENTER. THE CURRENT DVORAK SUBJECTIVE INTENSITY ESTIMATES WERE 1.5 FROM JTWC…2.0 FROM SAB…AND 2.5 FROM PHFO. THE LATEST ADVISORY INTENSITY WILL REMAIN 30 KT BASED ON THE AIRCRAFT OBSERVATIONS AND A COMPROMISE OF THE SATELLITE CLASSIFICATIONS.

THE INITIAL MOTION ESTIMATE IS 285/14 PRIMARILY BASED ON THE AIRCRAFT FIX. KILO CONTINUES TO BE STEERED AT A RATHER RAPID PACE TOWARD THE WEST-NORTHWEST BY A MID LEVEL ANTICYCLONE EAST-SOUTHEAST OF THE BIG ISLAND IN HAWAII. A MID-LEVEL RIDGE… WHICH CURRENTLY EXTENDS FROM THIS ANTICYCLONE TO NEAR LONGITUDE 164W… IS FORECAST TO WEAKEN ACCORDING TO THE GLOBAL MODELS. AS A RESULT… KILO WILL LIKELY MOVE INTO AN AREA OF VERY WEAK STEERING WHICH WOULD CAUSE IT TO SLOW ITS FORWARD MOTION AS IT MOVES TOWARD THE NORTHWEST WITHIN THE NEXT 24 TO 36 HOURS. THIS WOULD BE FOLLOWED BY A TURN TOWARD THE NORTH-NORTHWEST AND THEN TOWARD THE NORTH BY DAY 3 TIME PERIOD. AFTER THAT.. A TURN TOWARD THE NORTHEAST IS ALSO FORECAST DURING DAYS 4-5… DUE IN PART TO A DEEP UPPER LEVEL TROUGH THAT DIGS NORTH OF THE HAWAIIAN ISLANDS. THE SHARPNESS OF THE RECURVATURE AT THE LONGER TIME RANGE APPEARS TO BE A FUNCTION OF THE STRENGTH OF THE TROUGH ALOFT. THE OFFICIAL FORECAST REMAINS CLOSE TO THE PREVIOUS TRACK… BUT NOT AS FAR EAST AS THE GFDL AND HWRF. NOTE THAT THE ECMWF HAS SHIFTED MORE TO THE LEFT IN THE LATEST GUIDANCE… SO THIS HAS STARTED TO DRAG THE CONSENSUS TO THE WEST. IT IS STILL TOO EARLY TO DETERMINE IF THIS IS A LONG-TERM TREND SO WE WILL NOT MAKE ANY DRAMATIC CHANGES IN THIS ADVISORY PACKAGE.

THE TROPICAL DEPRESSION REMAINS OVER VERY WARM SEA SURFACE TEMPERATURES AND ABUNDANT OCEAN HEAT CONTENT. THE LATEST ESTIMATES OF ENVIRONMENTAL VERTICAL WIND SHEAR ARE 8 KT FROM 285 DEGREES BASED ON THE UW-CIMSS ANALYSIS AND 7 KT FROM 305 DEGREES BASED ON THE SHIPS GUIDANCE… WHICH APPEARS TO BE A RELATIVELY WEAK SHEAR ENVIRONMENT NEAR THE UPPER LEVEL RIDGE AXIS. THIS GENERAL ENVIRONMENT IS STILL NOT EXPECTED TO CHANGE MUCH INTO EARLY NEXT WEEK ALONG THE FORECAST TRACK. THEREFORE… ASSUMING KILO CAN BECOME BETTER ORGANIZED. SLOW INTENSIFICATION APPEARS LIKELY. THE CURRENT INTENSITY FORECAST FOLLOWS THE PREVIOUS FORECAST CLOSELY. THIS IS MOST IN LINE WITH SHIPS… SINCE SOME OF THE DYNAMICAL MODELS APPEAR TO PREDICT A MUCH STRONGER SYSTEM BY DAYS 4-5. IT IS STILL TOO EARLY TO INCREASE THE LONG TERM INTENSITY GIVEN THE INITIAL CONDITIONS.

FORECAST POSITIONS AND MAX WINDS

INIT 23/0900Z 15.2N 162.3W 30 KT 35 MPH
12H 23/1800Z 15.8N 163.7W 35 KT 40 MPH
24H 24/0600Z 16.5N 164.6W 40 KT 45 MPH
36H 24/1800Z 17.2N 165.0W 50 KT 60 MPH
48H 25/0600Z 18.1N 164.9W 55 KT 65 MPH
72H 26/0600Z 19.1N 164.4W 65 KT 75 MPH
96H 27/0600Z 19.6N 163.8W 75 KT 85 MPH
120H 28/0600Z 20.3N 163.1W 85 KT 100 MPH