KAILUA-KONA – A decades-long dream to bring a university campus to the West Hawaii community was realized on Monday, when the Hawaii Community College-Palamanui welcomed students on the first day of class.
The University of Hawai'i shared this media release, along with photos (below) and video (above, edited together by Big Island Video News)
---
NEW PALAMANUI CAMPUS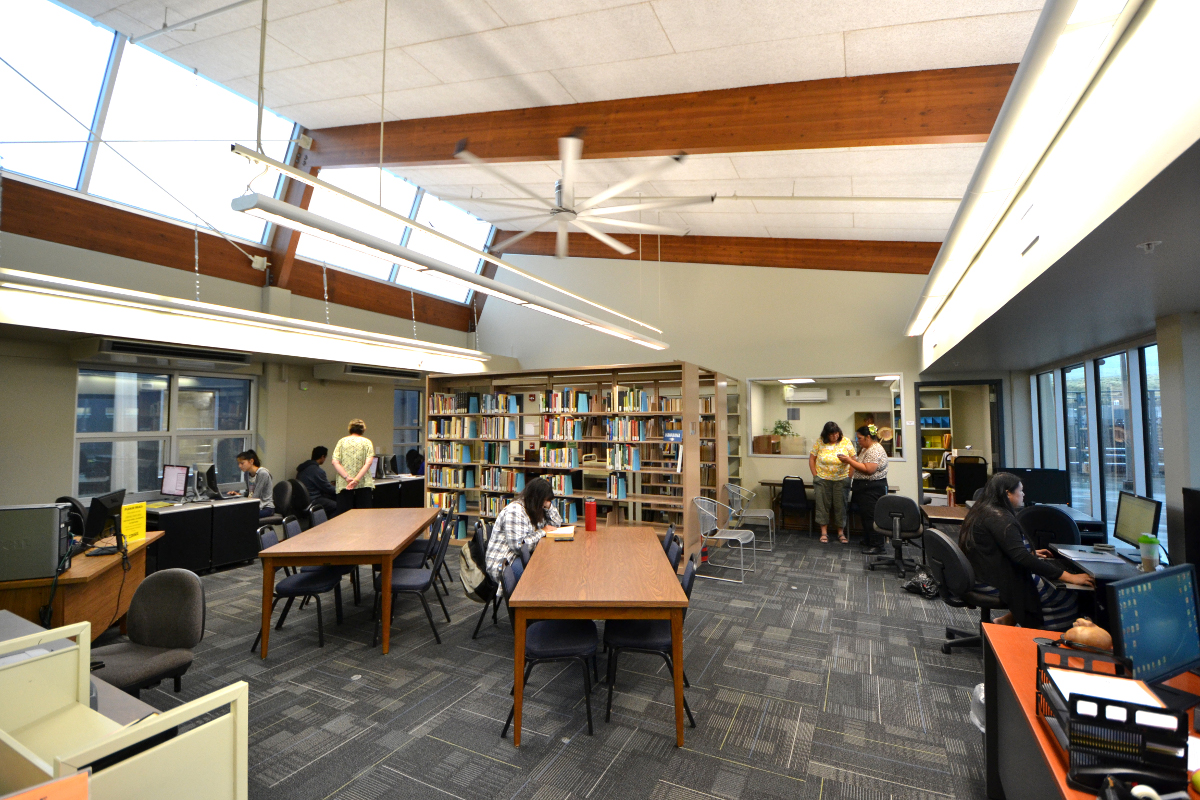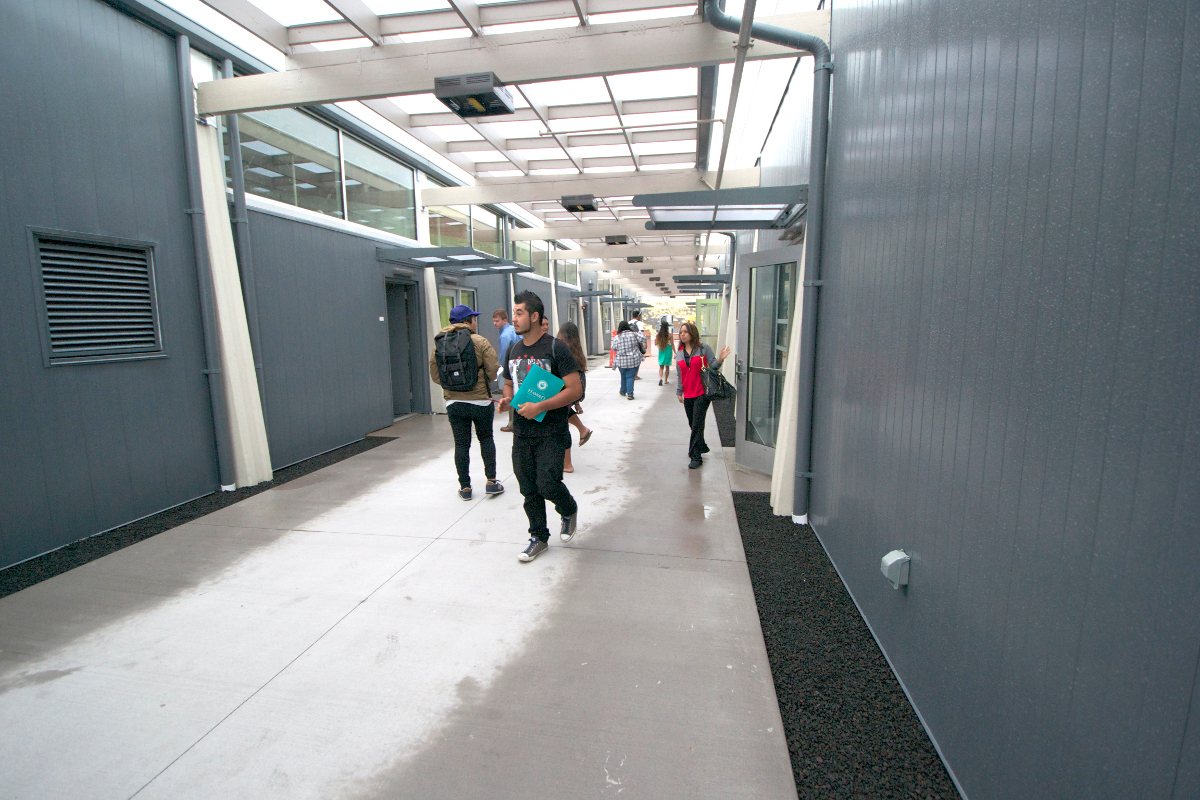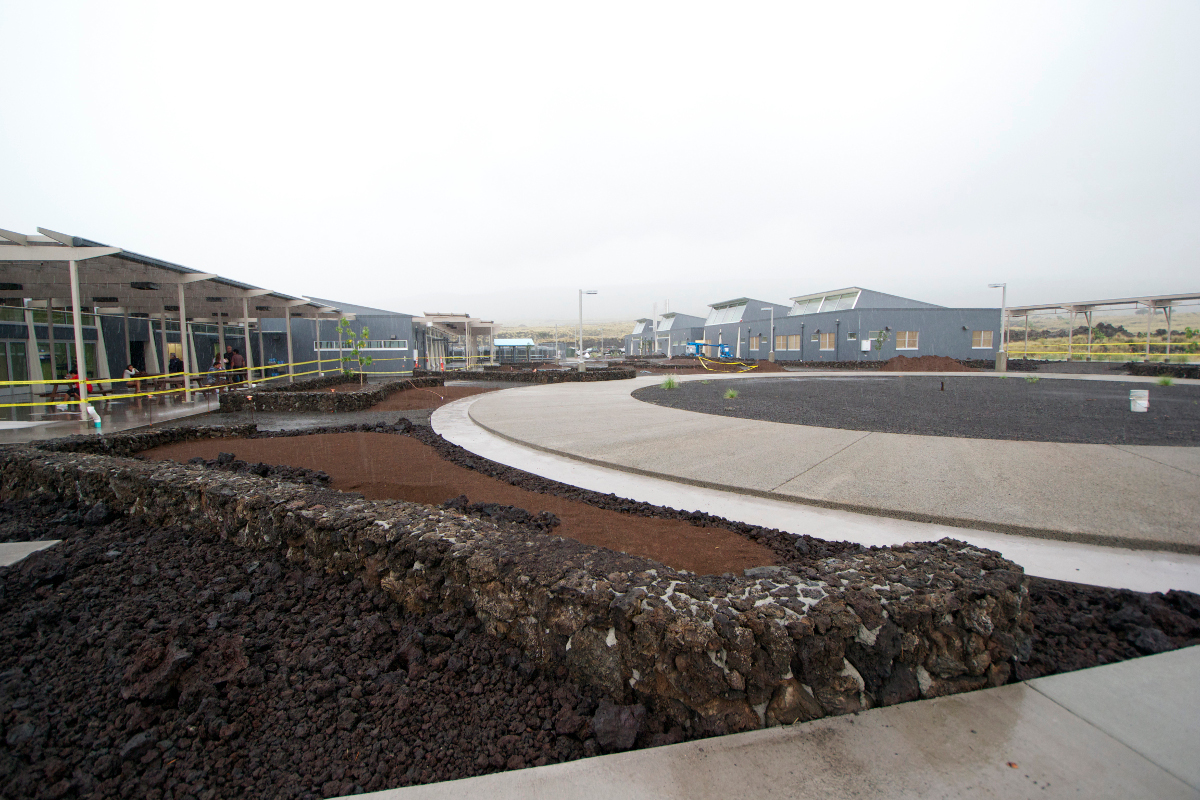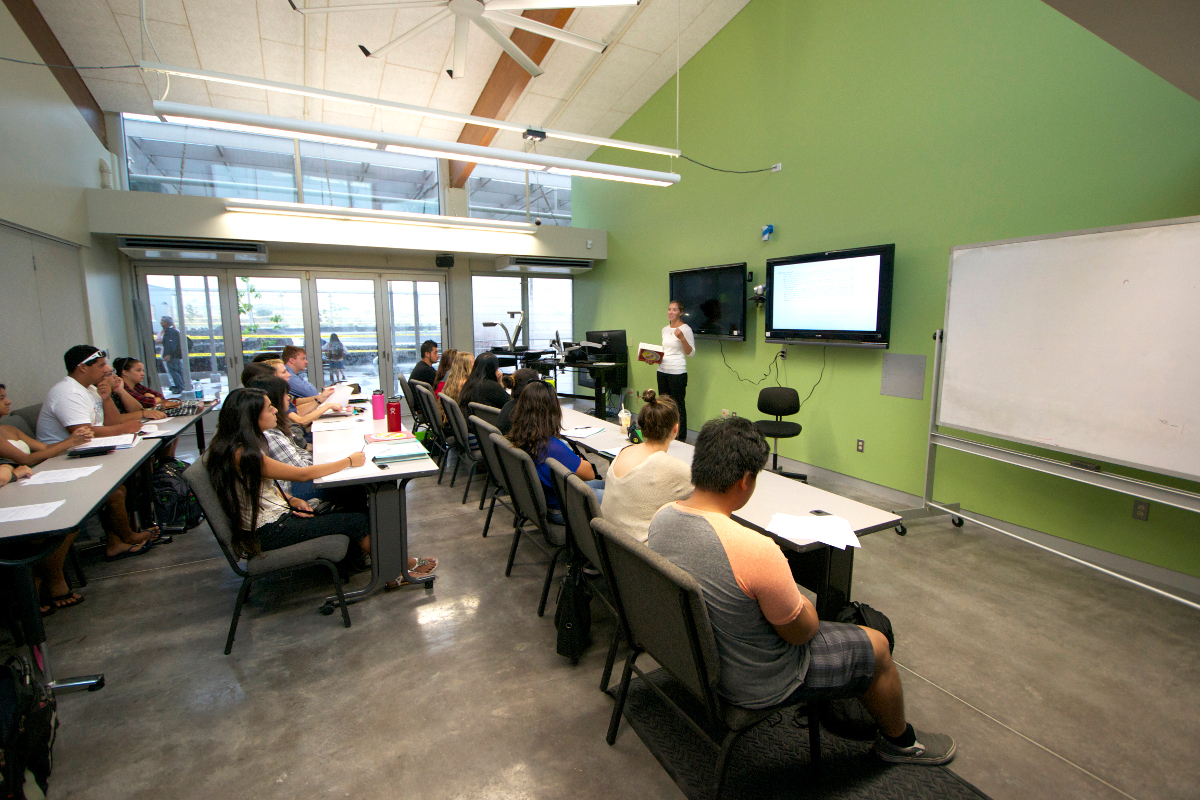 ---
MEDIA RELEASE
courtesy UH Hawai'i Community College
New branch campus in Kona opens with unusually rainy weather
KAILUA-KONA (August 24, 2015) — The University of Hawai'i held its first classes at Pālamanui, Hawai'i Community College's new branch campus in Kona, today, amid unusually grey and rainy weather. The ocean view from Pālamanui is typically sunny and blue. About 400 students in the area were projected to begin either Hawai'i CC classes or distance-learning classes offered by other UH campuses.
The $27-million first phase of the Pālamanui campus includes 24,000 square feet of learning space, comprised of classrooms, teaching kitchens, science labs and a nursing lab. The campus plans to achieve Leadership in Energy and Environmental Design (LEED) Platinum certification. Among the planned features of the new campus are photovoltaic canopies over the parking lot and a Living Machine natural wastewater recycling system.
"Our goal is to transform students' lives through higher education, and this new branch campus will ensure we are delivering quality, affordable college programs to our entire Hawai'i Island community," said Hawai'i Community College Chancellor Noreen Yamane.
Until today, West Hawai'i had been the only major geographic region and population center in the state of Hawai'i without a permanent facility for higher education.
"This campus is crazy. Itʻs really, really nice," Hawai'i Community College–Pālamanui student Keanu Ushiroda said. "I wasnʻt expecting it to be looking like this. Itʻs kind of passed my expectations."
Hawai'i Community College — Pālamanui Director K. Marty Fletcher said, "Holding our first classes today at this wonderful campus is a credit to the vision of the West Hawai'i community. Community members, their elected representatives, and the UH System have worked hard over many years toward establishing West Hawai'i's own higher education landmark.
The first day of classes at Pālamanui marked a milestone for university, government and community leaders who have been working to build a permanent home for higher education in West Hawai'i for more than two decades.
"We thank everyone who was responsible for Pālamanui for their support," said John Morton, Vice President for Community Colleges. "UH is committed to increasing the opportunity for higher education in West Hawai'i, not just with programs from Hawai'i Community College but also by continuing to serve as a University Center to deliver programs from UH Hilo, UH West O'ahu, and UH Mānoa as well."
Pālamanui LLC, a partnership between Charles R. Schwab and Hunt Companies, has offered significant financial support to help fund the development by contributing $9.68 million for construction and $10 million in infrastructure improvements for water, power and sewer that directly benefit the college. Pālamanui LLC has been planning a mixed-use community on 725 acres adjacent to the campus to support the long-term needs of Hawai'i Community College — Pālamanui and the University of Hawai'i.
Three science classes are continuing to be held at the UH Center's previous site in Kealakekua, because customized laboratory equipment has not yet been delivered and installed. Those Pālamanui laboratories are expected to be finished in time for the spring 2016 semester.
All the programs that were being offered by Hawai'i Community College and UH in Kealakekua are being offered at the new campus, including culinary arts, nursing, liberal arts, Hawaiian studies and more.
In October, Hawai'i Community College — Pālamanui will host a grand opening and open house to celebrate the new campus with the West Hawai'i community.