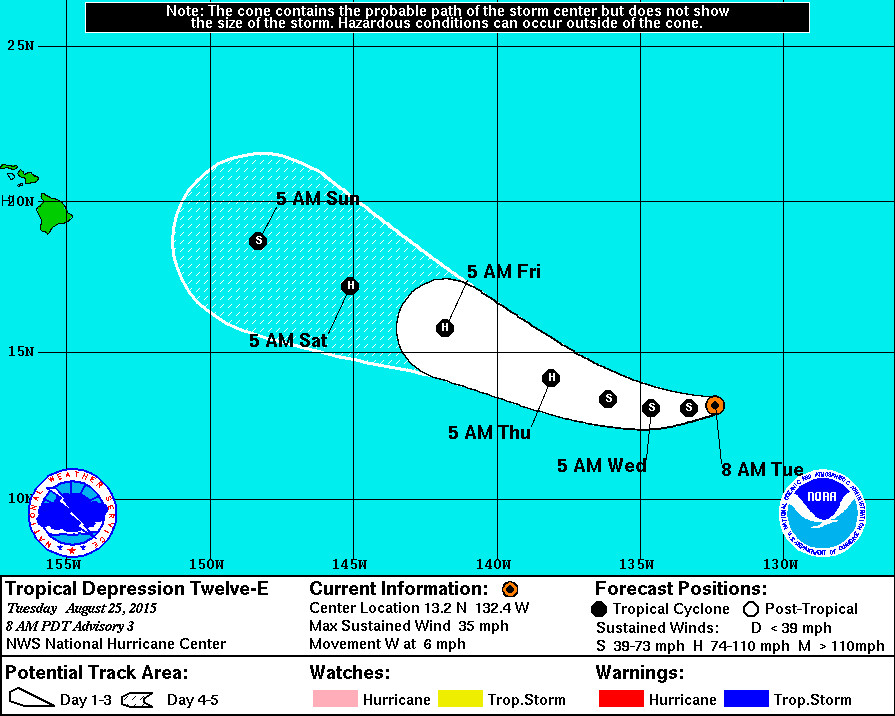 HAWAII – As Tropical Depression Kilo moves off to the west, and a day after torrential rains and isolated thunderstorms from a moist air mass soaked the islands, Hawaii is keeping an eye on the next potential threat – Tropical Depression TWELVE-E – heading towards the Central Pacific.
The Hawaii Emergency Management Agency expressed some relief when the threat from Kilo was downgraded yesterday, but issued a call for continued readiness. "We are grateful to all of our partners at the local, state and federal levels who have continued to coordinate emergency management and disaster preparedness efforts in Kilo's wake," said Vern Miyagi, Executive Officer of HI-EMA, in a media release. "Although Kilo appears to be turning away from the state, its track and strength have been highly unstable. We urge the public to continue their ongoing preparations for what remains to be an extremely active hurricane season."
Tropical Depression TWELVE-E is 1,565 miles east southeast of Hilo and becoming better organized, while moving slowly westward. Strengthening is forecast, National Weather Service forecasters say, and the depression is expected to become a tropical storm later today.
"By early next week," NWS said in its 5 a.m. discussion, TWELVE-E, after strengthening into a hurricane, "should encounter westerly shear associated with the mid-oceanic trough anchored near the longitude of Hawaii, and the shear should be strong enough to result in a leveling off of the intensity and then weakening. There is a significant difference between the statistical and dynamical intensity guidance this cycle. The official intensity forecast is above the previous one and close to, but a little lower than, the stronger dynamical model guidance."