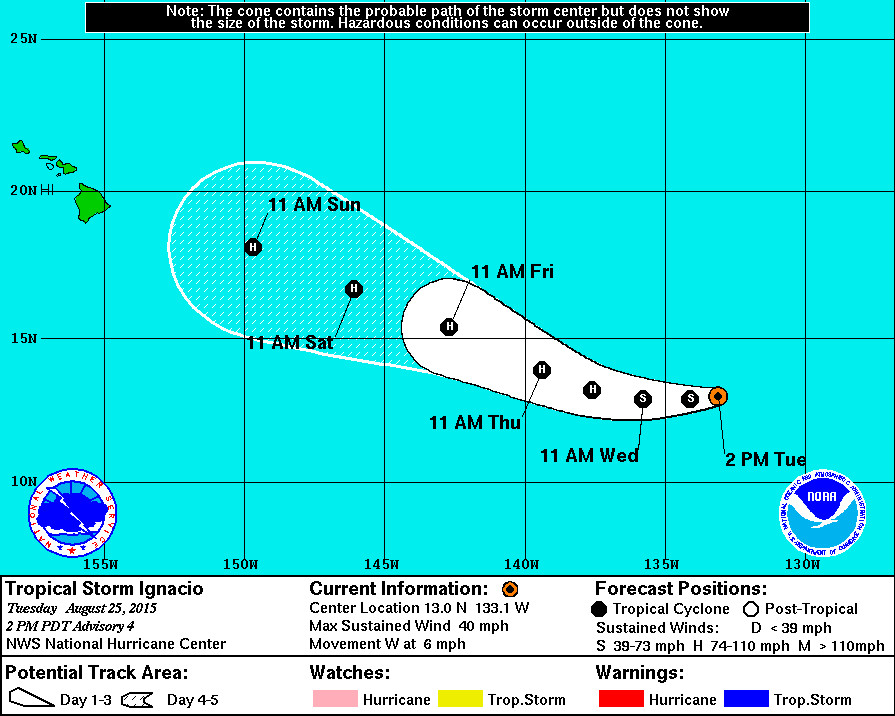 HAWAII ISLAND – A new tropical storm has formed in the Eastern Pacific. Although Tropical Storm Ignacio is 1,530 miles east southeast of Hilo, its forecasted track could be a concern.
There is a lot that can change in the time it will take for Ignacio to near the Hawaiian Islands. For now, forecasters with the National Weather Service expect Ignacio to get stronger during the next 48 hours, eventually becoming a hurricane on Thursday.
Earlier this morning, Ignacio was a tropical depression. But the 11 a.m. update shows the system has intensified. "The organization of the cyclone's cloud pattern has increased significantly since yesterday," NWS forecasters wrote in the discussion. "The center of circulation appears to be near the eastern edge or barely underneath a small mass of deep convection instead of being exposed to the east. Satellite pictures also show increased banding, and low-cloud lines suggest a more vigorous circulation."
Tropical Storm Ignacio's strength as it gets closer to Hawaii will depend on its track, forecasters say. "The intensity forecast late in the period depends very much on where Ignacio is," posts the National Weather Service, "and the divergence in the track guidance makes that intensity forecast after about 3 days of low confidence. A more southern track, as is now being shown in some of the guidance, could result in an even stronger cyclone than indicated. The official intensity forecast is increased again over the previous one and is close to, but below, the dynamical model guidance and the FSU Superensemble output that has consistently been higher than the statistical models."
Storms that begin with the letter "I" have not been kind to Hawaii in the past. Hurricane Iniki, formed in September 1992 under El Niño conditions, was the most powerful hurricane to strike the state, battering the island of Kauai. Last year August, Tropical Storm Iselle did widespread damage to Puna as it churned off-shore as a hurricane.