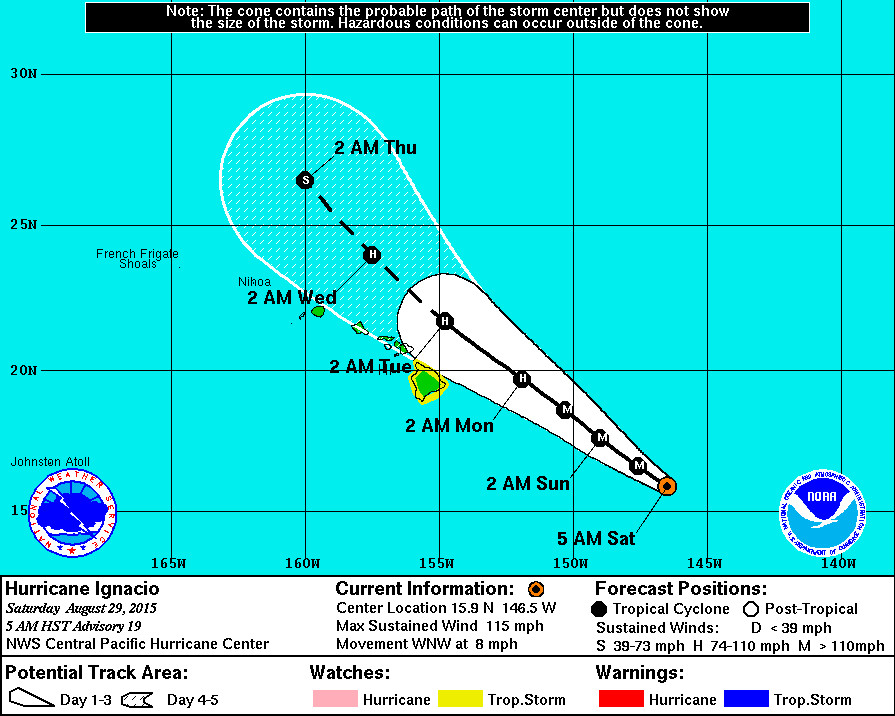 HAWAII ISLAND – The Big Island of Hawaii is now under a Tropical Storm Watch as Hurricane Ignacio intensified suddenly overnight to become a Category Three major hurricane.
"The satellite presentation of Ignacio has improved dramatically over the past several hours," wrote the National Weather Service in a 5 am update, "and the hurricane has rapidly intensified since the previous advisory. The eye of the hurricane has been persistent and warming in infrared imagery, while surrounding cold cloud tops now nearly encircle the center."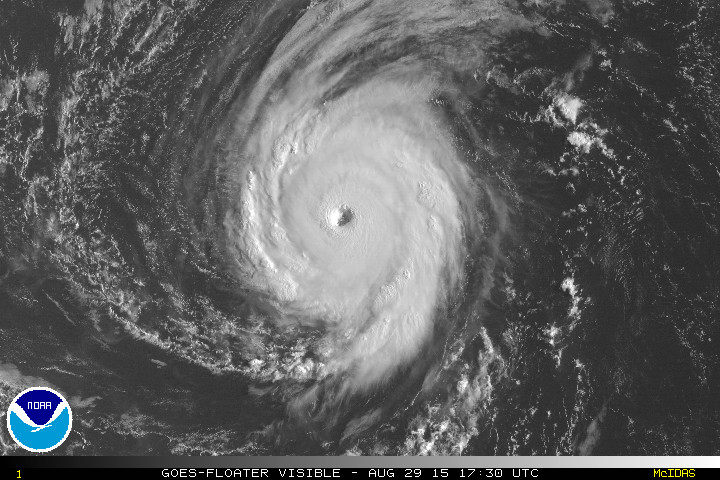 Ignacio is 525 miles east southeast of Hilo and is predicted to track just to the north of the Big Island early next week, Monday night or Tuesday morning.
"The initial motion estimate for this advisory is 300/07 kt," forecasters said at 5 a.m., "with the eye wobbling along on a track slightly slower and to the left of the previous forecast. Despite this, the track forecast philosophy has changed little, with Ignacio forecast to track generally northwestward toward a break in a mid-level ridge that is centered to the distant northeast."
Some additional strengthening is forecast for Ignacio today, followed by gradual weakening on Sunday and Monday as the storm faces southwesterly shear and small changes in underlying water temperatures and ocean heat content. However, Ignacio is showing signs of becoming annular, which forecasters say "complicates the intensity forecast as it may become less prone to weakening due to negative environmental factors. Additionally, short term fluctuations in intensity remain possible due to difficult to forecast eye wall replacement cycles."
Hurricane force winds extend outwards from the center up to 35 miles and tropical storm force winds extend outward up to 130 miles.
Although the tropical storm watch covers just the Big Island at this time, forecasters say it is still too early to determine which island is at most risk from Ignacio. "It is vital that you do not focus on the exact forecast track," NWS states. "Forecast movement, direction, and speed are only estimates. Even small errors in the forecast track can mean major differences in where the worst conditions will occur. Damaging effects can extend far from the center. A watch is typically issued 48 hours before the possible arrival of tropical storm force winds… Which make continuing outside preparations dangerous. A watch is the time for you to prepare. Do not wait until it is too late."
A High Surf Advisory has been issued for both the east and west facing shores of Hawaii Island effective from 6 a.m. this morning through 6 p.m. tomorrow evening. "Surf heights of 5 to 8 feet can be expected on Saturday and building to 10 to 14 feet on Sunday," Hawaii County Civil Defense reports. "Residents in low lying coastal areas and boat owners are advised to take necessary precautions and to complete all preparations by noon today. Emergency personnel will be conducting door to door notifications in surf and surge vulnerable areas of Kapoho in the Puna District and parts of Hilo."