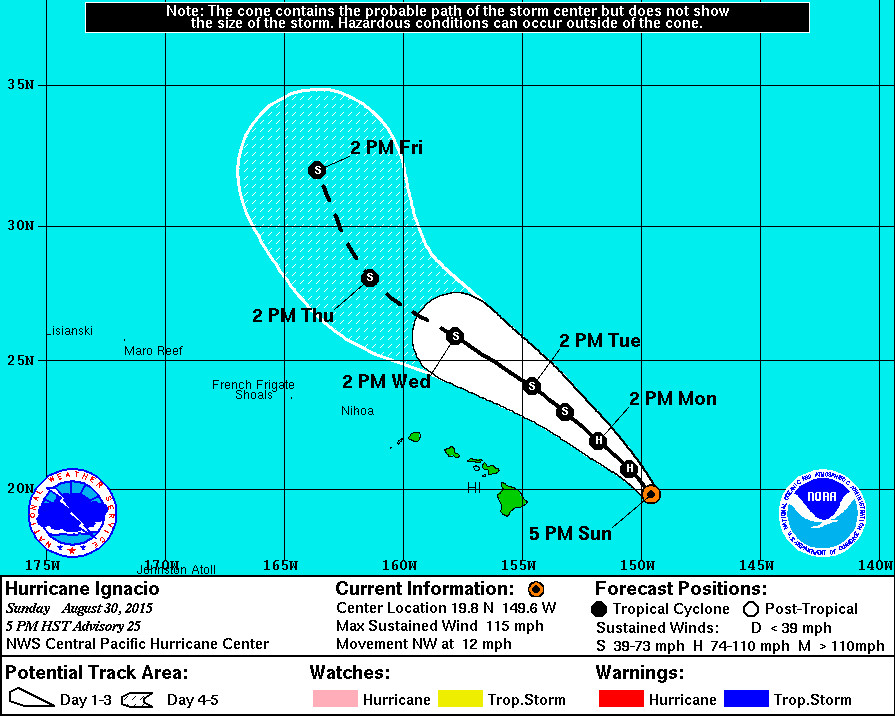 HAWAII ISLAND: The Tropical Storm Watch has been lifted for Hawaii County and Maui County, as Hurricane Ignacio moves off to the northwest.
Ignacio will pass approximately 200 miles northeast of the Big Island on Monday, and the possibility of tropical storm conditions affecting Hawaii Island continues to decrease.
Three charter schools are still going forward with closures, but aside from that all DOE public schools and private schools will be open tomorrow.
The closed schools are:
Kua o ka Lā New Century Public Charter School
Laupahoehoe Community Public Charter School
Volcano School of Arts and Sciences
There are no state government closures scheduled at this time so state agencies are expected to operate as usual tomorrow, Monday, August 31. In addition all Hawaii County government offices will be open for normal business; including the Hele-On Bus system.
The High Surf Warning issued for the east facing shores of the Big Island will remain in effect through 6 p.m. Tuesday evening. Surf heights are still expected to increase today and build to possibly 15 to 20 feet. Residents in low lying coastal areas and boat owners are advised to take necessary precautions, officials say.
"Even though the wind threat from Ignacio appears to have passed," wrote the National Weather Service at 5 p.m., "high surf is expected to continue to build on the east facing shores. These dangerous high surf conditions mean that only highly experienced persons should enter the water. Inexperienced persons should remain off beaches and adjacent beachfront areas. Large breaking surf, significant shorebreak, and dangerous currents make entering the water very hazardous. Anyone entering the water could face significant injury or death. The moist airmass lingering over the state will also bring increased showers and the potential for locally heavy rainfall through the week."
"Although Ignacio appears to have spared the islands any major impacts," NWS continued, "we are still in hurricane season. We encourage everyone to have a hurricane plan in place, and keep a hurricane kit with supplies ready in case the islands are threatened again."
"I'd like to thank our emergency management partners for their diligent efforts in monitoring Hurricane Ignacio and for keeping the public informed during this critical time," said Governor David Ige in a press release. "Ongoing coordination at all levels of government ensures that we are as best prepared as we can be during times of emergency. We appreciate the public's continued preparedness as we are only halfway through this year's hurricane season."
"Although Ignacio is forecasted to move north of our state, the system is very large so we ask the public to continue preparing for weather impacts, such as high winds, heavy rain and possible thunderstorm conditions," said Doug Mayne, Administrator of Emergency Management. "We'll remain in constant coordination with our partners to monitor the situation, and we ask that the public do the same by staying tuned to local broadcast networks."
---
IGNACIO at 5 p.m.
WARNINGS: A Tropical Storm Watch has been cancelled for Hawaii County. A High Surf Warning is also in effect for east facing shores of the Big Island.
LOCATION: Ignacio is 355 miles east of Hilo and is moving northwest at 12 mph.
STRENGTH: Ignacio is a Category Three hurricane, with maximum sustained winds at 115 mph.
SIZE: Hurricane force winds (over 74 mph) extend outward up to 30 miles from the center. Tropical storm force winds extend outward up to 160 miles.