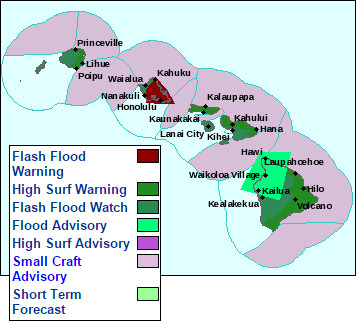 HAWAII ISLAND – The National Weather Service has issued another Flood Advisory for Hawaii Island. The latest alert is effective through 5:45 p.m. "Localized heavy rains and possible thunder showers can be expected," said Hawaii County Civil Defense in a 3:15 p.m. message. "Motorists are advised to drive with caution and to be prepared for hazardous conditions to include ponding and run off and to anticipate traffic delays."
"At 2:42 pm HST", the National Weather Service reported "radar showed heavy rain near Waikoloa Village or about 22 miles northeast of Kailua-Kona. The area of heavy rain was nearly stationary. Other locations in the advisory include but are not limited to Waipio Valley, Waikoloa Beach Resort, Upolu Airport, Saddle Road Junction, Puako, Mahukona, Kawaihae, Kamuela, Honokaa and Hawi."
In a special weather statement issued at 1:57 p.m., the National Weather Service reported "Scattered heavy showers and thundershowers are developing over the leeward slopes and interior sections of the island this afternoon due to moist and unstable conditions. The heaviest downpours may cause rainfall rates of 1 to 2 inches per hour, reduced visibility, gusty winds, and cloud-to-ground lightning."
---
HIGH SURF WARNING EXTENDED
Meanwhile, a High Surf Warning for east facing shores of all islands has been extended to 6 p.m. Saturday. "Large surf will persist along east facing shores until early this evening," the National Weather Service reported at 3:24 p.m. "The east shore surf may remain elevated or near warning levels through at least the weekend and likely into early next week." Surf heights of 12 to 18 feet are expected.
Surf along south facing shores is expected to pick up as well. "A new south swell will increase with surf heights reaching high surf advisory heights along south facing shores Friday morning through Saturday," NWS forecasters said. 6 to 8 foot waves are expected. The advisory will be ineffect from 6 a.m. Friday to 6 p.m. Saturday.
---
HURRICANE JIMENA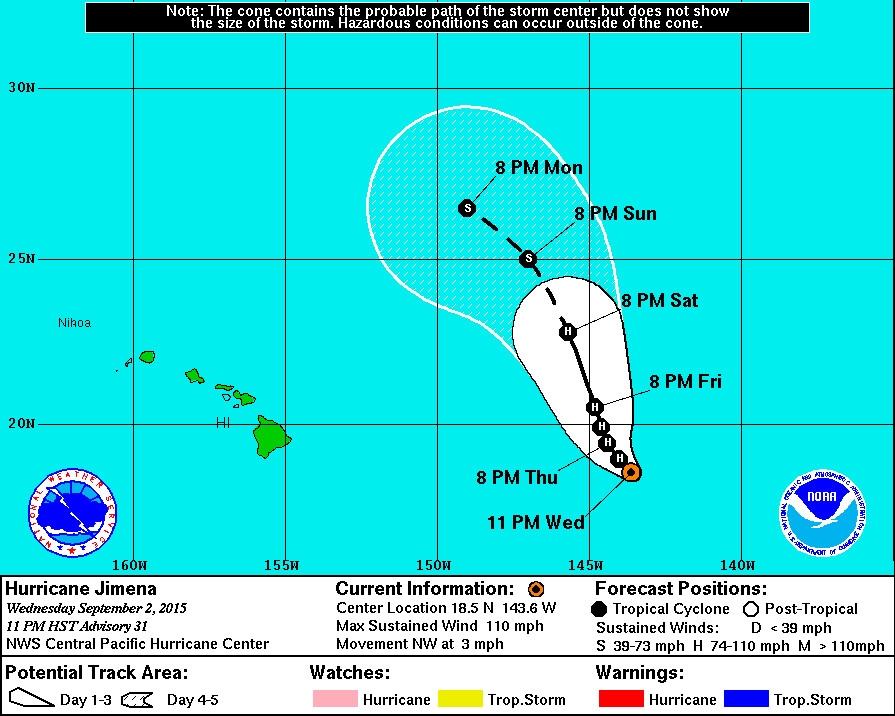 WARNINGS: There are no coastal watches or warnings in effect.
LOCATION: Hurricane Jimena is 710 miles east of Hilo. It is slowly moving northwest at 3 mph. This general motion is expected to continue over the next couple of days with a slight increase in forward speed on Saturday.
STRENGTH: Jimena is a Category Two hurricane, with maximum sustained winds near 105 mph. Gradual weakening is expected over the next couple of days.
SIZE: Hurricane force winds extend outward up to 45 miles from the center and tropical storm force winds extend outward up to 205 miles.