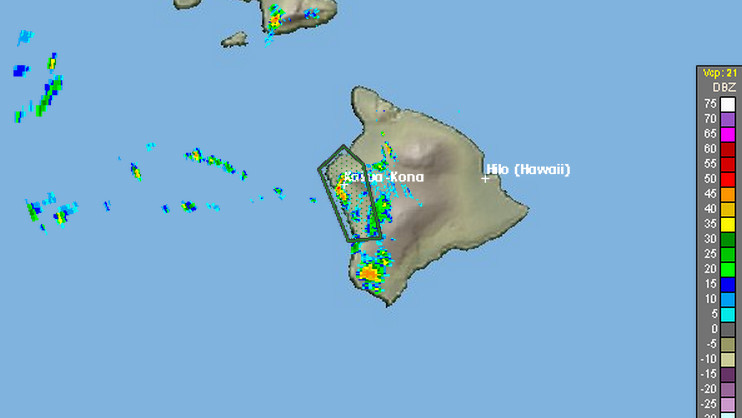 KONA, Hawaii – A Flash Flood Warning is now in effect until 6 pm, reports the National Weather Service.
"At 2:58 pm HST radar showed heavy rain along a line extending from 8 miles northeast of Kailua-Kona to Honaunau," forecasters said. "The area of heavy rain was nearly stationary. Rainfall rates of up to 3 inches per hour are possible. Emergency management reports Highway 11 south of Honaunau and Hualalai Road closed due to water over the road."
UPDATE (3:38 p.m.) – Hawaii County Police have issued an alert reporting road closures at several places in Kona along with traffic lights flashing red.
"The Hawaii Police Department is reporting a road closure at Highway 11 near the 103 mile marker in Honaunau due to heavy ponding. Hualalai road at the intersection of Guava lane is also closed due to heavy pounding and run offs in Kailua-Kona. The traffic lights at Kealakaa Street and Palani road is flashing red. Kuakini Hwy and Oni Oni is also flooding and will be closing as officers arrive. Crews will be responding to these locations, motorist are being asked to take alternate routes, avoid these locations and use extreme caution." – Hawaii County Police
The National Weather Service says other locations in the warning include but are not limited to Kailua-Kona, Kona Village Resort, Keauhou, and Captain Cook.
"A flash flood warning means flash flooding is imminent or occurring in streams, roads and low lying areas," says National Weather Service. "Move to higher ground now. Do not cross fast flowing or rising water in your vehicle or on foot. Turn around, don't drown."