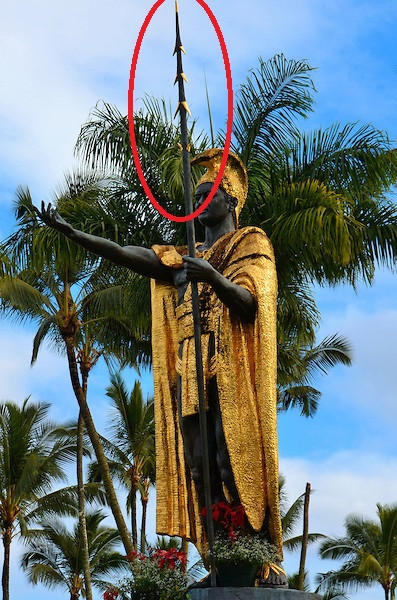 HILO, Hawaii – The spear of Hilo's King Kamehameha statue has been stolen.
Hawaii County Police issued a media release on Sunday evening, reporting that they are seeking the public's assistance in locating the top section of the Kamehameha statue spear, taken from the Wailoa State Park area. It was last seen on Saturday.
"The Spear is described as being made of bronze," police wrote, "brown in color with some oxidation, with a gold in color tip, and is approximately six-foot in length and 1.25 inches in diameter."
The spear was reported missing on today (September 6) at 2:48 p.m.
Police ask anyone with information about this incident, the identity of the suspects or the whereabouts of the stolen item to call the Police Department's non-emergency line at (808) 935-3311 or Officer Matthew Lewis at (808) 961-2213. Tipsters who prefer to remain anonymous may call the island-wide Crime Stoppers number at 961-8300 and may be eligible for a reward of up to $1,000. Crime Stoppers is a volunteer program run by ordinary citizens who want to keep their community safe. Crime Stoppers doesn't record calls or subscribe to caller ID. All Crime Stoppers information is kept confidential.