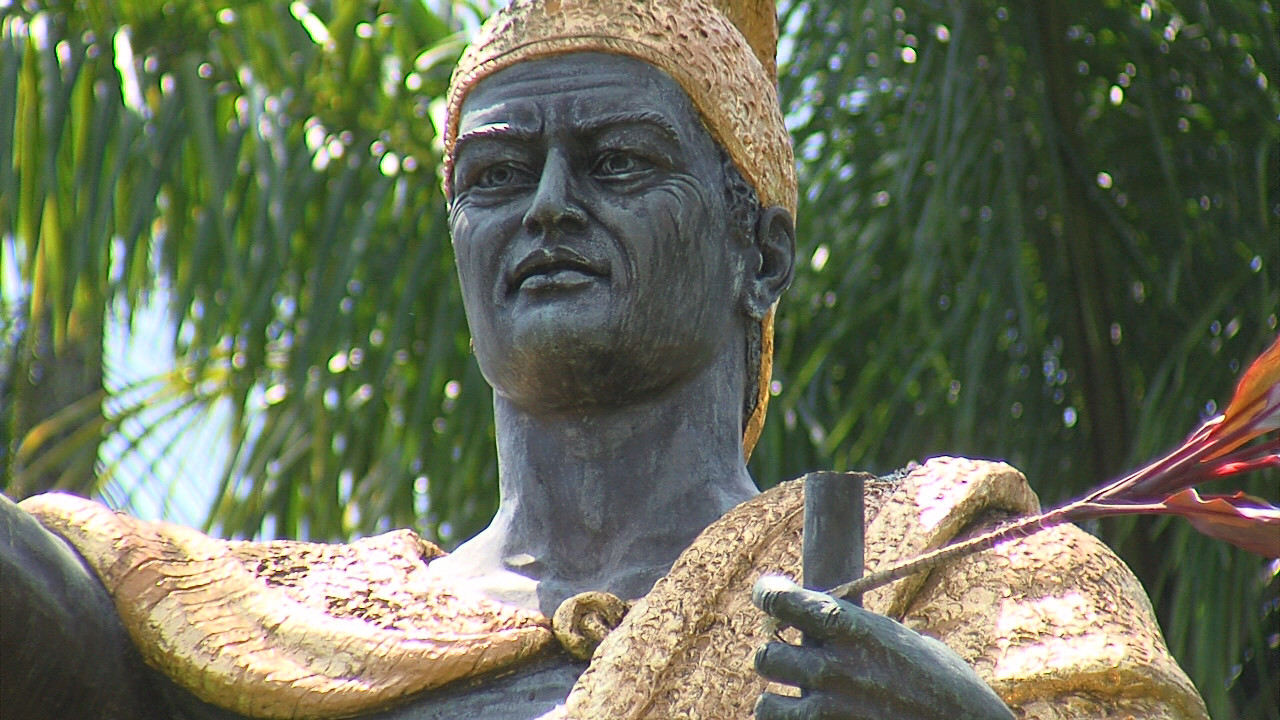 HILO, Hawaii – The section of the spear that went missing from the statue of King Kamehameha the Great in Hilo has been found.
Police recovered the spear tip on Tuesday morning during a search in the overgrowth along the banks of the channel in Wailoa State Park. According to a police media release:
"Detectives from the Area I Criminal Investigation Section returned to the scene on Tuesday morning (September 8) to continue the theft investigation. Assisted by the Hawaiʻi Fire Department's new ladder truck, an evidence specialist was able to gain access to areas of the statue for the purpose of recovering potential evidence. In addition, it was determined that the section of the spear was forcibly removed from the lower staff section.

Detectives also conducted checks in the channel behind the statue by deploying a water craft as well as conducting checks in the overgrowth on the banks of the channel. It was during the search in the overgrowth that the stolen section of the spear was located and recovered."
Police say the spear segment will be processed for any forensic evidence and returned to the statue's organizers. Detectives continue to check nearby businesses and buildings for the existence of video surveillance.
Police continue to ask for the public's assistance in identifying the responsible person or persons in this case to call Detective Sandor Finkey at 961-2384 or email him at sandor.finkey@hawaiicounty.gov.
Tipsters who prefer to remain anonymous may call the island wide Crime Stoppers number at 961-8300 and may be eligible for a reward of up to $1,000.00. Crime Stoppers is a volunteer program run by ordinary citizens who want to keep their community safe. Crime Stoppers does not record calls or subscribed to any Caller ID service. All Crime Stoppers information is kept confidential.