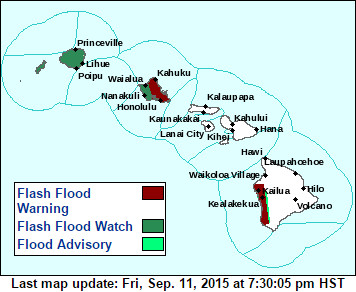 UPDATE (9:50 p.m.) – The Flash Flood Warning for West Hawaii has been extended until 12:45 a.m. HST and now includes the Kohala Coast.
At 9:40 p.m. HST, the National Weather Service says radar indicated very heavy rain affecting coastal leeward Kohala, between Mahukona and Kawaihae, with rainfall rates up to 3 inches per hour likely leading to flash flooding and ponding on roadways. "Meanwhile," forecasters say, "heavy rain and thunderstorms over the Kona coast and slopes has eased, but Big Island police report that significant flooding impacts continue, especially near Honaunau where water and debris continues to impact roadways."
KONA, Hawaii – The National Weather Service has issued a Flash Flood Warning for the Big Island's Kona coast, effective until 9:45 pm HST.
"At 6:50 pm HST, radar and rain gauges indicated very heavy rain over the Kona coast and slopes from Kailua-Kona to Milolii," reported the National Weather Service. "Big Island police reports significant impacts along area roads with extreme ponding and debris reported. Additional rainfall is expected. Be alert for flooding leading to property damage and road closures."
Forecasters say some locations that will experience flooding include Kailua-Kona, Captain cook, Honaunau,Holualoa, Keauhou and Kealakekua.
A flash flood warning means that flooding is imminent or occurring in streams, roads and low lying areas. The National Weather Service says "move to higher ground now. Do not cross fast flowing or rising water in your vehicle or on foot. Turn around, don't drown."