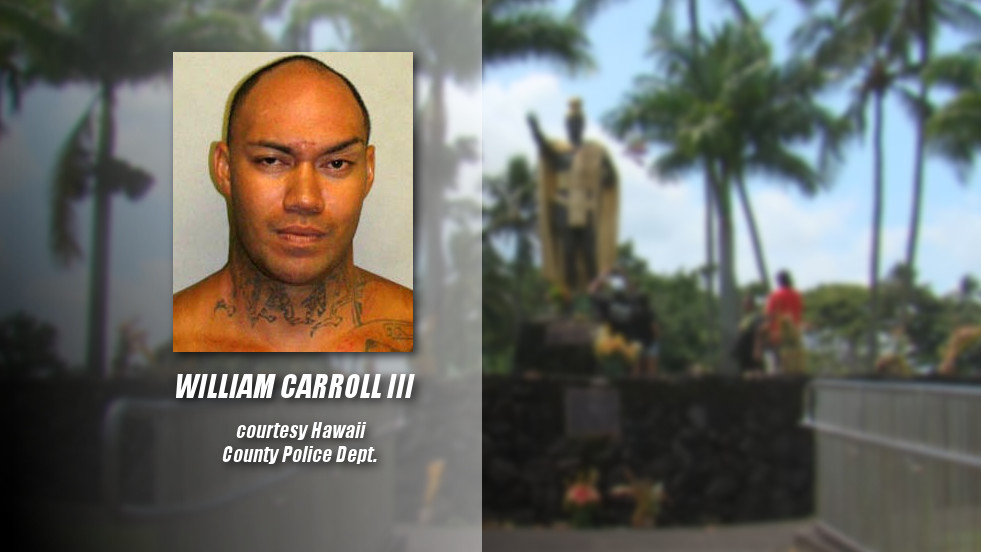 HILO, Hawaii – The man who was arrested in connection with a spear that was stolen from the King Kamehameha statue in Hilo last week has been charged.
After conferring with prosecutors, Hawaiʻi Island police have charged 31-year-old William Roy Carroll III, a former Oahu man who has no permanent address, with second-degree theft, third-degree theft and second-degree criminal property damage. His bail was set at $11,000.
The tip of the spear was reported missing almost a week ago on Sunday. Police recovered the spear tip on Tuesday morning, September 8, during a search in the overgrowth along the banks of the channel in Wailoa State Park.
Carroll was arrested on September 10 on suspicion of theft of the spear, as well as in connection with a pipe and chain that were taken from a nearby used car lot.
Carroll remains the Hilo police cellblock pending his initial court appearance scheduled for Monday.