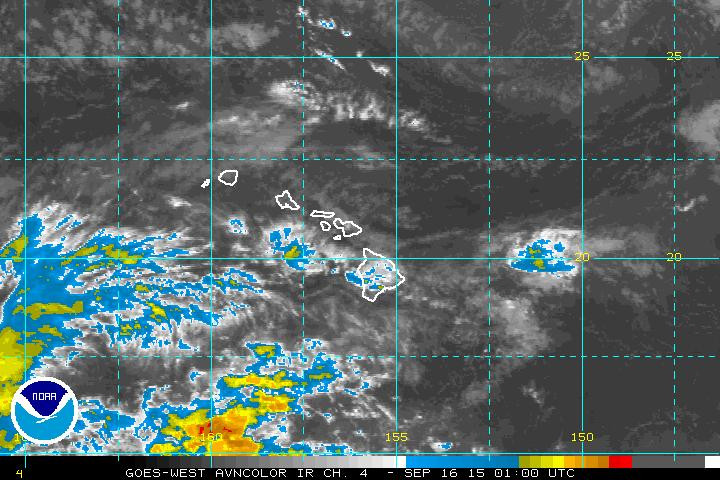 UPDATE (6:30 p.m.) At 6:17 p.m. HST, the National Weather Service reports radar indicated "very heavy rain" continuing over the "lower Kona slopes mainly between Captain Cook and Kailua-Kona airport with rainfall rates of 2 to 4 inches an hour. Police has reported hazardous driving conditions in the Kailua-Kona area and other road issues related to the heavy downpours." Forecasters said this warning may need to be extended beyond 6:45 p.m. if heavy rain persists.
UPDATE (5 p.m.) At 4:50 p.m. HST, the National Weather Service reports radar indicated heavy showers and thunderstorms continue over the lower Kona slopes with rainfall rates up to 3 inches per hour. These heavy showers have recently re-strengthened over the area from Kealakekua to Kailua-Kona to Keahole Point and are nearly stationary. Meanwhile heavy showers over the Ka'u district and leeward South Kohala have diminished.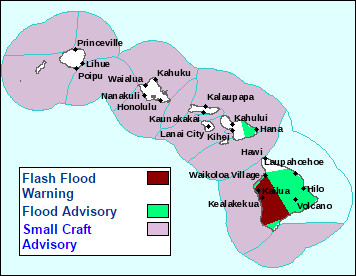 HAWAII ISLAND – A Flash Flood Warning is in effect for Kona and Ka'u on the Big Island of Hawaii until 6:45 p.m.
At 3:39 p.m. HST, the National Weather Service says radar "indicated torrential rainfall impacting the lower Kona slopes from Captain Cook to Kailua-Kona, with rainfall rates near 3 inches per hour likely leading to flash flooding."
"Additional heavy showers and thunderstorms were impacting the Ka'u district upslope from Kawa Flats, as well as the area near Pu'uanahulu," forecasters said.
Locations in the warning include but are not limited to Kailua-Kona, Captain Cook, Honaunau, Puuanahulu, Keauhou, Honalo and Hawaiian Ocean View Estates.
A larger area of the Big Island remains under a Flood Advisory.