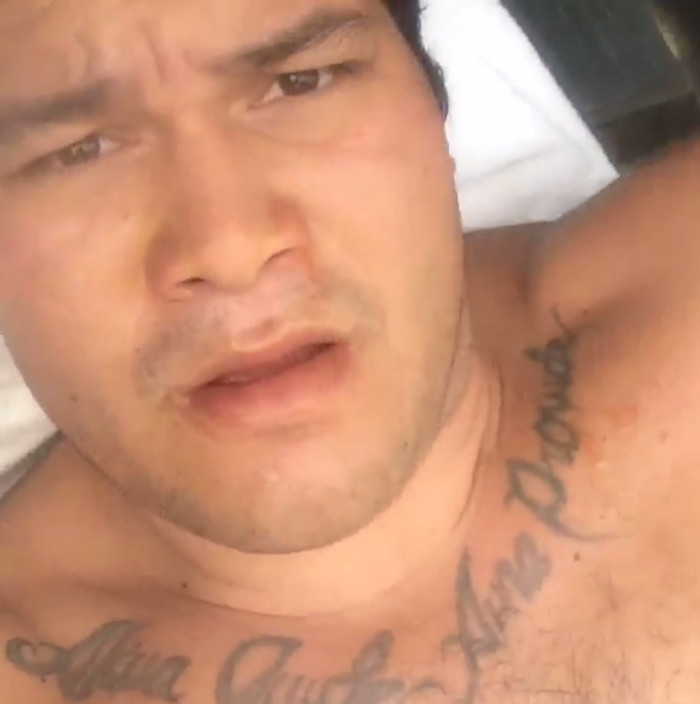 UPDATE (Sept. 21) – The family of victim Braxton Rocha has created a GoFundMe page to help with the medical costs. Details below original article.
---
UPOLU POINT – A tiger shark attack at Upolu Point off North Kohala sent a 27 year old male to the hospital on Sunday, and on the way the victim posted a graphic glimpse of his injury to Instagram.
The video, uploaded to the account @_braxton_john, shows the apparent victim being transported with the help of his friends into the back of a vehicle. After telling his friends that he loves them, he pans the camera down to the gaping wound on his leg. The image is not for the squeamish.
The Hawaii County Fire Department intercepted the victim in back of a truck on Akoni Pule Highway just before 4 p.m. He had a shark bite to his left distal thigh and calf. The victim was transported to Kamehameha Park where he was then taken by helicopter to North Hawaii Community Hospital in serious condition.
The Department of Land and Natural Resources issued this statement Sunday evening:
"A 27 year old Kapaau man was spearfishing Sunday afternoon about 60 yards off Upolu Point in North Kohala, when he reports a 13-foot-long tiger shark bit him on his left leg. He was able to swim to shore and alerted his fishing companion, who then called 911. An ambulance took him to Kamehameha park and then he was flown by a Hawaii Fire Dept. helicopter to North Hawaii Hospital and taken into surgery.

No beaches are closed,since this occurred in an isolated and remote area. Water conditions were murky due to heavy rain in the area. The Dept. of Land and Natural Resources advises people to avoid entering the ocean during brown water conditions."
---
Braxton Rocha Medical Fund
The family of shark attack-victim Braxton Rocha has started a Go Fund Me campaign to help pay for Rocha's medical expenses.
Rocha's aunt posted this update on the webpage:
"He has made it through surgery and is now in intensive care. While we are hopeful that he will recover and will be able to keep his leg, there is no certainty at this time. He will continue to need medical care and there will be additional rehabilitation and therapy needed after he is released from the hospital. Braxton does not have medical insurance at this time, so any help that you may be willing to extend to him and his family would be greatly appreciated. We thank you for any prayers and donations that you have given to the family during this difficult time."