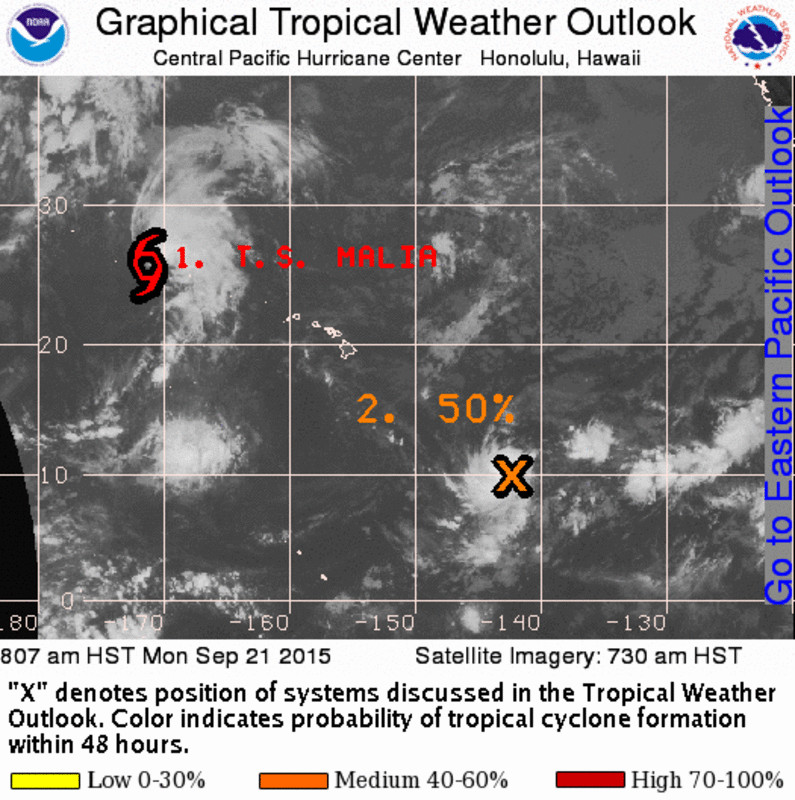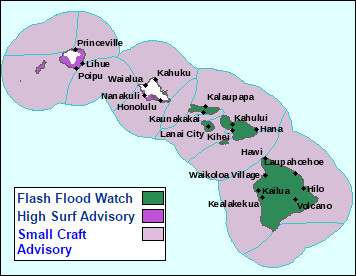 HAWAII ISLAND: The eastern half of the main Hawaiian Islands is under a Flash Flood Watch, as tropical weather surrounds the state.
Tropical Storm Malia is 1,035 miles west northwest of Kailua-Kona. A Tropical Storm Warning has been issued by the Central Pacific Hurricane Center for portions of the Papahanaumokuakea Marine National Monument from French Frigate Shoals to Maro Reef to Lisianski Island. Malia is expected to continue it's northbound track without presenting a threat to the main Hawaiian Islands.
Meanwhile, about 1,100 miles southeast of Hilo, showers and thunderstorms associated with an area of low pressure has a 50% percent chance of forming a tropical cyclone within 48 hours. The system remains somewhat disorganized, but the National Weather Service says environmental conditions will continue to support development over the next few days as it moves slowly northwest.
Forecasters say abundant moisture upstream of the islands will support heavy rain across the eastern half of the state today, and so a Flash Flood Watch is in effect for Kahoolawe, Lanai, Maui,Molokai and the Big Island.
A High Surf Advisory is also in effect. Waves and surf are expected to be 5 to 8 feet high along south facing shores.