8 am Update – Tropical Storm Niala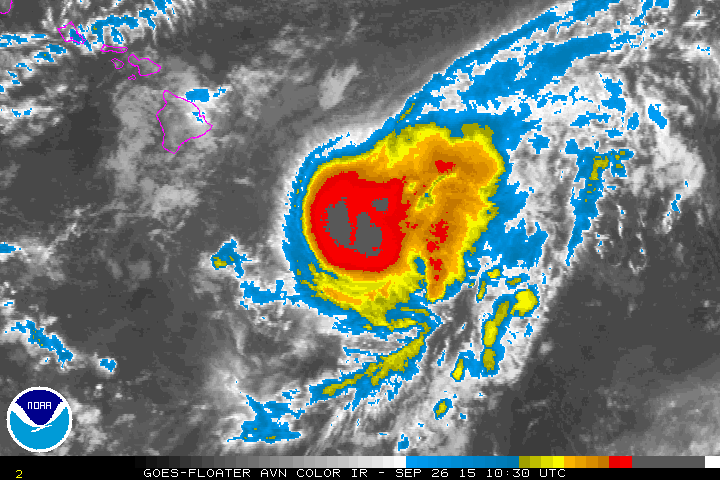 WARNINGS: A Tropical Storm Watch is in effect for Hawaii County.
LOCATION: Tropical Storm Niala is 270 miles southeast of Hilo. Niala is moving toward the northwest near 7 mph. A turn toward the west and a slowing of the forward motion is expected today and Sunday. On the forecast track. The center of Niala will pass 100 to 150 miles south of the Big Island Sunday night.
STRENGTH: Maximum sustained winds are near 60 mph with higher gusts. Slow weakening is expected over the next couple of days.
SIZE: Tropical storm force winds extend outward up to 90 miles from the center. "Remember that damaging effects from tropical cyclones can extend well away from the center," NWS forecasters warn.
RAIN: A Flash Flood Watch is in effect for the entire Big Island. Storm total rainfall of 6 to 12 inches with isolated maximum amounts to 16 inches are expected within the watch area. These rainfall amounts could cause life-threatening flash floods, as well as rockslides and mudslides.
HIGH SURF: Surf will build to 8 to 12 feet along southeast-facing shores, possibly producing minor wave run-up. Afternoon and overnight high tides of 2 feet will build wave run-up slightly higher during these times.
WIND: Although changes are still possible, the latest forecast calls for tropical storm force winds of 39 mph or higher to pass just south of the Big Island. However, only a slight change in storm movement could bring them ashore. Depending on the exact track of Niala, moderate wind damage still is possible.
---
National Weather Service Discussion at 5 a.m.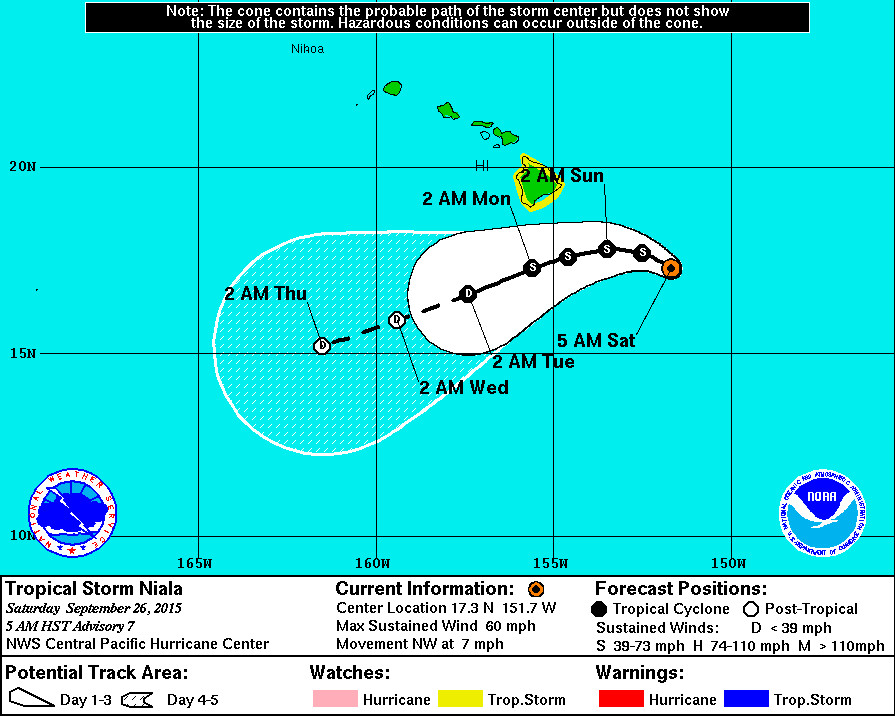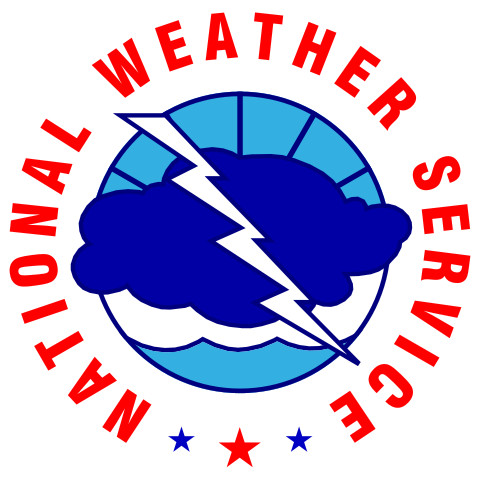 "LIKE MANY OF THE TROPICAL CYCLONES IN THE CENTRAL PACIFIC BASIN THIS SEASON… NIALA IS DOING A PRETTY GOOD JOB OF SHRUGGING OFF 25 TO 35 KNOTS OF DEEP LAYER SHEAR FOR NOW. AN AMSU PASS AT 1245 UTC AND AN SSMI PASS AT 1307 UTC STILL INDICATED A PARTIAL EYEWALL FEATURE… BUT THERE ARE INDICATIONS THAT THE CENTER IS BECOMING INCREASINGLY VERTICALLY TILTED OVER TIME. CONVENTIONAL SATELLITE IMAGERY HAS SHOWN PERSISTENT VIGOROUS CONVECTION REMAINING NEAR THE CENTER OVER THE PAST SEVERAL HOURS. SUBJECTIVE SATELLITE INTENSITY ESTIMATES WERE A STEADY 3.0 FROM PHFO AND JTWC… WITH 3.5 FROM SAB.THE ADT NUMBERS WERE 3.9 FROM CIMSS AND 3.4 FROM SAB. BASED ON A CONSENSUS OF THESE DATA… HAVE RAISED THE ADVISORY INTENSITY TO 50 KT… AND THIS MAY BE A BIT CONSERVATIVE.

THE INITIAL MOTION ESTIMATE IS 315/6. NIALA IS STILL GAINING LATITUDE AS IT FEELS THE INFLUENCE OF A LARGE MID-TO-UPPER LEVEL TROUGH EXTENDING FAR TO THE NORTHEAST OF HAWAII. THERE IS ALSO SOME WESTWARD COMPONENT TO THE MOTION OWING TO STRONG HIGH PRESSURE ROUGHLY 1500 MILES NORTH OF HAWAII. THE FARTHER NORTH THAT NIALA GETS… THE STRONGER THE SHEAR WILL BECOME… AND SOONER OR LATER THE DEEP CONVECTION WILL COMPLETELY SEPERATE FROM THE LOW LEVEL CIRCULATION CENTER. THIS WILL CAUSE NIALA TO RATHER ABRUPTLY BECOME STEERED TOWARD THE WEST-SOUTHWEST BY THE LOW LEVEL FLOW. IT IS DIFFICULT TO SAY EXACTLY WHEN THIS WILL HAPPEN… LEADING TO A FAIR AMOUNT OF UNCERTAINTY IN THE FORECAST AND THE PRIMARY REASON FOR MAINTAINING THE TROPICAL STORM WATCH FOR THE BIG ISLAND. OUR FORECAST DEPICTS A MORE GENTLE TURN OVER THE NEXT 36-48 HOURS THAN DEPICTED BY MOST OF THE GUIDANCE WHICH IS LIKELY TOO QUICK TO DECOUPLE NIALA. AFTER 48 HOURS… THE FORECAST TRACK MORE CLOSELY FALLS IN LINE WITH THE CONSENSUS TRACKS. IT SHOULD BE NOTED THERE IS CONSIDERABLE SPREAD IN THE GUIDANCE REGARDING THE SPEED OF THE SYSTEM IN THE 72-120 HOUR TIME FRAME.

IT SEEMS UNLIKELY THAT NIALA WOULD STRENGTHEN MUCH MORE GIVEN THE INCREASINGLY HOSTILE CONDITIONS THE CYCLONE WILL ENCOUNTER. HAVE INDICATED A GRADUAL WEAKENING THROUGH THE FIRST 48 HOURS… WITH MORE RAPID WEAKENING TO REMNANT LOW BY 96 HOURS IN THE FACE OF RELENTLESS SHEAR. THIS WEAKENING TREND IS A LITTLE SLOWER WHAT MOST OF THE GUIDANCE INDICATES… AND IS MORE IN LINE WITH THE ECMWF FOR THE FIRST 48 HOURS… THEN WEAKENS MORE QUICKLY IN THE DAYS 3-5 TIMEFRAME.

FORECAST POSITIONS AND MAX WINDS

INIT 26/1500Z 17.3N 151.7W 50 KT 60 MPH
12H 27/0000Z 17.7N 152.5W 45 KT 50 MPH
24H 27/1200Z 17.8N 153.5W 45 KT 50 MPH
36H 28/0000Z 17.6N 154.6W 45 KT 50 MPH
48H 28/1200Z 17.3N 155.6W 40 KT 45 MPH
72H 29/1200Z 16.6N 157.4W 30 KT 35 MPH
96H 30/1200Z 15.9N 159.4W 25 KT 30 MPH…POST-TROP/REMNT LOW
120H 01/1200Z 15.2N 161.5W 25 KT 30 MPH…POST-TROP/REMNT LOW"National Weather Service