HAWAII ISLAND – The emergency rules enacted by the State of Hawaii restricting access to Mauna Kea have been invalidated by the Circuit Court of the Third Circuit. Judge Ronald Ibarra made the ruling Friday.
E. Kalanai Flores, who filed the lawsuit, had this to say: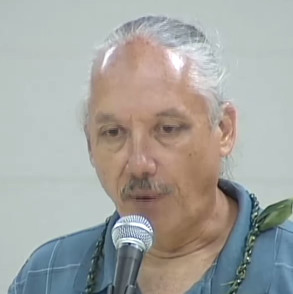 "Emergency rule declared invalid by Judge Ibarra in our case!!! Today, the Court recognized that the State did not follow the rule of law in creating these emergency rules. The State can no longer arrest innocent people who are on Mauna Kea at night for cultural or spiritual reasons. Mahalo nui loa to the Native Hawaiian Legal Corporation and attorneys David Kauila Kopper and Camille Kalama for representing us in this case! Mahalo also to all the Kū Kia'i Mauna supporters who came to court hearings and those supported from afar. Of course, mahalo to all connected in the piko – 'o luna, 'o waena, 'o lalo, i ka piko o Mauna a Wākea,i ka piko o ke aloha."Kalani Flores on Oct. 9, 2015
Under the now-invalidated rules, 15 arrests total arrests were made in three early morning law enforcement actions by Department of Land and Natural Resources DOCARE officers.
Governor David Ige signed new rules for Mauna Kea in July, following the approval of the Board of Land and Natural Resources. Under the new rules, nobody was allowed to enter or remain in the restricted area (within one mile of the Mauna Kea Access Road, on either side) during the hours of 10:00 p.m. to 4:00 a.m. Also, no person was permitted to bring in to the restricted area obvious camping paraphernalia. The rules were created by the state with the intention of dispersing the around-the-clock presence of opponents of the Thirty Meter Telescope who have blocked construction crews from reaching the summit area to work on the $1.4 billion observatory project.
Attorney General Doug Chin and Department of Land and Natural Resources Chair Suzanne Case released the following statement in response:
"The State acknowledges the Court's decision and will abide by it. We remind people traveling to Mauna Kea that even in light of today's ruling existing laws and rules remain. It is always illegal to block the road. This includes standing in the road or placing obstructions in the road. These laws will continue to be enforced."