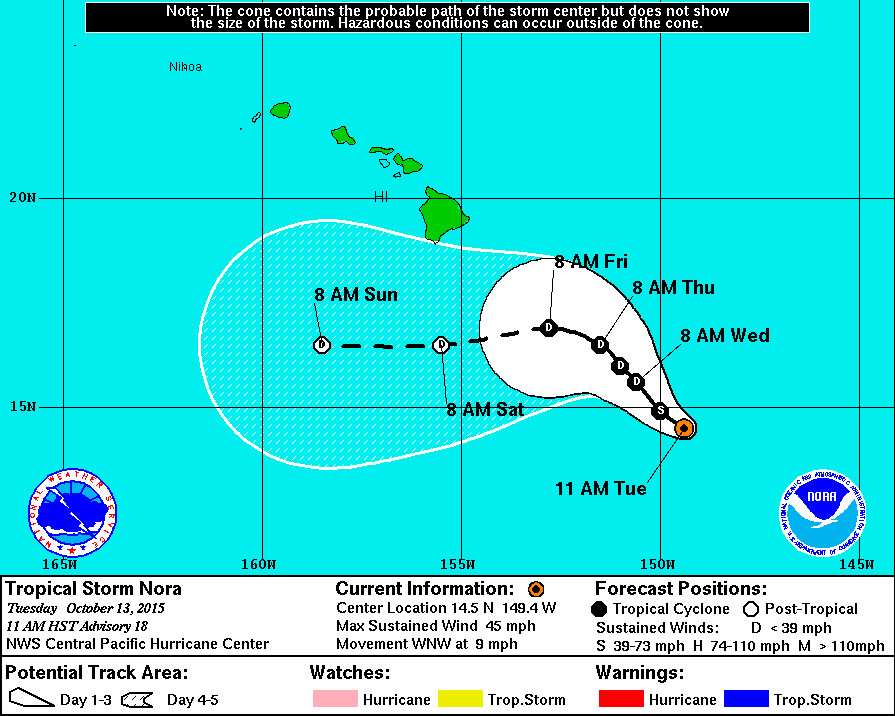 HAWAII ISLAND – Tropical Storm Nora is currently 520 miles southeast of Hilo and moving west northwest at 9 miles per hour. Maximum sustained winds are near 45 mph, and Nora is expected to gradually weaken to the point of becoming a tropical depression on Wednesday and then a post-tropical/remnant low by Saturday. The track is forecast to turn slightly to the north over the next 24 hours with a decrease in forward speed, then curve toward the west.
There are no coastal watches or warnings in effect, and Hawaii's emergency officials have not issued any special statements about Nora.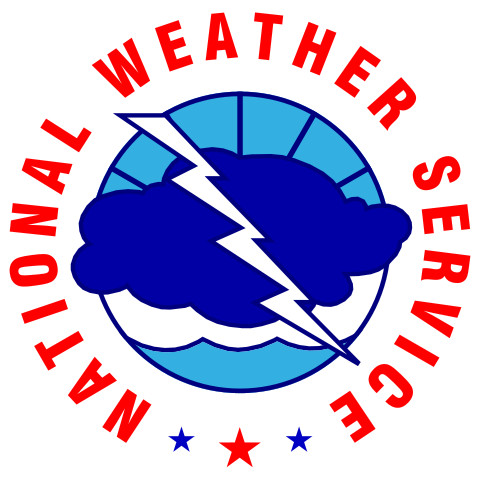 "Nora remained rather poorly organized overnight, but cumulonimbus clouds kept developing near the center. Cold, high clouds spreading out from the cumulonimbus clouds tops kept the low level circulation center hidden on nighttime infrared imagery. Visible imagery from 1730 and 1800 UTC showed the LLCC visible through thin cirrus high clouds providing high confidence in the center position. Since the 2:00 a.m. center position was uncertain, I have adjusted the 2:00 a.m. position to smooth out the storm motion. The initial motion will be set at 300 degrees at 8 knots.

Subjective Dvorak analyses were 2.0/30 knots from PHFO and SAB and 2.5/35 kt from JTWC, while the UW-CIMSS ADT was 2.4/34 knots. A 6:16 a.m. Windsat pass showed the circulation elongated along a northeast to southwest axis with stronger winds on the north side of the center and only light winds to the south. I have kept the initial intensity at 40 kt with tropical-storm force winds restricted to the north side of the system.

A deep trough aloft digging south between 150w and 160w is helping produce rather strong vertical wind shear over Nora with Ships showing 29 kt from the west southwest and UW-CIMSS showing 31 kt from the southwest. Sea surface temperature will remain a rather warm 28 degrees Celsius as Nora moves northwest, but the vertical wind shear is expected to remain strong enough for Nora to keep weakening. Nora is expected to weaken to a depression on Wednesday and to a post-tropical/remannt low by Saturday.

Nora is moving northwest toward a break in the subtropical ridge produced by the deep trough aloft to the north. The track has been shifted to the west in the short term as a result of re-besting the 2:00 a.m. position. Nora is still expected to curve northwest toward the weakness in the ridge with a slight decrease in forward motion over the next two days. Beyond that, Nora is forecast to turn toward the west southwest as it becomes a more shallow system moving along in the low-level east northeast flow."National Weather Service at 11 a.m.