HAWAIIAN BEACHES – A 49-year-old Pāhoa man has been taken into custody and charged following what police say was a brief standoff in the Hawaiian Beaches subdivision on Friday.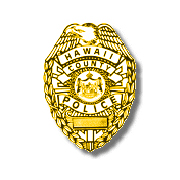 "Keith Kaapana Cummings was taken into custody Friday afternoon following a brief standoff in which he barricaded himself in a house in the lower portion of Hawaiian Beaches. When police went to the property to serve Cummings with a protective order, he refused to leave the premises and instead, allegedly poured a flammable liquid in the house and threatened to ignite it. No one else was in the house at the time.

Police evacuated nearby homes and the police department's Special Response Team responded.

SRT negotiated with Cummings, who surrendered without incident. He was arrested on suspicion of first-degree terroristic threatening and first-degree reckless endangering and was taken to the Hilo police cellblock while detectives from the Area I Criminal Investigations Section continued the investigation.

With the assistance of a Hawaiʻi Fire Department fire inspector, the house was deemed safe. At 7 p.m. Saturday, (October 24), after conferring with prosecutors, detectives charged Cummings with second-degree terroristic threatening and first-degree reckless endangering. His bail was set $2,500. He remained at the cellblock pending his initial court appearance on Monday (October 26)."Hawaii County Police Dept.