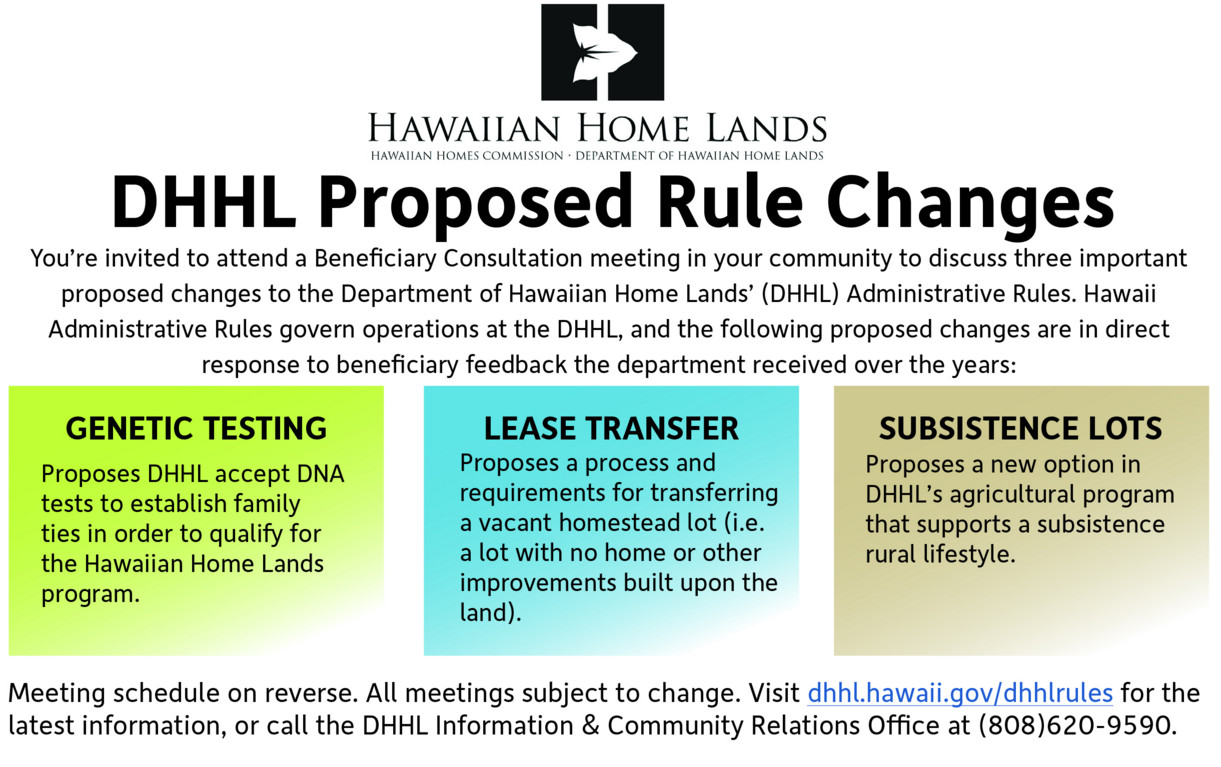 HAWAII ISLAND – Two Hawaiian Home Lands Beneficiary Consultation meetings will be held on Hawaii Island this week to discuss proposed changes to Administrative Rules.
The first meeting will be tonight (Monday, Nov. 9) in Waimea at the DHHL West Hawai'i District Office in Kūhiō Hale. The following night (Tuesday, Nov. 10), a meeting will be held in the Keaukaha Elementary School Cafetorium. Both meetings are scheduled to run from 6:00 – 8:30 p.m.
The rule changes involve genetic testing, lease transfers, and subsistence lots. A media release issued on October 26 offered an explanation.
Genetic Testing
This new rule proposes the Department of Hawaiian Home Lands accept DNA tests to establish family ties in order to qualify for the Hawaiian Home Lands program. "As a result of a lawsuit," read a document on the department website, "DHHL is under legal obligation to adopt a rule that addresses using genetic testing in the application process."
The rule will "make it possible for more applicants to potentially qualify by allowing for submittal of genetic test results that may establish parentage," DHHL wrote.
Lease Transfer
Proposes a process and requirements for transferring a vacant homestead lot. According to DHHL, the current rule "provides that with the approval of the commission, a homestead lease may be transferred to anyone qualified. Also provides that the transferee must use or occupy within a specific time period." The department says the rule change would "allow transfer of undivided interests, and leases to lots that are vacant or undeveloped only by gift or succession."
"This revision responds to the unfair profit realized by the sale of a lease when the lessee has not made a similar financial investment in the lot," DHHL says.
Subsistence Lots
This rule proposes a new option in DHHLʻs agricultural program that supports a subsistence rural lifestyle. A subsistence ag award would require residence on the lot.
"This revision also helps to manage department costs to develop infrastructure on ag properties," DHHL writes.
Beneficiaries have until January 11, 2016, to provide manaʻo on this first round of proposed changes to the DHHL's Administrative Rules.
For more information and to provide feedback via web, visit our DHHL Administrative Rules page at dhhl.hawaii.gov/DHHLRules.