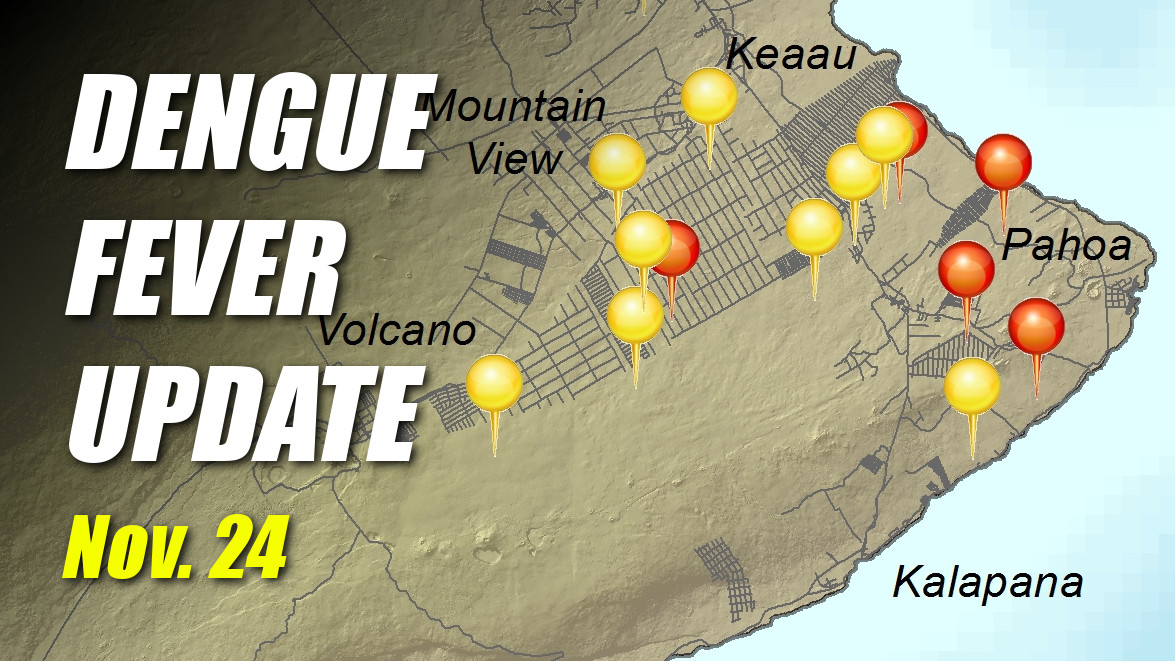 HAWAII ISLAND – There is one new confirmed case of locally-acquired dengue fever on Hawaii Island. The count is now up to 93, according to a Tuesday update from the Hawaii health department.
Of the confirmed cases, 80 are Hawaii residents and 13 are visitors. 70 cases have been adults; 23 have been children under 18 years of age. Onset of illness has ranged between 9/11/15 – 11/17/15.
As of today, a total of 143 reported potential cases have been excluded based on test results and/or not meeting case criteria, the state says.
The Hawaii County Council will be holding a Special Meeting to discuss the dengue outbreak on December 2 at 1 p.m. at the Hilo Council Chambers. The request for the meeting was made by Hilo councilmember Aaron Chung (communication for the request is below).
Hawaii County Civil Defense has also announced a second round of public meetings on the situation.
TONIGHT – Tuesday (Nov. 24) at 6:30 p.m. at Mt. View School Cafeteria
Friday (Nov. 27) at 6 p.m. at Ocean View Community Center
Monday (Nov. 30) at 6 p.m. at Waimea Middle School Cafeteria
Tuesday (Dec. 1) at 6:30 p.m. at Kohala High School Cafeteria
Thursday (Dec. 3) at 6:30 p.m. at Pahoa High School Cafeteria
---

HAWAII COUNTY COUNCIL
COM 0575.000 2014-2016

Date: November 20, 2015

To: Dru Kanuha Chair

From: Aaron 00 S. Y. Chung, Council Member Hawai`i County Council

Subject: Request for Special Meeting to Discuss the Dengue Fever Outbreak on Hawaii Island

This is a follow-up to a request I made to you yesterday for the scheduling of an emergency meeting pertaining to the above-referenced matter. After giving the matter further consideration, I am withdrawing the previous request( numbered as communication 574) and instead requesting that you schedule a special meeting on the subject. I am suggesting that the meeting be held on the same day as our next full council meeting, December 2, 2015, at 1: 00 p.m. I am asking that we set aside one hour for this meeting. Although I am fully aware that the State and County have been working jointly on a community outreach program consisting of, among other things, public informational meetings and websites, I also believe that redundancy in terms of disseminating information is a good thing in this particular situation. I do not expect our presenters to rehash what has been said at the public meetings. They can instead abbreviate the important points of their presentation and perhaps address some of the salient questions which have been raised by members of the public at such meetings. I am personally interested in understanding the operational aspects of their efforts and whether they would be able to offer a prognosis regarding this outbreak. I' m sure that there will be many different areas of concern brought up by other members of the council.

At the minimum, I ask that we invite members of the State Department of Health and the County Civil Defense to present a briefing to us. As I did in my previous memo, I also request that State Senator Josh Green and State Representative Richard Creagan be invited to the meeting to present their ideas to us. I further request that inasmuch as this is an information-gathering meeting, we reserve public input until the end of the session. This will avoid having to keep our resource persons from waiting in our council room and will enable them to get back to their duties as soon as possible. Finally, I ask that you instruct the county clerk to coordinate with Na Leo Television in order to get the meeting viewed by a wide audience and in the quickest way available.

Thank you for your consideration.

Sincerely,

AARON S. CHUNG
Councilmember, District 2
---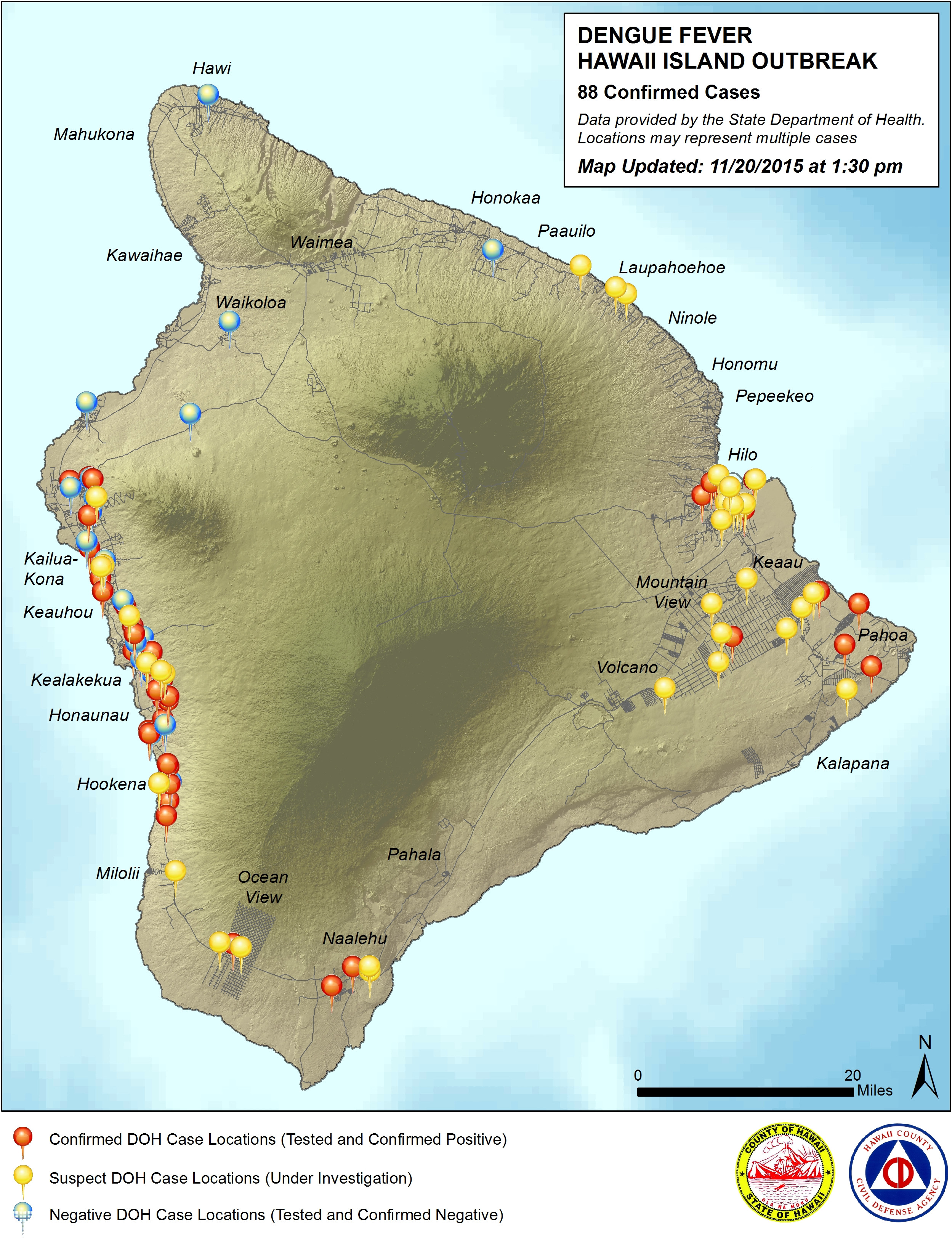 LATEST NEWS: The Hawaii Island dengue fever outbreak