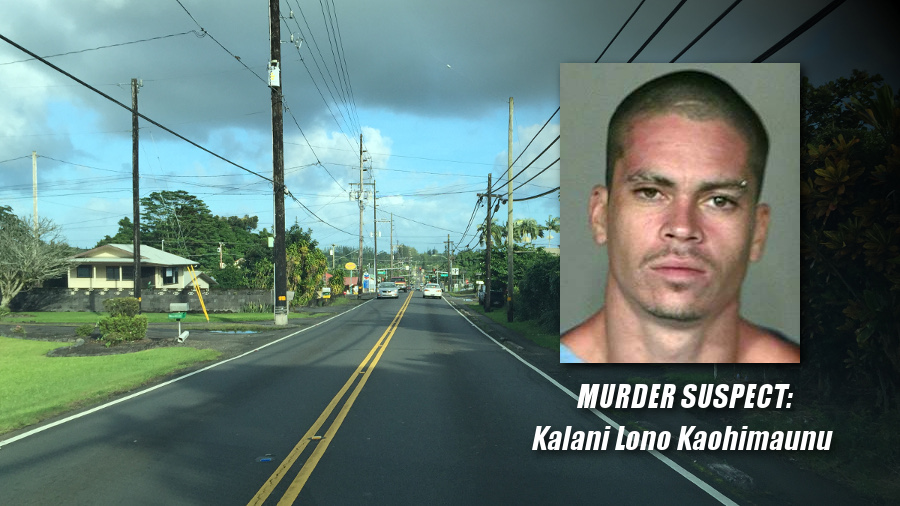 HILO, Hawaii – The suspect in an alleged murder that took place in Hilo on Thanksgiving night is still at large, police say, and should be considered armed and dangerous.
Police have identified 34-year-old Kalani Lono Kaohimaunu as the suspect in the shooting death of 39 year old Keola Penovaroff of Hilo. Police responded to the 10:20 p.m. call and found Penovaroff unresponsive outside of a home on the 100 block of West Kawailani Street with a gunshot wound. Witnesses reported hearing gunshots and said a car fled from the scene. Penovaroff was taken to Hilo Medical Center, where he was pronounced dead at 10:57 p.m.
Suspect Kaohimaunu was last seen in Kalapana at 9 a.m. Friday (November 27) driving a dark blue Honda 4-door sedan, police say. He is described as 5-foot 10, 160 pounds with brown hair. His last known address was in Hilo.
Police caution anyone who sees Kaohimaunu should not to approach him. Instead, anyone who knows his whereabouts is asked to call the Police Department's non-emergency line at 935-3311 or contact Detective Todd Pataray at 961-2382 or todd.pataray@hawaiicounty.gov.
Tipsters who prefer to remain anonymous may call the islandwide Crime Stoppers number at 961-8300 and may be eligible for a reward of up to $1,000. Crime Stoppers is a volunteer program run by ordinary citizens who want to keep their community safe. Crime Stoppers doesn't record calls or subscribe to caller ID. All Crime Stoppers information is kept confidential.