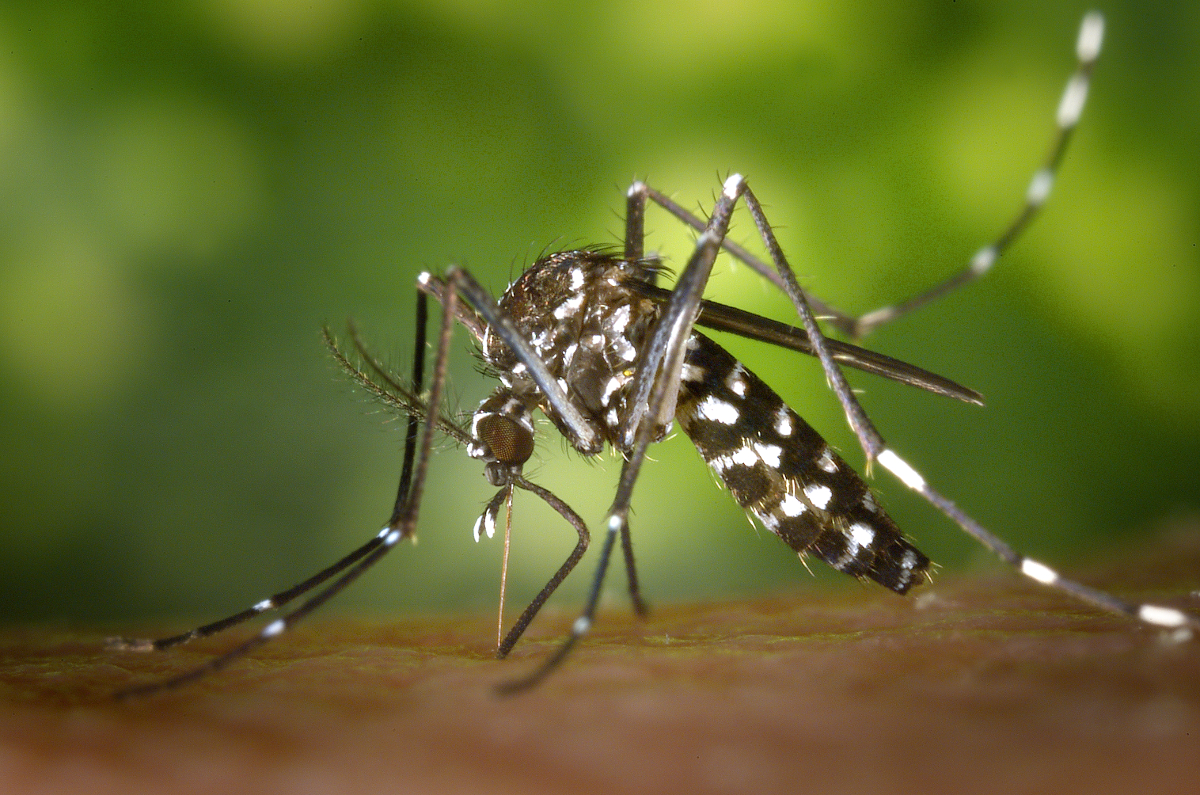 HAWAII ISLAND – There are now 117 confirmed cases of locally-acquired cases of dengue fever on Hawaii Island, up from yesterday's 112. Of the confirmed cases, the Hawaii Department of Health says 103 are Hawaii Island residents and 14 are visitors.
As of today, a total of 277 reported potential cases have been excluded based on test results and/or not meeting case criteria. All confirmed cases to date have recovered or are recovering, the County of Hawaii reports.
Yesterday, Hawai'i State Department of Health Director Dr. Virginia Pressler joined Honolulu Mayor Kirk Caldwell and officials from the O'ahu Visitors Bureau at a press conference at Foster Botanical Garden, where they reiterated their "Fight the Bite" campaign (DOH photo below). The state says that since the beginning of our current investigation on Hawaii island, one imported dengue fever case has been confirmed on Oahu. This case is not associated with the Hawaii island investigation.
Since the start of the government response to the outbreak, 194 mosquito abatement sprayings have been conducted at case residences and other areas that have been specifically identified by the investigation as potential areas of interest.
Hawaii County Civil Defense says it is taking complaints of possible mosquito habitats on public property, or on neighboring property when contact cannot be made with the property owner. "Teams consisting of HCCDA, CERT, and DOH personnel will investigate complaints and identify appropriate corrective action," reports the county. "To date, 50 complaints have been received and are being addressed."
Dr. Lyle Petersen, director of the Center for Disease Control Division of Vector-Borne Diseases, will visit Hawai'i Island this week "to assess efforts and share his analysis with officials," civil defense reports. "In addition to Dr. Petersen, a CDC entomologist and technician will arrive this week to provide consultation and assistance on mosquito surveillance strategies to DOH." The CDC is here at the request of the state and the county.
A public meeting on the dengue outbreak is being held tonight at (Tuesday, December 1st) at 6:30 p.m. at the Kohala High School Cafeteria.
The Hawaii County Council will be holding a Special Meeting to discuss the dengue outbreak on December 2 at 1 p.m. at the Hilo Council Chambers.
---
MOST RECENT MAPS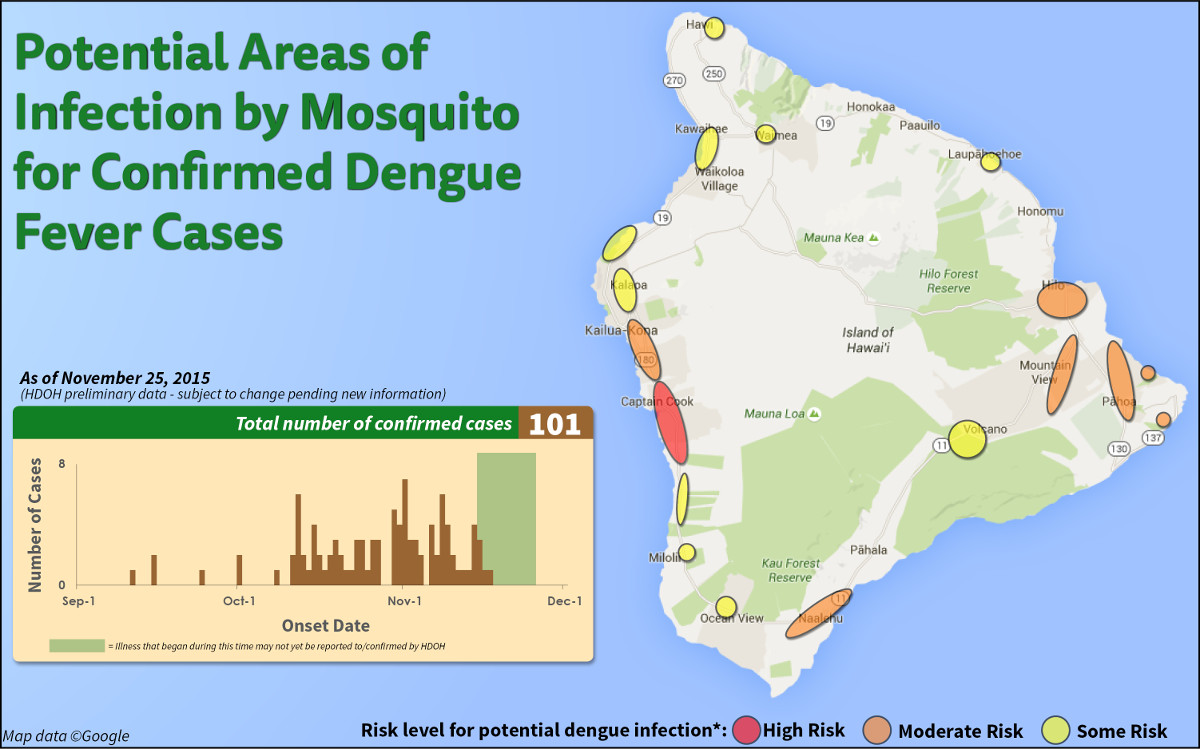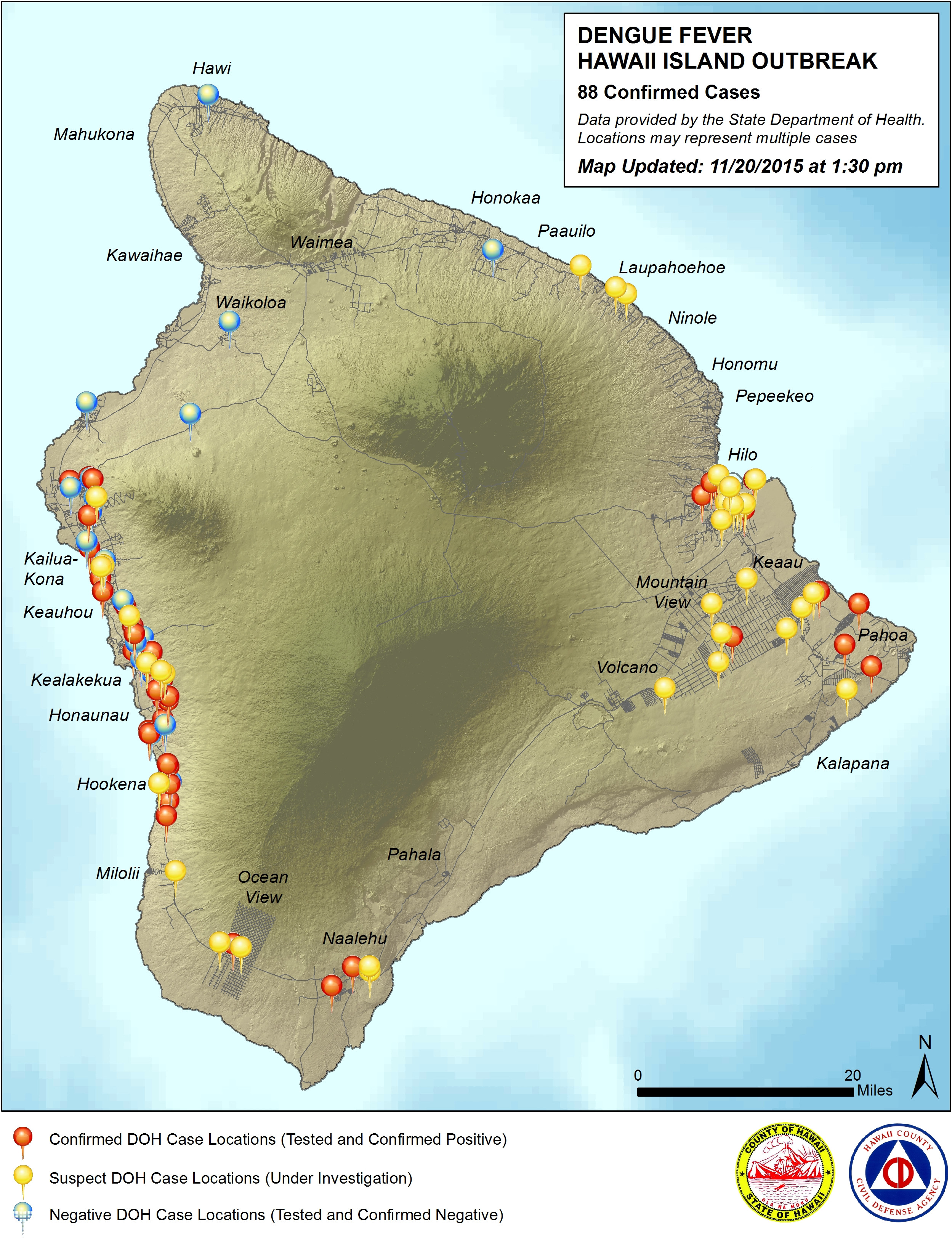 LATEST NEWS: The Hawaii Island dengue fever outbreak